NAD (pics included)
Well, let's just start out with the pictures, shall we?
First the head
And the cab
And then a little bit of a family picture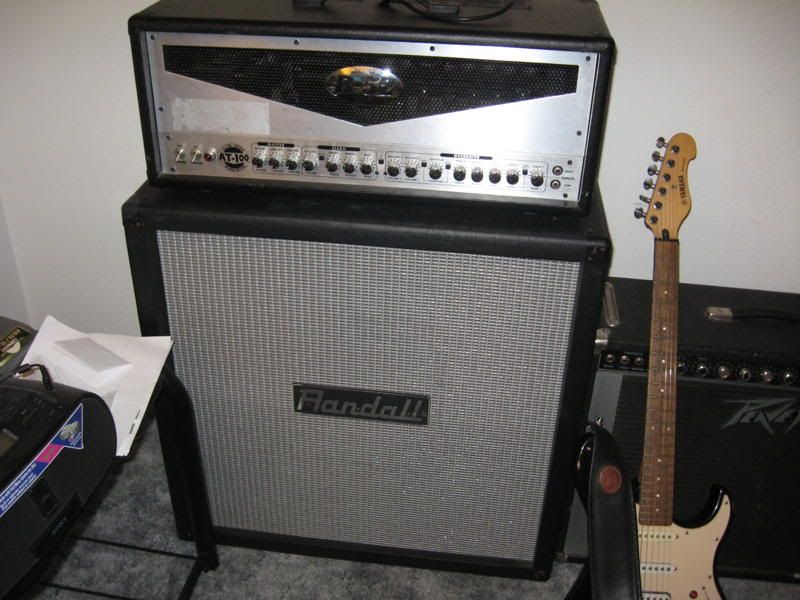 And the head again
The head is a B-52 AT-100, and the cab is a Randall RA412CS. I got them both off Craigslist for $300, and it sounds great. The only thing is, I thought I was getting 2 speaker cables with it, but one is an instrument cable and the other is a Livewire Audio Interconnect cable, which I guess is different than a normal speaker cable? I'm not sure. Anyhow, what's the advantage of running the cab in stereo off both speaker outputs from the cab, if there is one at all? Currently I figure I can just run the head at 16 ohms into the cab's 16 ohm input, all nice and easy. If I ran it in stereo, the head would still have to be set to 16 ohms, since the speaker outputs are in parallel, and then I'd just put the switch on the cab in Stereo, is this correct? Or would the head have to be set to 8 ohms because that's what would be going out of each output? This is my first stack, so it's a little more confusing than I'm used to with my combo amps.
Now, the only playing I've done on it so far was all today, and it sounded great. Maybe a little bit too bassy, but it got a little thin when I dialed the low-res back. I tried all the different rectifier options, and they were subtle but definitely impacted the feel of the amp. Tube class AB was my favorite, but I'll try everything out more in-depth tomorrow. I'll also probably order some new preamp tubes in a month or so to swap in and try to optimize the tone with. I also have a 2-channel preamp that I'll probably use for a clean boost/solo level boost, and sometime down the line I may get an EQ pedal to run in the effects loop. I can't wait to try out my delay in stereo with my other amp; fun times. I'll also need to get a footswitch for the amp, because channel switching is a big deal. The reverb isn't too important, I'll probably just leave a tiny bit of reverb on all the time like I've always done, and the effects loop will likewise be on mostly all the time, as it will have my delay in it as well as one of my wahs. Lastly, I'm almost certainly going to have to get casters for the cab; I can carry it alone, but it's not too fun to do so, and I imagine it will get markedly less so after I've dragged it to a few gigs.
Speaking of which, I'll have an opportunity to test out it's gig-worthiness this Friday, as I'll be performing then with my band. If the sound comes out alright then I'll probably upload some clips, but all we're using to record is a camcorder, so don't expect much as far as recording quality goes. Since this is as good a time as any to plug my band, you can check us out at
our myspace
to get an idea of what my previous setup sounds like. I'll still use that on large shows for stereo delay, if nothing else, and maybe just for a varied tone. Anyways, I'm pretty psyched! I almost can't wait to wake up tomorrow!
your band name's awesome

happy new amp day! 300 for the stack is a steal

Join date: Oct 2007
20

IQ
Congratulations, that is awesome!
Why thank you both! Peach's Rage, our band name, sort of ended up being an accident because we needed a name, and we were going to be "Rhymes with Orange" temporarily. Everyone kept saying "Door Hinge" to us, so we decided that peaches are orange, and angry was about not rhyming with orange. We also sort of wrote a song about how Peach killed Bowser, so that was the real reason >_>.
HNAD! Rhymes with Orange seemed to make me lol alot. Your new names awesome too.

Sick amp man
wow great HNAD!!

oh and how is the old peavey? our bass player has like 1:1 the same

Lol, the Peavey is great! It's an early '70s Classic 100 VT, but I'm not sure why it's called a classic 100, as it's 50 watts. It's a hybrid amp, but the reverse of most hybrids; it has a transistor preamp and a valve power amp, hence the VT in the name. I like the slightly gritty cleans I can get out of it, and the pushed tones with a little overdrive, I was just looking for something a little heavier, hence the B-52--sadly it's heavier in a literal sense as well. I actually have a second Peavey of the same make, but in a 410 combo as opposed to a 212. They sound different enough that I can justify owning both, but with the new arrival I'm going to end up selling the 410 and using the 212 for practice and stereo delays.

Thanks for the name compliments, splamron! I like them too, but I still need to start up a side project to call Security. Think of the possibilities...the shirts would be amazing =P.
Join date: Nov 2008
550

IQ
Wow thats a pretty good deal for the head AND a randall stereo cabinet.
Congrats


Join date: Jul 2005
1,138

IQ
Congratulations. I wish you all the best in your gig. I'll take a listen to your band, as well.

Very nice deal you made there.


Damn, I need to buy amps more often!
Thanks for all of the well-wishes, everybody! I'm going to head in to Guitar Sata-erm, Guitar Center today to buy a couple speaker cables, then I'll probably take a video of me screwing around with the amp. Does anybody know if there's any sort of benefit to running the cab in stereo off the head or not?

Join date: Mar 2009
10

IQ
Damn, I need to buy amps more often!

Thanks for all of the well-wishes, everybody! I'm going to head in to Guitar Sata-erm, Guitar Center today to buy a couple speaker cables, then I'll probably take a video of me screwing around with the amp. Does anybody know if there's any sort of benefit to running the cab in stereo off the head or not?
Well with my uneducated guess, there isnt. I run my bugera in stereo and it makes no difference than in mono, but with the vetta it does purely for 1 amp either side of the cab and the ping pong delay. But im sure if you got a chorus or delay pedal with stereo capability then you cab will shine

but be even more wicked with two cabs a few meters apart with stereo chorus!
/rant.
Hehe, way ahead of you! I'll be running my wah and my HT-Dual Distortion before the amp with a Morley AB box going to my Peavey, and then my delay in the effects loop of the B-52 also going to my Peavey. That way I'll be able to set up my distortion with one channel as a boost for the amp and another as a distortion for the Peavey, and switch with the Morley. Then when I want stereo delay I can just bypass the Peavey from the Morley and switch on my effects loop. Right now I have a Yamaha UD-Stomp delay, and I can't wait to hook it up to both amps once my Peavey is fixed!

In other news, I filmed a video of me messing with the amp. The only problem is that it's a 1.5 GB MPEG file, and I don't have any sort of MPEG editor on this computer, only at work. The other bad news is that my flash drive is only 1GB. I'll probably end up putting the video on my PSP's memory stick to transfer the video for editing and compression at work, then I can upload it to Youtube in 3 parts. Might take a few days, but I'll have a video up soon. Unless anyone knows a video upload site that will let me put it up as-is, that would be cool too.

Join date: May 2009
160

IQ
300 for the cab and head together? That's insane.
Nice steal, TS. HNAD