Trix Cereal
In response to a thread made here, I sent an Email into General Mills expressing my anger at them not providing the rabbit with his cereal. They actually responded

Dear Capt Rabbit:
Thank you for contacting General Mills regarding our Trix advertisements. We are sorry to learn of your disappointment.
The Trix rabbit became the brand′s "character" in 1959. Wanting to appeal to children, the advertising and marketing personnel thought the rabbit personified fun and laughter. The rabbit′s antics and disguises in trying to get Trix from the kids have endured for more than 30 years!
Your reaction to the Trix advertising was unexpected. We quickly realized that our young consumers wanted the rabbit to get some Trix. A 1980 election campaign resulted in the rabbit eating one bowl of Trix. Several years later another election campaign overwhelmingly allowed the rabbit to eat a bowl of Trix again. These commercials appeared on television several times.
We appreciate your interest and concern about the Trix advertisements. Your opinion is important and will review the information you provided with the marketing and advertising staff.
Sincerely,
Amy Sadowski
Consumer Services
>Original Message From: [my email]
>
>Originated by Consumer Greetings, I am a representative of the NAARP, the National Association for the Advancement of Rabbit People. It has come to my attention that you, being the racist corporation you are, refuse to give the rabbit his well deserved Trix cereal. We demand that you supply this citizen with his Trix, or we will come at you in a storm of rabbit-hopping shenanigans you cannot begin to imagine. Sincerely, -Roger Rabbit 001600027572:Trix 14.8 Oz

EDIT: Proof: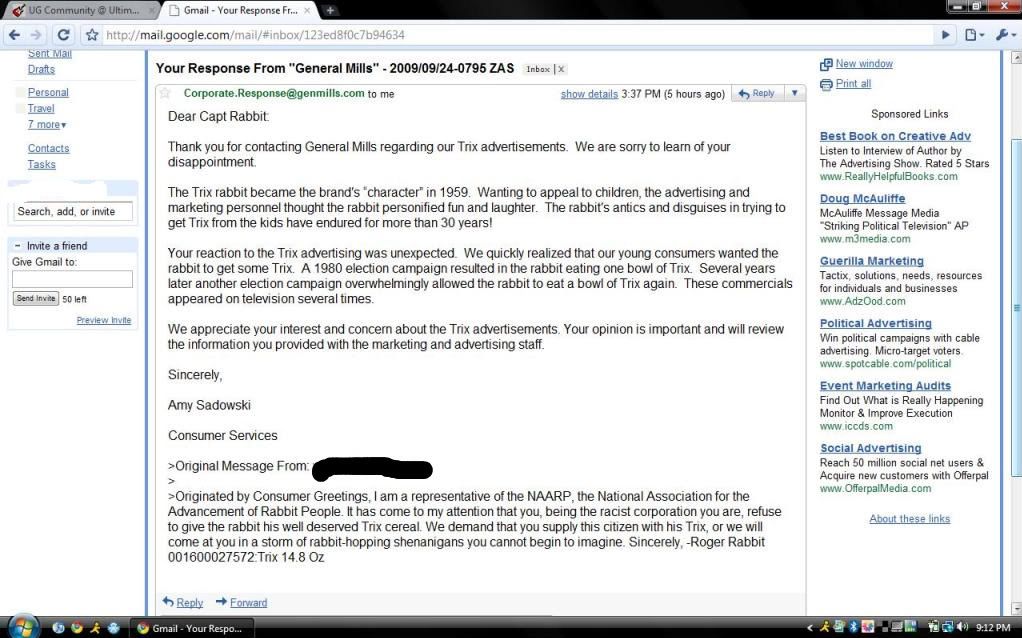 http://groups.ultimate-guitar.com/naarp/
Join, all, and we shall discuss our battle plan!
Last edited by Wulphy at Sep 24, 2009,