Help with Floating Tremolo setup please
Ibanez RG1570 Prestige with Edge-Pro tremolo
So these videos and text directions on forums aren't helping. My tremolo just sunk all the way down the first time I just tried to stick in the whammy bar. I've taken off the tremelo and reapplied it into the guitar 3-4 times already but everytime I try to try to tighten Bolts #1 and #2, the tremolo just pops out, and I have to restart all over again. It only takes a few turns of the allen wrench before this happens, so it's far from tight. I noticed the groove of the tremolo plate that goes into the niche of Bolt #2 is curved in so it sticks in easier but the plating that goes into Bolt #1 is straight so it pops out very easily. What am I doing wrong? Please and thank you.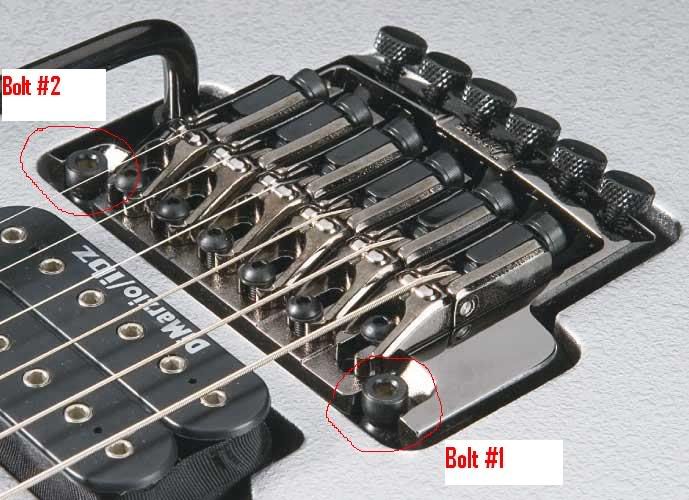 Join date: Sep 2006
558

IQ
Not really sure I understand what your problem is.

You are trying to install the trem with strings on at tension, correct?
Yes that's correct.
Theres's 2 problems at hand.
With the back strings unhooked, I can easily have the trem leveled. But after just putting one spring back on, the trem will sink all the way again.
That leads to the second problem. After hooking back all 3 springs, I'll try to tighten down the bolts since that's what the manual says to raise the trem up. And that's when the trem will just slide out of the bolt's groove and pop out.

Join date: Sep 2006
558

IQ
Sorry man, I've never had that problem before. It's really hard to identify what the problem is without actually being there.

If the trem is "sliding out" by flipping over, what I like to do is turn the guitar upside down, and hold the trem down with my leg resting on the trem while I work with the springs. Hopefully this solves your problem, if it doesn't I really have no idea what is wrong.

I've never had an Ibanez Edge Pro, Just the original edge. The trem didn't get damaged on the edges or anything when you took it out did it?
No damages as for as I can see. I mean if i really can't get this fixed myself. I don't think I'll have much choice but to fork over $100 to Sam Ash for a Floyd Rose setup, unless you can recommend a cheaper place in the NYC area.
Ok so that part of the tremolo that keeps popping out of the bolt is called the "knife edge" going by this website:
http://www.ibanezrules.com/tech/setup/sharpening.htm
You can see what I mean by the straight knife edge. That's the one that keeps popping out so easily. I have no idea how people are keeping theirs' in place.

Join date: Dec 2008
30

IQ
the bolt`s you are turning their primary function is to set the action height not to hold the tem in place.

how many springs are you using?

if the two bolts are`nt sat perfectly their will be lataeral tension, i`nm surprised you haven`t ripped the wood yet.

as fars peeps keeping their trems in place, we don`t remove them to start with.

if the trem sinks into the body you just need to adjust the springs by turning the screws in the relevant direction until the trem sits parallel to the body.

basically you didn`t know what you were doing and you botched it.
Last edited by ibanezgod1973 at Sep 26, 2009,

Join date: Oct 2006
190

IQ
+1

there's no reason you should be taking the springs off, let alone the entire bridge. The guitar should already have been fairly well setup, there was absolutely no reason for you to go fiddling with things.

Pay someone to fix it properly before you actually break something, and either ask them to teach you how to look after the thing or read the Floyd sticky. I'm assuming that you thought you were using the trem post screws to "tighten" the bridge and probable got them horrendously mismatched causing the trem to twist out, either that or you screwed them so far down that the body wood knocked itself the bridge out. Either of those things aren't very good for your guitar and highlight the pitfalls of messing around with stuff you don't understand.
Last edited by steven seagull at Sep 26, 2009,
That FR sticky isnt really that good. Its a very time consuming process. I found this vid and it helped out greatly.
http://www.youtube.com/watch?v=OPCtZN80L64
Based off what I gathered so far, You should never touch the Knife screws unless your adjusting action thats not caused by lack of truss rod adjustment and only needs to be raised lowered a 1/16 +- 1/32 in most cases, you should never remove the springs or strings all at once unless you block it out. W/O tension from both springs and strings the FR will always fall out, if your floyd is too low it will have problems also.
I understand now my misconception of the knife screw's purpose, and that the bridge and springs shouldn't have been taken off.
I'm currently at work so I cannot view the youtube video.
Even with me lining everything up straight to the best of my knowledge, I cannot keep the bridge from popping out. I do understand the concept of how the floating tremolo works though.

Join date: Mar 2009
10

IQ
try loosening the "claw" screws in the back of the guitar. If i understood right, it just sounds like they are to tight and need some loosening, this should start levelling it out.
Yes, I forgot to mention that I have loosened the back of the guitar several whole turns already. Perhaps I should keep turning some more.

Join date: Dec 2008
30

IQ
YOU DON`T KNOW WHAT YOUR DOING...
STOP
(before you mess the guitar up anymore).....AND TAKE IT TO A TECH.
your just cofusing yourself with what needs to be done, not everyone is right who has posted in this thread, so far it`s steve seagull,dime lvr, and myself that have offered the best advice.
i think you`ve misread the ibanez manual, and other online information.
imo youtube vids are useless unless it`s specifically by the manufacturer.
if i was the tech repairing this mess i`d be confiscating your ibanez toolkit or charging you for a lesson in guitar setup.
sorry to be so blunt but your guitar and you need a proffesional tech to help you sort this out face to face.
Last edited by ibanezgod1973 at Sep 26, 2009,
Well, ibanezgod you've been consistently helpful in my threads since me joining this forum a few days ago. So I'll take your advice on this one and take it to Sam Ash. Thank you.
So the guy that handled my guitar was a nice guy. One of those genuine "I'm in it for the music, not the money" type of guys. I watched the whole setup/tuning process, took over an hour, and he answered all my questions with great answers. Something sorta out of the movies, he replied to my question about equipment saying it's easy to fall into the tone-war and it's a never ending battle. The guitar is just a way of projecting music, what really comes down to it is you; (points to his head), (fingers), (heart), "then ultimately here" (points to ear).
Then he charged me $75 instead of $100, gave me his business card and said I won't charge you much next time you come.
Good experience at Sam Ash.

Join date: Oct 2006
190

IQ
Wow, you got the guitar equivalent of Mr Miyagi

He's right too, never forget that the guitar doesn't make music - you do. Guitar is just your chosen method of expression. If you're ever stuck for ideas best thing to do is put the guitar down and simply start trying to think of some music in your head.
Glad to hear it got sorted, for an hours work and tuition $75 isn't too bad, and ultimately it's a damnsight easier when somebody's there to show you how it all fits together rather than having to rely on people second-guessing what you're on about and making assumptions.