Midwestern Death Metal!
Check out the links in my sig to our UG Profile and Myspace. We're The Curse Of Hail, and we're entering the studio in December to record our full length. We got a few Demos on teh myspace and one on the UG Profile. If you're in the Iowa area, you should come on out and check one of our shows! Thanks bros.
:::::EDIT:::::
Check it out, this Friday! Costume Throwdown!
And again this Saturday!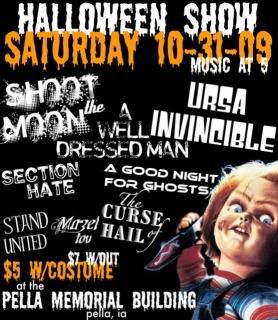 ::::EDIT::::
Shirts are in!!!!!!! $10 at any show.
:::EDIT:::
Show this Thursday on the Iowa State Campus! Homecoming Battle Of The Bands! Shirts have also been ordered and will be available next week. Continue to check this thread and Myspace for updates! Thanks.

::EDIT::
We got a Re-record of "Counsel Ov The Lord" on the Myspace and UG Profile. Take a listen.
::EDIT::
Show next Wednesday! Check it out if you're in the Des Moines Area!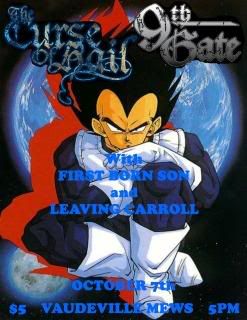 Last edited by JagStang5246 at Oct 26, 2009,
Why is Vegeta on the poster?
that looks like a homemade poster?
Yeah, it is, lol. WE usually don't pay to have Fliers made if it can be done at home. Plus, Vegeta is a badass.
I don't know how it works over there but when my band plays shows the booking person/people make the flier or pay for someone to do the flier, then they send it to the bands lol, of course some bands here are douches and make their own unofficial fliers so they can be on the top and think they are more important to the show then they really are.
My band was the one who set up the show, created the flier, and sent it to the other bands and venue. We are also headlining the show with 9th Gate, so that poster is correct in placement of the names.

Join date: Sep 2009
10

IQ
If the production on the recording was a bit better the song would be pretty sweet

I'm speaking about Counsel of the Lord on your UG profile by the way
Yeah, we're working on it, lol. All we got is a Tascam 8-track and craptacular mics. We recently invested in an SM-57, and it makes a world of difference! We wanna enter the studio in December, and come out with a 6 song EP.
How are you gonna record drums? This can prove difficult with 1 mic
X_X
Well, what I meant was that the 57 makes everything as a whole sound better, lol. We still use some of the not so good mics. There is usually 4-5 mikes set up on the kit when we record. I was a little vague, lol.
you might wanna invest in some more mics. idk what your budget would be.
We don't have a large budget, and we just spent most of it on our first set of shirts. We go into the studio in December, and it's free, so we don't really need to worry about mics at the moment.
Bump!

Re-record on the myspace and ug profile and show tonight at the Vaudeville Mews! Check it out!
Bump! Show this Thursday!
Bump!

Show the 24th at the House OF Bricks with No conviction and 9th Gate

Join date: Oct 2009
20

IQ
Sounds pretty good. I'd suggest experimenting with mic placement on the kick and snare drums to get a fuller sound, maybe some more reverb on the vocals. Your drummer could be tighter but I like the songs and your performance a lot.
Thanks fro the crit, bro. We appreciate it.

Bump!
Listening to "Congregation" now. The riffing's good and catchy, good drumming, nice vocal range (the growls and shrieks).
But, vocally speaking, the vocalist (don't know if it's you or not) needs to do theur growls more so they get lower and more powerful

Thanks bro! It's the lead guitarist that does the vocals as well. Lol, kinda got a James Malone thing going on.
Bump for new shirt designs. Check out the myspace. It's the profile pic.

Join date: Oct 2009
20

IQ
Sounds good. Get a new drummer and/or a click track/make the drummer practice more.
It's okay. It's not really death metal, the riffs are very metalcore ish which isn't my thing, but it's alright. Vocals are actually very good. The drum sound is really, really bad, and he isn't to great either.
Bump!

It's just a demo. The drummer is quite a bit better, but he tries to do it all in one take. We see where this gets someone, quality wise haha. We're working on it though.
Last edited by JagStang5246 at Nov 24, 2009,
im pretty sure its against the rules to bump your own thread more than once.
anyway i like your music, could be a little heavier to suit my tastes but it sounds good for hardcore/metalcore
C4C?
www.myspace.com/exylum
You can bump it once a day bro, lol. It's all good.
You can bump it once a day bro, lol. It's all good.
not true at all. read the rules.
no bumping. no making multiple threads for the same band.