trouble installing knobs
hey guys, i bought a set of knobs for my guitar but i really dont know how to put them on the pots. i'll attach a picture of one of them, just give me simple instructions. thanks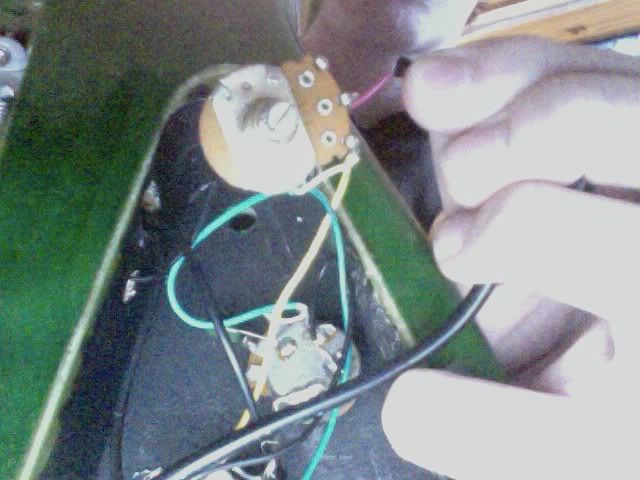 take off the old knob.....put on new knob
simple as that. make sure the pot is secured in the guitar nicely....and make sure you know where 0 and 10 are.
the knob just doesn't stay on tight, i'm not sure if i got the right kind for the type of pot i have
the pots should be universal to any knob. if there is enough room, use a small piece of a toothpick as a shim to get a better fit, dont use glue, cause you'll never get the knob off after.
hmm, by what exactly do you mean shim?
like, put the piece of tooth pick between where the peg of the pot and the hole of the knob meet, in between them, so it tightens the space between them
A good tip I read (and used) recently is to take a piece of normal kitchen cling film, fold it neatly so it fits over the top of the pot shaft with enough extra to fit partway down the sides, and push the knob down on top. It creates a nice tight fit, only takes a few seconds and is non destructive.
i might think that the knob is not the right size for the pot though. on stewmacs website, there's the option of 6mm and 1/4 inch knobs, i ordered the 6mm ones, but i measured the split shaft diameter and it was about 5mm, so i really dont know...
The toothpick trick works, it's what I usually use on stripped out knobs, but unless you can fit two shims, one on either side, the knob will "wobble".

For a mismatched size, the seran wrap works, so does electrical tape, aluminum foil, duct tape, you name it.

Join date: Mar 2008
210

IQ
You guys are doing it wrong. This is a split shaft pot. TS, with a pair of pliers or a pick or something else that's thin and pointy you can separate the two halves of the pot's shaft a bit more. Try doing that and fitting the knob on till you get a tight fit.

Join date: Nov 2008
20

IQ
Echoing what asfastasdark said.

You can even use a small slotted screwdriver to do it. I did it on my guitar when the volume knob started to fall off. Took the knob off, fiddled with the pot a bit and put the knob back on. No problems since!
Ah, well, yes.
Set screw knobs are exactly designed to do just that!

@ WinterSteel:
That works for small discrepancies, but caution, I have snapped off the side of an old CTS pot from a 50's Tele doing that...
..that was a bad day.
The owner (a curator of a small instrument museum) was less than pleased.
Have you ever priced CTS split shaft 500k pots?