Giving life to my strat
Hello all,


Well, i have this great american std strat that it's really a good value BUT i find the color (black body, white pickguard, maple neck) to be too common and i always end up gasing for other rarer guitars...

Not only that, i mostly play death metal, it sings ok with a super distortion in the bridge and a good EQ but i've lost the sparkling clean tone, DGilmour style...

I know it's something i have to decide for myself but i'm been thinking for the past weeks and can«t really focus on practice instead.

Basically, i'm asking for suggestions about changing the looks and also the playability to the sound i want. Would really appreciate any help. Thanks
Put a black pickguard on it and a coil tap on the SD.
aye but a DG strat is not original at all lol

Join date: Oct 2007
50

IQ
I checked those metalic made by fender... too bad they were like 60e
Last edited by morkeg at Oct 2, 2009,

Join date: Nov 2006
60

IQ

Join date: Jul 2006
40

IQ
tortoise shell pickguard?
you could use the neck pickup or the middle pickup for your clean tones and use the super distortion for metal tones. If you really want to use the bridge pup for clean tho then you'll probably need to coil tap it.
You don't coil tap it, you coil split it. However a better option would be to install an on/on switch to switch from series wiring to parallel, giving you the same tone as a coil split but it will remain nosieless.
hmm, that sounds good but should be troublesome.. i'll check it out thanks

Join date: Aug 2007
40

IQ
definitely a black pickguard with black pickups. one of the cooler color combos i've ever seen!
Here's My Strat............I like blk on blk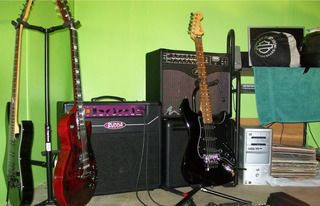 Here's My Strat............I like blk on blk
Jesus, an XXX Combo, Budda amp, two strats and a Gibson Studio? O:
You're making me jealous here.

What about a red (crystal like) picguard and black knobs. Change it to a HSH setup.

Join date: Nov 2006
50

IQ
Red pearly scratch plates look good on black strats with maple necks.
Get some black knobs too.
Also wear it in, no two guitars will wear the same