rack wah,scumback,V1,Keeley DS1
-Dunlop Rack wah DCR 1-SR with foot controller and stereo chord $499
-Scumback H55 12-16-55 30w $109
-VHT valvulator 1 tube buffer/signal splitter/DC power supply $139
-Keeley DS1 distortion pedal, with the Seeing eye and Ultra mods $79
Drop a zip code for a shipping quote.Thanks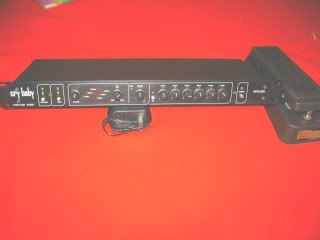 Ship to UK?
Yes. What are you interested in ?
The DS-1. Can you find out a shipping cost to Birmingham UK?
The DS-1 has been sold to one of your UK mates, actually. Sorry...
... therefore, Keeley sold!
offers for the wah,please?
Two Celestion G12-65 Heritage for sale; $129+shipping.