Wood shop Project Update!!
Hey guys I am posting a new thread because some reason it wont upload my pics on the other one. As my other thread says i am making a custom avenger. I have already cut the body out and began sanding it. Its made out of Ash (First build Btw). I am very happy how it turned out after getting the body cut out. I have not made marks for pickups,switched,knobs, or possialy a floyd. (Still deciding on a floyd) My paint scheme will possiably be clost to the design of Brian Haners. Need help on makign measurements for pickup routes and intanations and neck pocket. Thanks guys


Join date: Jul 2009
70

IQ
cool, but i still dont get why/how you couldent link photos to the other thread, but w/e.
Idk either man its weird. I tried like 3 or 4 times then eventually gave up. So metal i got to thank you for that awesome temp you sent me thanks. ANy ideas floyd? Paint? Any part slingers?

Join date: Mar 2008
180

IQ
You got lotsa sanding to do

What was it saying/ doing when you tried to upload pictures into the other thread?
when you tried to post in you other thread the you internet browser freeze when you tried to post?

Join date: Jun 2006
130

IQ
Looks good go with the floyd rose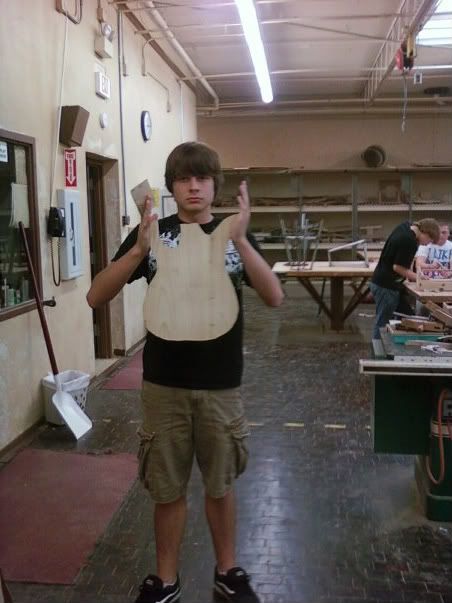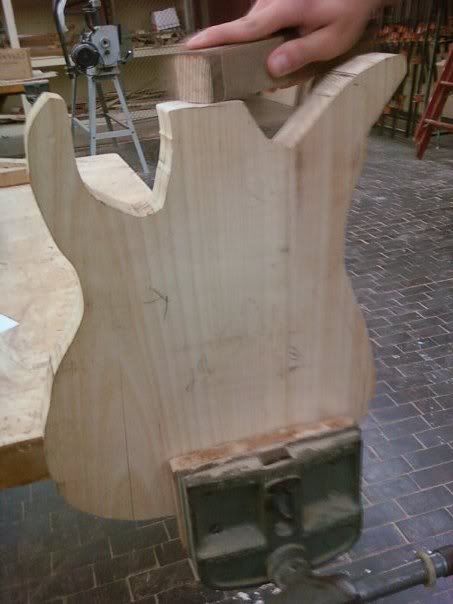 Join date: Jun 2006
130

IQ
I am not sure what your asking for when you say (Need help on making measurements for pickup routes?) But you can buy some routing templates at stewmac for $5.55
Idk man it just keep on saying error loading. But anyways yes it looks like i got a lot of sanding to do BUT i got 2 sand machines to make the job a little bit easier haha (Work smart not hard). Thanks 4 the comments too guys sure do appricate it. And i got a thumbs up for a floyd rose. Anyone else? Any unique ideas? paint? Also by route temps i sure could some some help on that as far as how.

Join date: Jan 2009
260

IQ
Why such a rough cut? Is there a spindle sander in your schools woodshop?
Yes sir there is. and a table sander where its consantly runing around 2 cylinders.

Join date: Jan 2009
260

IQ
Do you mean a belt sander?
Yeah sorry he has a lot of machines with too many names XD. But yeah he has a belt sander and a spill but The thing im scared about the belt is it might create a square piece on the bored if i sand in one area too long.


Join date: Dec 2008
40

IQ
easy solution, don't hold it for too long.

really though, don't try to do it all at once with a belt sander.
I know that easy solution haha. but i was just going to get the outside of the body with the belt sander then with a Spill get in the inside of the horns and then finish it off with some good ol hand sanding to make it smooth as a baby's ass.
Man this thing is so much better gonna try and hit it on the Spill sander tomorrow haha BUMP
PICS NAO. I want to see what it looks like cleaned up!

Have a sizzlin' day,
AJ