Vocals
Can't go much wrong with a 57/58

If it's gonna be used solely for vox, get a 58. Want it for guitars too, go for a 57. They're both the same mike, just with a different top AFAIK
Yeah, it's just for vocals. So for my price range that would be the best mic?

Also, any suggestions for the rest of the setup?

Thanks everyone, I'm new to live stuff, at least with vocals.
The seinhenser e835 is also a very good budget mic, it's as good as the SM58
Last edited by Ramblin'_Man at Oct 12, 2009,
Can't go much wrong with a 57/58

If it's gonna be used solely for vox, get a 58. Want it for guitars too, go for a 57. They're both the same mike, just with a different top AFAIK
not exactly, they don't have the exact same frequency responses
sm57:
sm58: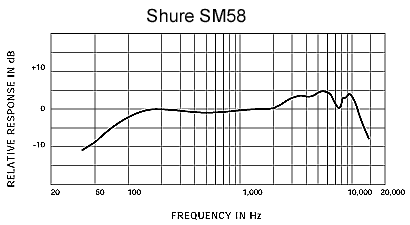 where left is low and right is high (duh)
as for the mic, you can't go wrong with sennheiser, they do some amazing microphones
Last edited by Darkflame at Oct 12, 2009,

Join date: Jan 2009
70

IQ
Audix OM5 for stage vocals.