Finally finished the sawblade guitar

Join date: Mar 2007
212

IQ
The thread i started for it is pretty dead, i figured id start a new one for the finished product. heres a link to the old thread to see the process
https://www.ultimate-guitar.com/forum/showthread.php?t=1036481
so heres the finished product
sorry for the dark pics. ill post better ones later. heres another one of that and the bass i customized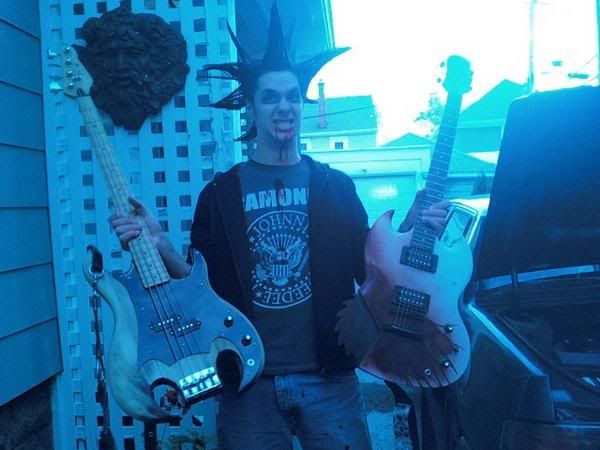 again, sorry for the crap quality. more pics are coming soon.
I remember this! xD
not bad..
I think the blood would look better with more of a splatter/ less of a pool, but I'm not really a fan of
any
blood splatters on guitars, anyway

and it's just in time for halloween
It's badass man. Cool effect. Like the bass too.

Join date: Sep 2007
41

IQ
right on man im loving the sawblade.. good job

Join date: Dec 2008
40

IQ
I vaguely remember this.

looks good! and painful.

Join date: Nov 2007
90

IQ
awesome! looks great! the bass looks way cool.

Join date: Jul 2007
163

IQ
they are so so awesome, great job man

I'm normally not a fan of things like this, but I must say I'm jealous.


Join date: Aug 2005
210

IQ
Just for future reference, post the updates/finished product in the original thread. It was probably dead because oflack of updates or w/e.

Pretty cool anyway.

Join date: Jun 2007
301

IQ
Nice, looking forward to some proper pics.

I remember this

looks a LOT better then I thought it originaly would. Nice one man

+1 to the better than I thought it would be vote.

One thing that i'd have done differently though is that I'd probably put a little yellow/black caution tape under the blood smear.
Nice job! I like the bass a lot too.

Join date: Feb 2007
374

IQ
awesome, I demand a closeup of the guitar with better lighting!

Join date: Jun 2009
60

IQ
That things unique, thats for sure.... I like it though
In the guitar customization gallery thread (I think) there was a guy who did this but with a real blade that spun!

Nice job! Out of all the guitars that look like they could have double uses as weapons (B.C. Rich ect...), this is the first one I like


Join date: Mar 2008
180

IQ
Is that really the best place for a saw blade?
Instead of a comfortable forearm contour you have a saw blade

looks pretty sweet.