Ngd!
Picked up this Epi Les Paul Custom Silverburst today.
Owner bought it a few months ago, and i scored the guitar and case for $550 AU. Around 1/3 of new price.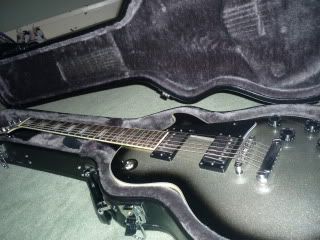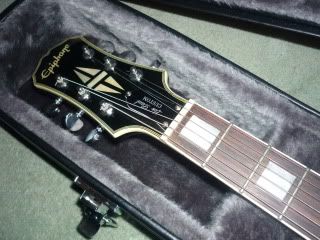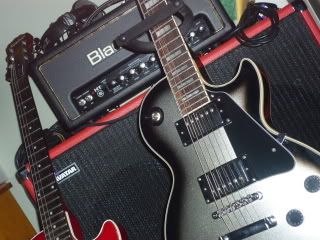 Have always loved the silver bursts, very tasty indeed!! HNGD!!
Awesome price and finish. That is a great find..

!!! HNGD !!!
Very nice indeed

HNGD!

Join date: Mar 2009
90

IQ
damn it another one for the gas list where did you pick it up that cheap

Join date: May 2009
20

IQ
Nice. Almost as good as the 1970 gibsons....which is my absolute dream guitar.
HNGD anyway!


Join date: Nov 2007
30

IQ
I want! and your in melbourne, i might just have to come and pay you a vist hrmmmmm

HNGD!

Join date: Dec 2007
120

IQ
Awesome guitar man, I'm thinking of getting one soon.

Join date: May 2009
40

IQ
Awesome guitar reminds me of Adam Jones'.

HNGD

Join date: Oct 2008
460

IQ
OMG I HATE YOU

I would die for that guitar, let alone the Gibson version.

Join date: Aug 2008
50

IQ
We have a winner!

Seriously. Thats one sweet axe. HNGD!

Join date: Mar 2008
92

IQ
Makes 2 of us in a week

HNGD!
Damn, that is a sexy guitar!

HNGD!
Jealousy...Must...restrain...self...from...stealing...

*sigh* I'm better now. Happy new guitar day! God I want that guitar so bad.

Join date: Jul 2009
130

IQ
i just found the LP im getting next. beautiful finish!

Join date: Jun 2008
50

IQ
I played the gibson one today at gc...felt really nice and what not
Play Circle of Cysquatch NAO!
What are you? A member of Mastodon?

Jk. HNGD!!!
Thanks guys,

For all you guys in Aus wondering where i got it, I got it of Melband.
I'll give a review in a few hours, after i put some new strings on and adjust the action. So far, even with really old stirngs, it played really well. The stock pickups are actually decent, but im replacing them with BareKnuckle Mules soon.
Will give an update in an hour or two.
UPDATE:
Now having played the guitar a bit, i can say i am extremely happy with it. The feel of it compared to my other Les Paul is so much smoother. The pickups are decent enough. The Neck PU is great for cleans, really nice warm tone, while the Bridge pretty much handles everything else to a certain extent. Getting some great Classic Rock tones outta it.
Anyone thinking of getting one of these guitars, go for it. I've got the action quite low, and there is no buzz anywhere on the neck. Also, if anyone has this guitar, try raising the pickups a bit, i noticed a nice improvement.
Will make some recording over the next few days, please keep an eye out for them.

Join date: Nov 2003
90

IQ
Wow that's a beautiful guitar. Congrats!

Join date: Jan 2008
390

IQ
Nice, I'm liking the finish. HNGD!