New amp day (peavey content)
Well after a week with no amp( cousin took my old one because I thought I was getting a bugera v55 the next day

) anyway today on our way home I saw a place called sky music which I had actually gone past several times and never noticed it... but today I did we went in to have a look around and I came home with this for $599 AUD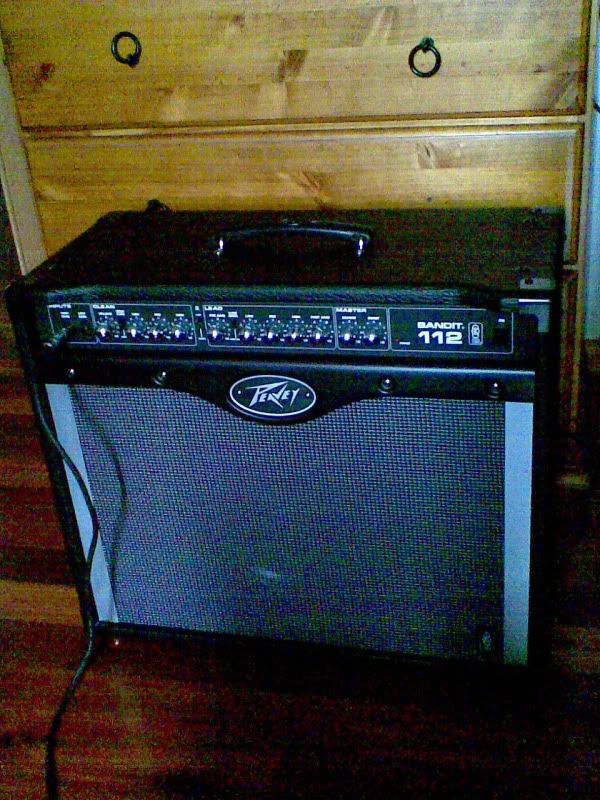 Peavey Bandit 112 80w


Join date: Jul 2009
50

IQ
Hnad

What amp did you lose and why didn't you get the Bugera?
the amp my cuz took was a crappy 10w starter amp and I didn't get the Bugera because the day I went to buy it they were closed then when I called the next day they it was sold out and it was also kinda an impulse buy xD but never the less it sounds awesome and its a big step
What kinda bugera were you gonna get?
And what's the specs on the bandit?
It was the v55 and I'm not to good with amp specs all I know is the model name is bandit 112 its 80w and has "transtube technology" but i liked both amps the was 50 dollars cheaper and they had one is stock so kinda a win win situatuon

Join date: May 2009
60

IQ
The Bugera looks a lot better IMO but HNAD I guess

I would like it to if it was there but there was also the question of the bugeras reliability since alot of people say they crap out the peavey came with a 5 year warranty and I'm really liking the high gain channel on this thing but everyone has there opinion if not we would all be happy with MGs :P

Join date: Jul 2008
51

IQ
Hnad!

I have one too

hahahaha yea i just clicked on your profile and saw your pic

Join date: Mar 2008
260

IQ
Hope you love it


Join date: Jul 2007
206

IQ
Looking good!

Also, where do you live? I'm less than five minutes drive away from Sky Music.
congrats on the PV.


Join date: Mar 2010
10

IQ
HNAD =]
this is one of the amps at my Uni in the practice rooms, and although i'd buy something else over it, it is the one i use over the other ones anyday cause it sounds really good for what it is, so congrats on the buy and enjoy playing with it

Happy NAD. Bandits are pretty decent amps. I love mine. Since swapping the speaker it's as loud as my brother's 50w tube combo.

Join date: Jun 2007
190

IQ
HNAD!
Swap that speaker out eventually, but nice score. That's a pretty decent price for AUD

Stop being on UG and play it!