ESP LTD AX-260 Tribal
the ESP LTD AX-260, the next level above my AX-50, used to come with tribal inlays that looked really sick. im considering upgrading and it appears that they did away with the tribal inlays.

anyone know if theres a place that still sells them with the tribal inlays new? thx for any replies

Join date: Jul 2009
120

IQ
i cant think of any place that specializes in brand new models that are a few years old. ebay or CL?
i cant imagine mine w/o those nice inlays. what are they now, just the dots? how boring! this 350 is from 2004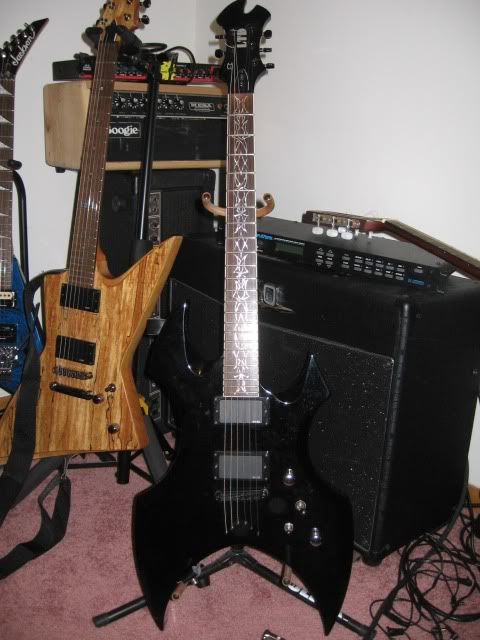 Retailers usually don't sell old stock like that. The tribal probably didn't sell too well or something. I don't know. Look at used markets and small independent stores.

Join date: Sep 2009
30

IQ
the ESP LTD AX-260, the next level above my AX-50, used to come with tribal inlays that looked really sick. im considering upgrading and it appears that they did away with the tribal inlays.

anyone know if theres a place that still sells them with the tribal inlays new? thx for any replies
duuuuuuudeeeeeeee someone screwed up your guitar... if you need a tech let me know.


Join date: May 2004
110

IQ
i would not go from 50 series to 200 series because 200 series is allways same body/neck/hardware but paint is different and pickups SOMETIMES are different. in this case it is the same as the 50 series with the inlays on the neck. you are better off saving your mony for 400 series or better and upgrading pickups in the mean time.

Join date: Jul 2009
120

IQ
or hell get the AX-2E. its neck thru w/ ebony fingerboard (and ebony top, whatever the hell that does). but its only natural finish. and as for the pups that one comes with, they actually are pretty good. coil tappable and pretty versatile.