New Pedalboard Day
I've never had a pedalboard before, but now I do. I purchased the Gator GPT-PWR Powered Pedalboard, BBE Boosta Grande, Korg Pitchblack Tuner, and the new CAE/MXR MC-404 Wah wah.
Gator GPT-PWR:
This is a must have for any body using a small number of pedals (6 or less). It's rock solid plywood with tolex covering, and the front of the board is all velcro (comes with two long strips of velcro to stick to your pedals, very nice). The beauty of this board is the power supply. It comes mounted underneath the board and is extremely convenient. There is a bit of noise from it, however. A high quality carrying bag comes with the board, so you can stick your whole pedalboard into it without taking off the pedals. It's awesome.
BBE Boosta Grande:
I have the new one with the flamboyant orange art on the pedal. It's very simple to use, it has adjustable Gain, and an on/off switch with a blinding blue LED. This thing literally is transparent, and does not mess with your sound whatsoever. This is great for increasing your volume when you've turned down your volume knob, to fatten your clean sound up, or to give you that extra push for a solo. Switch gives a positive sounding and feeling "click" as well.
Korg Pitchblack Tuner:
This thing looks badass. It functions perfectly as well. It has a very big display (unlike the Boss TU-2) and is built like a tank. It has four modes of tuning and is true-bypass. I can imagine keeping this pedal for a long long time.
CAE/MXR MC-404 Wah:
This is the new wah wah from Custom Audio Electronics, as well as MXR (Dunlop) and the Crybaby team. This thing is just sick. It has two fasel-inductors (red LED and yellow LED), a very nice boost, as well as LED indicators, true-bypass, and if you are ever inclined: adjustable internal pots for the sound of each fasel inductor. It looks great with the CAE logo on top, and it feels very solid. Red fasel emphasizes more on the low end, while Yellow more on the high end. I prefer the Yellow for most occasions, however red is great for vocal-like sounds. The boost, which is a built in CAE Line boost I believe, can give up to 20dB of boost, and it can add ALOT of gain to your sound if adjust it to do so. Great great great feature for solos.
Horrible picture, but you get the idea.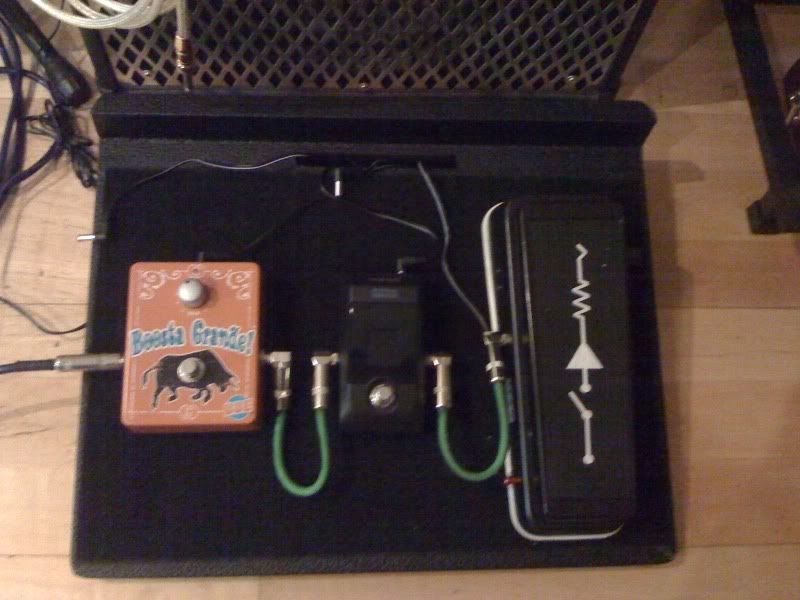 Nice! HNPD! I always wondered about how good that wah would be.

HNPbD!

How much did the boosta grande set you back?