does anyone know what guitar this is?
This is Brian Southall from The Receiving End Of Sirens...who are hands down my favorite band. Does anyone know what type of guitar that is? It's ripped from a bad quality youtube vid but those are the only ones I could find. but it's kind of odd shaped. I don't think I've ever seen it before.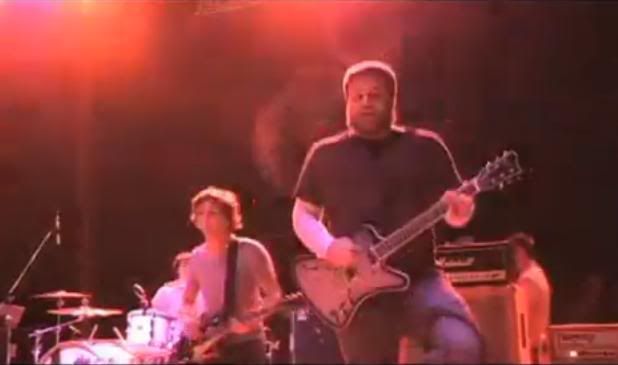 I think it's a first act Delgada, probably a custom
Last edited by SDM at Oct 24, 2009,
Join date: Dec 2008
350

IQ
Last edited by dannyalcatraz at Oct 24, 2009,
thanks for your suggestions. I know it's hard to see what it is but if this is a first act, I'll be amazed. It sounds really good
Join date: Dec 2008
350

IQ
I know First Act is primarily known as a maker of entry-level instruments that cost between $50-150, but they are serious about their "custom" shop stuff. Lots of First Act guitars are showing up in the hands of the pros.
Check out the links I posted- they're from First Act's gallery of custom guitars, mostly for established artists. You'll see Rick Nielsen, Nick Zinner, Brad Witford, Brent Hinds, Paul Westerburg, David Hildalgo, Al Jourgensen, both of the guys from High on Fire, both of the guys from Los Lonely Boys and many many others use First Act guitars.
Now, I didn't find your guy listed, but that could be for a variety of reasons. For instance, perhaps that wasn't his guitar and he was just borrowing it. Or he ordered it but didn't agree to any kind of publicity deal.
Whatever.
At any rate, the next nearest thing I can find to resemble it at this moment would be the Framus Hollywood Custom, but its symmetry is off, as are the controls and pickguards.
http://www.framus.com/modules/produkte/produkt.php?submenuID=21340&katID=11055&linkID=43383&cl=EN
Last edited by dannyalcatraz at Oct 24, 2009,
yeah I dont think Brian would order a custom shop instrument for himself. He must have borrowed it or something. Thanks for your insight