leather jackets

Join date: Dec 2006
110

IQ
i want to paint my leather jacket and stud it up. post up your pics for references.
I would, but my image hosting website is currently dead.

Join date: Dec 2006
110

IQ
that sucks. i can't think of any bands i wanna paint on other then discharge.
I did the crass broken gun logo, subhumans, conflict and a//political
Also, I outlined the trim of the jacket with white paint because I'm unoriginal and it looks cool as f*ck

Join date: Oct 2004
110

IQ
I wanted to decorate my leather jacket at first, but I no longer believe in using animal skin in clothing, so it's just gonna linger in the closet and probably get left behind when I move out.
Last edited by werty22 at Oct 24, 2009,
Holy ****. I forgot about that thread. I miss getting threads that off topic.
Anyways, Florida and jackets don't go well together.

Join date: Jan 2005
212

IQ
We really haven't had many threads worth hijacking really.

It's a shame though cuz as a forum we used to be dynamite at it.

The N64 discussion a while back was good.
I have A different vest now than the pictures I posted in that thread.
I could take pictures but I do have one of the back.
Resistant Culture and Limp Wrist, in case it's too blurry to tell.
I might take a couple more distinct photos in the next couple days.
Hey aXe, do you still have some of those pins? I'll buy the ones that don't suck.
PS. I hate old threads. I should figure out how to purge this forum of everything that wasn't posted a month ago or less.
I had
Wealdstone Bulldykes
On Tour
But I didnt wear it much.
On the back of mine
Join date: May 2004
712

IQ
Couple of pictures:

Join date: Jan 2009
184

IQ
Im makin a new vest now actually, ill post later, when it is done

Join date: Jun 2009
20

IQ
I've got a denim jacket that I studded up across the back and on one front panel. The other front panel, I stitched some leopard print material onto it

It's lovely!
i want a leather jacket, i cant afford it though. The closest thing i have to one is an op ivy sweatshirt with patches on it

Join date: Dec 2008
100

IQ
Didn't do too much to my leather.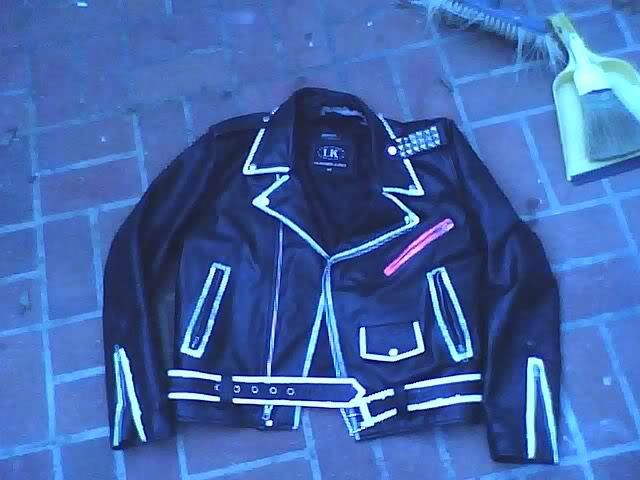 I'm the goofy fuck in pink gloves.
Nickel Sluts<3 Don't know why I put it backwards. Ehh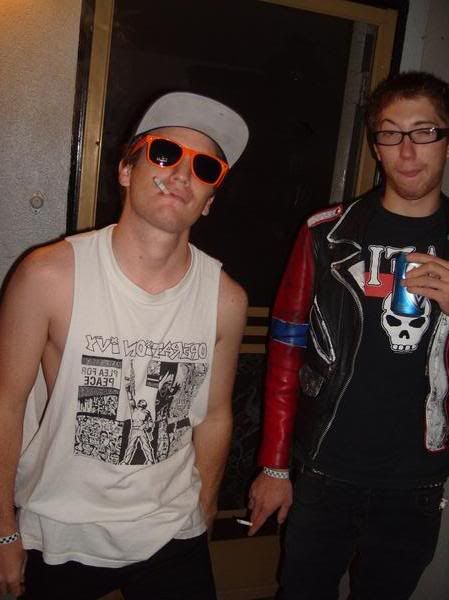 Last edited by BR0KENHEARTED at Oct 30, 2009,

Join date: Jan 2009
184

IQ
Ok, so i got mine kinda. Im gonna take it in some as im skinny as fu
ck and i might add some more stuff to it like plaid pockets or studs or something, but i like it simple.
My pictures will suck but on the front its Rudimentary Peni, Bad Brains, Oneway System, a homemade Subhumans patch, and the adicts. Also a good chunk of pins. On the back its the UK Subs and Flux Of Pink Indians.
WARNING-TERRIBLE CAMERA QUALITY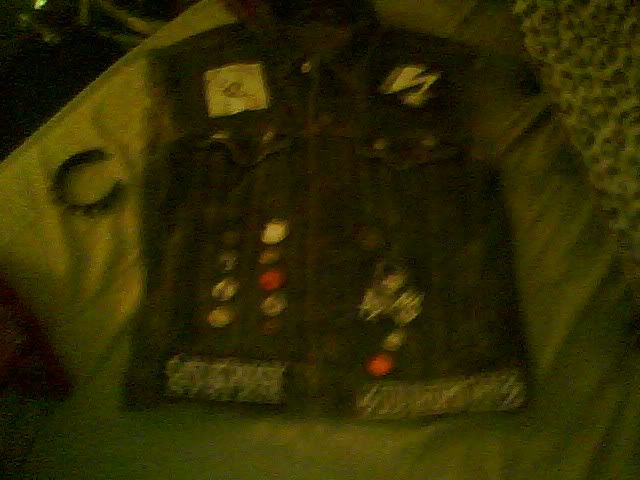 I wanna make a patch that says "Not Very Punk" and see how many people get it.

Or maybe "Moderately Punk."