Flying V scratch plate re-paint
Hello! After enquiring on here a few days ago how to go about painting my Tokai flying v's scratch plate I got me some spary paint and gosh darn sprayed all over it. Repeatedly. And now for pics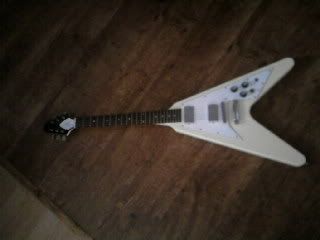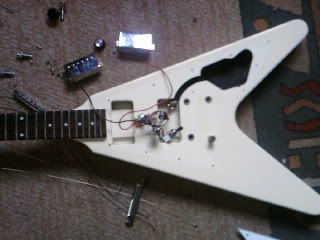 ooh.
personally, I think I liked the white better, but black looks pretty good, too


Join date: Jun 2007
20

IQ
yeh im likin white better

Join date: Feb 2009
30

IQ
Nice lookin' V.
Likin' the black, makes those 'buckers and hardware really shine! Goes with the headstock. Might have been better to get a replacement black pickgaurd instead of spray painting the original.

Join date: Jul 2008
190

IQ
I like the contrasting look the black has
Prefer the black. Good stuff.

Nice one!