Acoustic Electric Guitar Broken
i'm not even sure if this thread can go into the electric guitar section, but since it's the electric part that i need help with i figured thi woudl be the best place to put it.

So a couple of weeks ago someone tripped over an electric acoustic guitar while it was plugged in, and now when i try to plug a cord into the jack of the guitar, it's extremely loose. it's like there's nothing there to hold it in, and if i held the guitar downwards, the cord would fall right out.

it's as if it's just a hole there, and nothing to hold the cord in.

AS well, the guitar won't play through the amp anymore, unless I hold the cord in really tight, and push it down a lot.

I wanna ask online first before bringing it to a store, because since the broken part is probably somewhere on the inside, it'd be expensive to fix.

Can anyone tell me what happened exactly, and more importantly, how i can fix it
?

Any help is appreciated thanks!
Sounds like a loose jack.
if there is a part missing, it shouldn't be too expensive. Also, if you can find the ring you could put it back on... maybe even by hand.
what ring? lol. i don't think anything fell off. Perhaps a piece of metal just bent on the inside of the jack, so that when i push the cord in, there's nothing to hold it?

but is there anyway I can fix that?
Probably that little peice of bent metal inside broke off or just got pushed in far too much. Peer inside the jack, and there should be a small metal peice that you should be able to bend. Bend it to the opposite direction and put the cable back in, should work unless that epice is missing.
ALL ACOUSTIC E Guitars are different, but with some....
if you can get your hand into the sound hole all the way to the jack in the inside,
you can unscrew the nut off the jack on the outside, and hold the jack on the inside so it doesnt spin.
the once the nut is off, you can remove the jack from the sound hole.
it will still be attached to the pickup by wires.
you need to insert a cable into the jack where you can see how it's connecting.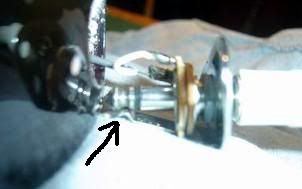 once in sight. insert a cable plug and make sure it clicks into place at the arrow.
if not, then carefully bend the arm so that the cable does fit.
worst case. if the little metal jack is broken, then it would take a few mins to attach those two wires to a new $4 jack.
whoa...i don't think i'm ready to do that by myself....it's not even my guitar.