NGD - Warmoth Thinline Tele finally finished
This has been about four months in the making now. First I saw the body on Warmoth's deals page, knocked down from $540-ish (don't recall the exact figure) down to $295 (to custom-order a body like this would be a bit over $700). It was then about a month before I had the money to have the neck made, and after that it took three months to get the neck pickup made. It's been a long time coming, but completely worth it.
The full spec run-down is as follows:
Semi-hollow black korina Thinline body, rear routed with one f-hole. Finished with natural masked binding and tobacco burst on both front and back.
Vintage Modern Telecaster neck, quarter sawn maple with rosewood fretboard, 10"-16" compound radius, Standard Thin back contour, 1 11/16" nut width, 6105 fretwire, corian nut and pearloid trapezoid inlays, vintage tinted satin nitro finish. Two string retainers and Schaller mini locking tuners (which actually aren't all that 'mini', they're almost exactly the same size and weight as the Planet Waves auto-trim locking tuners).
Bridge pickup is a Seymour Duncan Hot Rails, the neck pickup is a Swineshead AMP humbucker (it's made as two regular Strat style singlecoils taped together, giving a much more articulate tone than traditional bar magnet humbuckers).
Oak Grigsby 3-way switch and a single CTS 500k volume pot are the only controls (I was going to use a 250k pot, but the only one I have doesn't have a long enough shaft to fit in this guitar). Classic style Telecaster bridge.
Hardware is all gold on the front though I used basic chrome for the neck plate, jack and other things that you don't ever see.
Total cost is somewhere just over $1100 for the Warmoth stuff (plus a total of £447 import/VAT duties) and about £160 on parts here (£85 on the neck pickup alone).
The tone from the neck is akin to a Strat's neck pickup but with a little more bass. I'd put it right inbetween a P-90 and a Strat singlecoil in terms of tone, very 50's jazz and blues. It has the added benefit of being hum-less too. If I EQ my amp to really boost the treble, the neck position ends up sounding a little acoustic-ish.
The tone from the bridge is compressed and very... bizarre. It typically sounds like a solid, chunky pickup for rhythm playing (which is what I intended this guitar for), but depite it's thick tone pinch harmonics ring out of this louder and clearer than on any other guitar I've ever played. It's very odd and will take a while to get used to, but I'm liking it - it's capable of exactly the sort of compressed chunky tone I wanted for rhythm playing but then it's got this added bonus of huge harmonic response too.
The tone in the middle is also bizarre and not what I was expecting, but actually an improvement. It's got a little bit of the 'quack' you get from the combination positions on a Strat which is really lending itself well to funkier rock and pop tones.
I built this guitar to have a versatile rhythm guitar to cover all the various styles I play and I got exactly that, though in a slightly different way than I thought. The neck position suggests an early Epiphone hollowbody, the middle suggests a 90's pop Strat and the bridge would make you think it's an ESP Eclipse. Considering I play everything from B.B.King (blues) to Paramore (pop-punk/emo) to Bon Jovi (80's rock) to Tristania (gothic metal), this has come out more useful than I ever planned it to. I'm used to most guitars being great at one tone, okay at a second tone and rarely at all capable of a third tone - but here I am with a guitar that nails everything I do equally well.
For some reason, I have no idea why, the name Beth leaped out of me when I started playing her. I've never been much of a a fan of naming guitars, but this has happened twice now - the other time being my Gibson, Christie - where a name as screamed out at me the moment I've touched the guitar and it somehow feels wrong to
not
refer to these two guitars by name and 'her/she/etc' now.
Anyway, enough waffle, on with a couple of pictures.
The body - the light dot near the f-hole is in fact a dent, I took her to a gig last night and a drunk goon smacked into me, guessing it was his belt buckle or something

: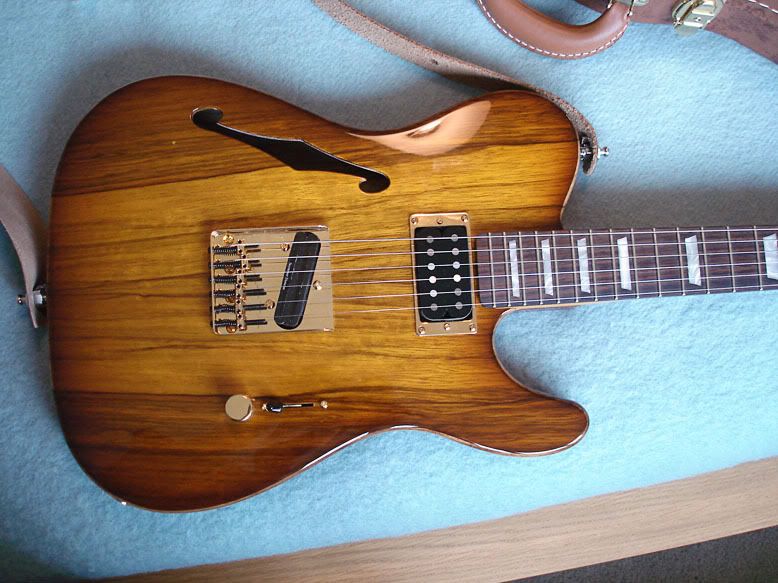 The neck - my last Warmoth build has a blank headstock but I decided to make use of the metal Warmoth logo this time around:

And Beth and Christie together (yes, I probably should have gotten the headstock painted to match, but oh well).