My other NUsedGD

Join date: Jul 2007
470

IQ
Well, here is the other guitar I promised I would post. It's a Devlin Wraith in matte black. Mahogany body, neck, rosewood finger board with circle inlays. The pick ups are Devlins own Spitfire brand and IMO they rock! I love the sound these produce and with this body the tone is unbelievable. I was a little leery about getting this even though I own a Devlin Interceptor that I love. The price was $90.00 it shows wear like it was gigged. As with all guitars I buy I gave it a good once over and I was surprised to see top of the line brand name electronics. I have to see if my other Devlin has the same pots and switches. I got home around 1:00 this afternoon and have been playing this non stop I tell you I can't say it enough I am very surprised at the tone. My only complaint is the thick heavy old style/feel Gibson LP neck. It's neck heavy like most SGs too. I like thin necks and my other Devlin had the best neck I ever played V shape I really wish they would have gone with the same profile on this.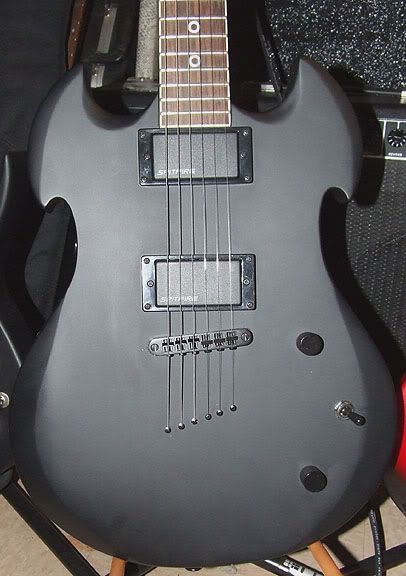 Well, I think this will be my last NGD for a while. I am seriously running out of room and it's getting harder and harder to try and hide the newest ones from my girl friend. She would kill me if she knew I bought two guitars for myself in less than a week even though the two only totaled $180.00. She doesn't mine me buying guitars I resell so that won't stop. LOL
Who knows though GAS is always waiting to jump on my back anytime.
John

Join date: Mar 2009
10

IQ
I have no idea what the quality of that guitar is, and I almost never like "metal" guitar shapes, but... that is one of the most unique body styles I've seen in a long time. Great acquisition, if for no reason other than that. Love it! HNGD!

Join date: Aug 2007
40

IQ
looks kinda cool for $90! i think it's always great to have a beater guitar around. hngd!
yeah 90 dollars looks like a good deal, HNGD.

Join date: Jul 2007
470

IQ
Thanks guys, Originally these list for only $300.00. Even though they are fairly inexpensive they rock. Their customer service is the best. I had my Devlin Interceptor a few years and the tuners started to loosen and not stay in tune. I emailed them and got a new set of Grovers free ASAP they didn't even ask for the old ones back!

I played this guitar all night I have to say they make a great pick up. I played it in every setting on my Line 6 and then on my 2x12 Tube amp it performed thru them all flawlessly. My only complaint is I prefer a thinner neck.

John
Join date: Nov 2003
90

IQ
Awesomeness! Congrats on your new addition!