Strat Pickup Mods
Hi All,
I posted a couple days ago about getting a nice Grunge / Garage Rock tone from my strat. Thanks for the help with the pedals. Currently I have the EMG DG-20s and I'm actually pretty unhappy with it and after thinking about it want to go for a total alt 90s grunge type of sound. I'm just not getting the tones I want from the EMGs. They are nice but just not for me. So I was thinking of Cool Rails / Vintage Rails / Hot Rails setup by SD or gong with a DiMarzio BC-1/Red Velvet/Super Distortion setup. What are your guys thoughts? Let me know.

Matt

PS If I have some extra cash I might get a humbucking axe and leave the strat as is but if not this is my only choice as they've decided against raises for 2 years now at my work...F U Corporate America
Any of the DiMarzio Velvet's sound good to me, but I have no idea how to obtain a grunge sound, I thought you just had to play badly and use fender amps with way too much gain.

Join date: May 2008
10

IQ
I'd go with the Hot Rails Kurt Cobain had like 3 white strats loaded with Hot Rails
Cool. I also read that during In Utero he used SD JBs in the Bridge. I was thinking maybe cool rails/hot rails in the neck - vintage or cool in the neck / jb jr. in the bridge.

Just a thought

Lank

Join date: May 2008
10

IQ
That works I am getting a JB in my fender tele at some point.
Kurt had a PAF Style Humbucker in his Jag w/ a JB in the Bridge. I'm thinking the setup of a Little 59 in the Neck - Vintage Rails in the Middle and JB jr. in the Bridge might give me the best Grunge / verstaility. Thoughts?

Lank
I've had 2 Strats with EMG SA's and I love em!!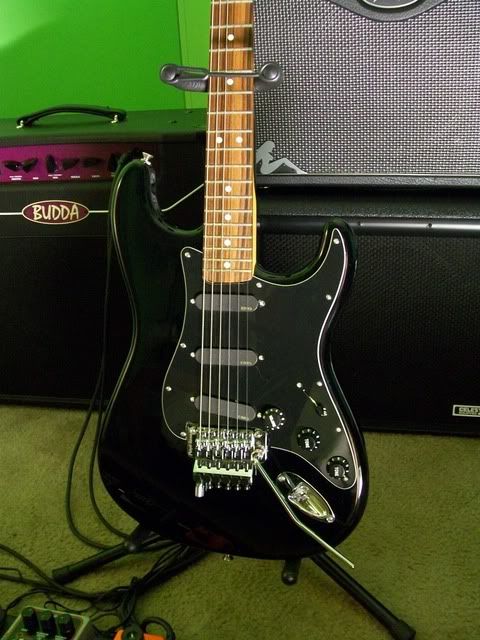 I have the EMG D20s and I'm not a huge fan. Nice but not what I'm looking for.
ive done rails and stacked and JB pups.
imo, if you want a humbucker tone, then buy an HSS pickguard and plop a humbucker in the bridge. most mex strats can fit one.
hot rails sound like really hot singles. they can be useful when wired correctly, and to the right tone pot.
stacked dimarzios sound more full, imo, you'll see one's in the mid section there.
and JB pups sound way too harsh and treble heavy, imo.