Assistance With A Wiring Diagram?
I'm in the process of building a customized version of a Tele plus, and need some help with some wiring.

I'm using a Blue Lace in the neck, and a Dually Red/Red in the bridge.

I figure that I'm going to be working with a 5 way switch, and a push/pull or push/push coil on my volume knob.

So, the pickup combinations I can get out of those three PUPS are:

Blue Only (Neck Switch Position)
Red1 Only (Second down from neck position)
Red2 Only (Third down from neck position)
Blue and Red1 (Fourth down from neck position)
Blue and Red2 (5th Down from neck position)

When the coil tap is engaged:

Neck position on the 5 way should be all PUPS engaged
and in the last (bridge) position, just both reds

I don't know if its also have both reds having the option to be run in series, or in parallel (I don't really know anything about wiring)

I'm also looking to add a custom momentary cutoff switch to kill the master volume line.

It sounds like a tall order (and it probably is), and any help would be appreciated.

Thanks!
Its coil splitting.

Coil splitting the pickup will not make the neck position of the pups on. One sec I'll see what I can come up with for you k?

Join date: Aug 2007
131

IQ
Wiring Diagram Thread.


The really smart ones won't answer you unless you post it there.

No offence to JP4L
Lol none taken, but hes right, the really smart ones like SYK and Invader Jim won't.
Alright, thanks for the input about reposting it. I'm fairly new, so I'm figuring shit out.
I drew up this but know that I look at it it looks like a mess aof wires though.
Basically take your hot wires (+) from your neck pickup, and do as you would to the switch, the other hots goes to the push pull pot on your tone or volume knob. In this case its a tone.
There is 6 lugs, the middle 2 are the common connecters which is where the + wires goes because your changing their direction. In this diagram, when down the wires will go as normal to the switch to the other two lugs, so it would be normal strat setup.
When pulled up, they goes two places the lug where the blue wire goes, so when in the neck pickup, all three pickups will be selected. and to the lug where the bridge pickup usually goes when its down. They are also in paralell . I never added a killswitch but its fairly easy. I just noticed I forgot to add the jack and ground wire form the bridge, but for all the stuff that stays the same liek the output jack and such you can go to seymourduncan.com/wiringdiagrams and get lots of diagrams
I'm pretty sure this should work if you can make sence out of it lol.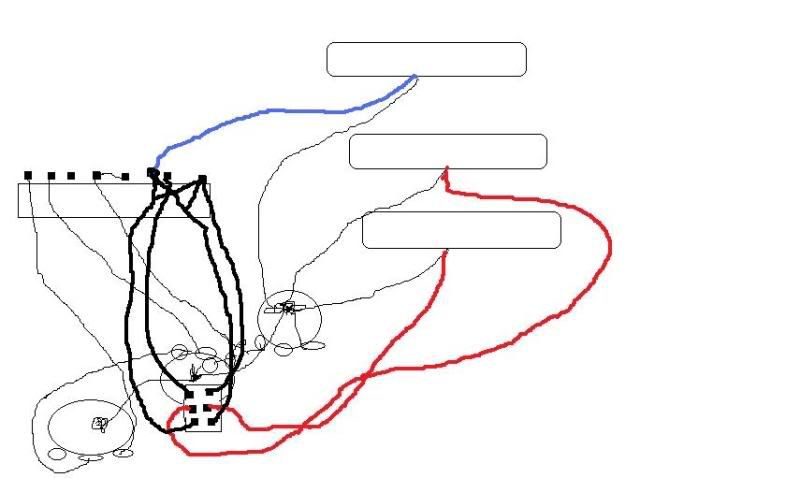 Join date: Feb 2007
200

IQ
Alright, thanks for the input about reposting it. I'm fairly new, so I'm figuring shit out.
Yeah, that's kind of expected. No one comes into a forum system and knows how thing are done, right out of the gate.
Here in GB&C, this will be your guide:
The GB&C Central Hub
Start there, and if there is an "Ultimate", "Only", or "Tutorial" thread that pertains to your question(s) you can use it, rather than make your own thread. Keeps things a little tidier and sometimes you can find what you need, just by reading the first few posts.