Fixed bridge trouble

Join date: Jul 2009
40

IQ
Hey I came over to my friends for the weekend and I was playing his strat copy but the thing the low e string goes though is really low and I was wondering how to to change the action of the string so it doesn't have so much buzz. It seems like it is on backwards but it isn't, its very confusing for me as I use a FR. Please help!!!!
Thanks

))))))

Join date: Dec 2007
113

IQ
if it has a strat type bridge, there are two little screws on each side of the saddle that can be turned with a little hex tool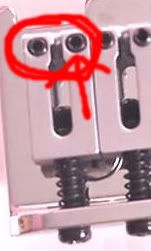 like said.

Join date: Jul 2009
40

IQ
Yea, he doesn't have a hex tool. I guess there is nothing else we can use is there?
you can try to loosen the string, go under the saddle, see if you can spin the peg from underneath.
make it lower to raise that saddle, then tune up.

it might be easier to access the peg from underneath.

or, you know, buy a hex tool.