GB&C with a needle and thread?
So i needed somewhere to keep my guitars at my house at uni. Rather than using the floor, as I previously was, I invested in this stand:
pretty boring huh?
so i borrowed a needle and thread from my housemate and dissected an old teatowel that I had to make the funkiest guitar stand I've ever seen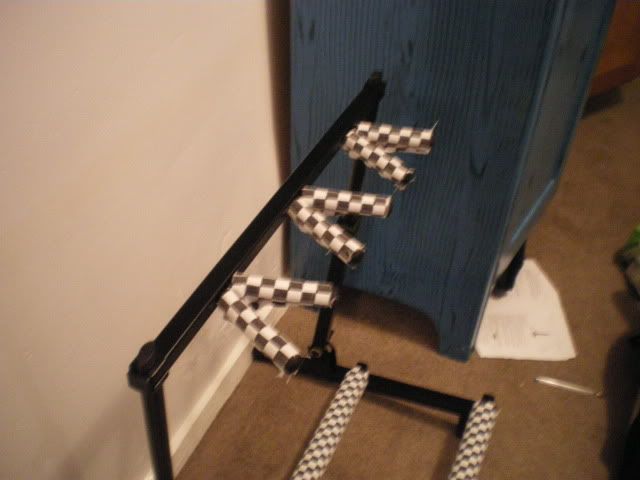 Pretty impressed with my sewing skills on this, I have to say. not so much with the photography though, although i didn't really have chance to do anything about it as my camera battery was dying.
(The real reason I did this was to protect the finishes on my guitars from the nasty black marks that can come from these foam stands. The funkiness was just a nice by-product )
I can post some more pics if there's any interest. Otherwise I just thought this might be a cool idea for some of you to try on your stands?

looks cool. i would have gone with a grey and black checkered pattern but good idea nonetheless

Join date: Dec 2005
10

IQ
i have a 6-guitar stand made entirely out of PVC pipe. Not quite the same thing, but creative stands FTW

Join date: May 2007
50

IQ
That's cool.

I like

nice work
I made a stand like that out of PVC pipe.
Your's is funy