What would be a good symbol to spray..
onto my guitar?
I wanna spray something around the pots, then stick..
' 性交として金属 ' ( 'Metal As ****' ) on the left of my guitar , parallel to my fretboard next to the pickups.
i'm refinishing my guitar to be white, then i'm adding a black symbol.
any ideas? I want something pretty brutal that hasn't really been done before on a guitar,.. anything tribal.. flames..
post your pics

thanks
You should come up with a tribal design of a vagina. THAT would be METAL!!!
You should come up with a tribal design of a vagina. THAT would be METAL!!!



epic win!




Join date: Jun 2009
30

IQ
I agree with the vagina guy.
i'd say my avatar would be really cool to go on a guitar, but.. sadly.. it's the Rise Against logo
Seriously, if you don't do it, then I will!!!!
That's ****ing Grim Man ;o
Well, this thread's gonna get closed.
To contribute, I always wanted to do something like this one:
BV, what symbol is that?
I know it's regularily red, and it's in a James Bond game/movie. Also, I know it's a phoenix.

I always thought the Chinese/Japanese text was cheasy, and overdone.
Try something like Vietnamese. I love the way they talk.
How about this one?


Join date: Jul 2008
270

IQ
TRIBAL DRAGONS!
they're metal as shiz!
How about this one?

(Invalid img)
UGH!!!!!
It took me a while to figure out what that was

First I thought it was a shemale symbol, then a transexual symbol, but then after further study...
GAY MARRIAGE

If you want to have the coolest guitar, the UG symbol is win.

Join date: Oct 2007
20

IQ
or
I agree with the vagina guy.
SIG'D



just a quick photoshopp picc i did on a Ibanez RG200 or somethingg? on google images, it was already white.. so i thoguht yeah why not..
tell me what you thinkk. It's still a rough draft and one of many different designs ;D

the japanese writing is 'metal as f**k', but because it's traditional writing it ACTUALLY says.. 'a sexual intercourse as metal' or something like that..

Join date: Nov 2008
50

IQ
i think it's awesome man. Im doing black and white as well. Keep it simple not to ruin it. The writing you could do along the neck (im doing something like it). Like paint ur neck white with those writings, would be nice and in the front make some tribal spikes coming out of the pickups holes. Like d**ks reaching the vagina

or replace the neck markerss... with the elements, that'd be cool

like.. fret 3... earth
fret 5... wind
fret 7.. water
fret 9.. fire
fret 12.. the dark
fret 15.. the light

all in japanese writing
Last edited by Chasing Shadows at Nov 14, 2009,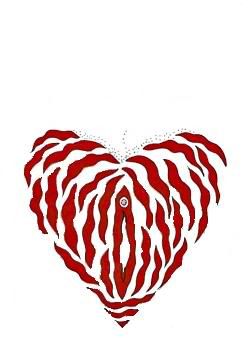 How about that one then?
Maybe in black...just knocked it up...
Without the three little boxes. Or with, if you'd like.
How about that one then?

Maybe in black...just knocked it up...
Icwatudidthere.
And lol'd.
lol i see it too, totally do it its an epic little heart... make sure its niceeee and pink too

Thought of this while changing the Black ink Carteidge in my printer:
You should make the whole guitar white, then put an Ink Colour Test sheet thingy, painted on there. Would be so sweet. You could go araound saying, the factory was testing their paint colours to see if they worked, and it is a one of a kind guitar, only 1 in the world.
I think it'd be pretty sweet.

Join date: Nov 2007
100

IQ
how about this:
or this:
or maybe this: