Flyingmarlin's Telecaster Customization.
NEW: PROJECT WILL BE DELAYED DUE TO THE AURORA PROJECT SENDING ME THE WRONG TEMPLATE AND REFUSING TO REPLACE IT FOR FREE! OTHER USERS HAVE REPORTED SUCH UNWILLINGNESS TO HELP THEM FROM THE STAFF THERE. DO NOT USE THEIR SITE.
Hey there!



This is my Telecaster Customization thread, I'm going to upload a selection of pictures and explain my thinking behind my modifications I'm making to my Telecaster. There wont be any sick new paint jobs or chaos pads being installed, also there wont be any top quality work being undertaken... after all this is me!
This is my 2002 Mexican Fender Telecaster with the limited run lake placid blue finish. This guitar really is "Ole Reliable". It's scratched, dented and dirty but it always keeps going and for a Mexican it doesn't sound bad either!
Pre-project Stats:
Bridge pickup - Fender Standard Pickup.
Neck pickup - Seymour Duncan Quarter Pounder.
Standard Hardware, pickguard, switches, pots and everything else.
Post-project Stats
Bridge pickup - Iron Gear Steel Twin
Neck pickup - Iron Gear Steam Hammer
Graphite nut
All New Electronics
New pickguard

My basic design brief for this small project was:
1. New bridge pickup to be installed.
2. New Scratch plate.
3. Install a Humbucker in the middle position, including routing.
4. New Nut.
5. Do all of this for as little money as possible yet create an awesome finished product that sounds great!
As of today I have Completed stage one of my design brief. I have purchased a stacked single coil pickup made by IronGear called an "Iron Twin". -
Click Here.
The installation didn't take long, the only problem I encountered was that the pickup was a different polarity to my current neck pickup which is a Seymour Duncan Quarter Pounder. After a quick switch around with the earth and live wires it was working fine and sounding great. This pickup has some serious hot balls!
DC Resistance: 16.1kOhm
As I aforementioned don't expect any high quality work to be carried out! I'm one of those people who can bodge anything given enough tape and a soldering iron. Usually because they're the only things I have to hand and yet it still works fine and I get no more buzz, etc. than anyone else. Example this is my wiring job -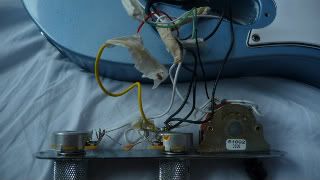 Last edited by flyingmarlin at Nov 23, 2009,
2. This is my
new
electronics plan:

The Humbucker has Arrived!
-
Iron Gear Steam Hammer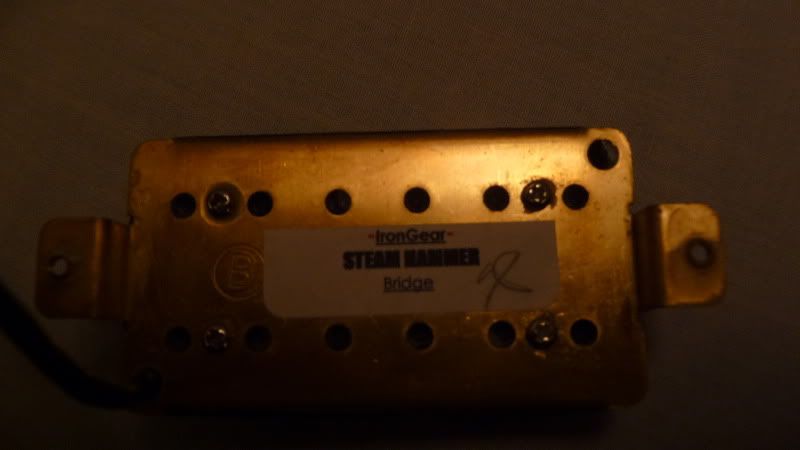 I've also drawn roughly where the recess is going: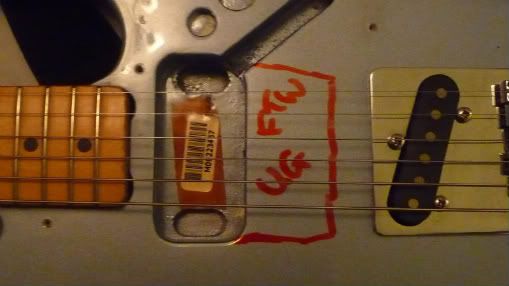 The Cavity has been routed. I'm just waiting for the Pick guard now!
A new pickguard was needed due to the crappy job that The Aurora project did with my order. So I ordered a new, different one from the folks at
www.axesrus.com
(They are brilliant, free postage on anything in UK).
UPDATE
All of my electrical components and the new pickguard have arrived!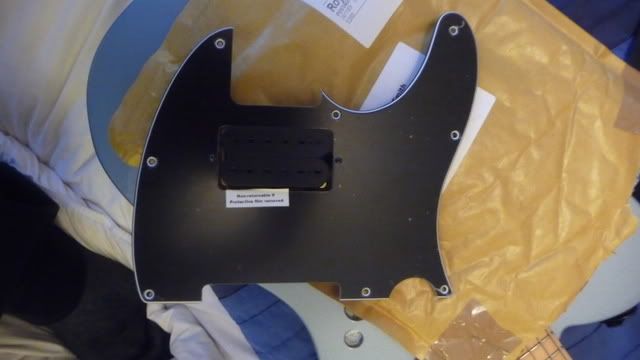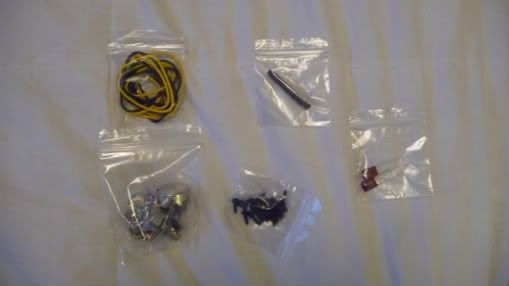 From left to right: Wax-Cloth Wire, Graphite Nut, New CTS 500k Pots, Pickguard Screws, Capacitors.
Last edited by flyingmarlin at Nov 25, 2009,
It's Finished!
The original plan:

The finished product: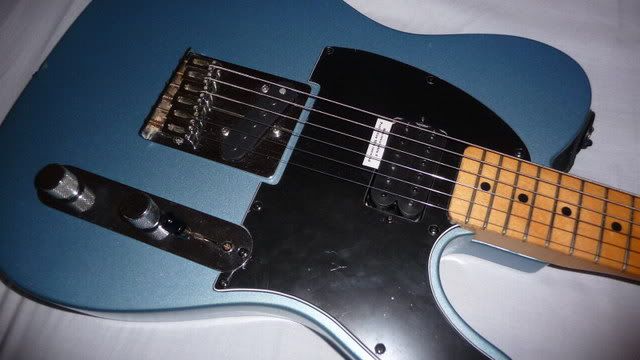 Last edited by flyingmarlin at Nov 25, 2009,

Join date: Sep 2009
10

IQ
lol reserved, looks like a cool project, my friend soldered his new telecaster pickups too

Join date: May 2009
20

IQ
16 k is massive output man...

and i always wanted to get a lake placid blue tele

lookin' pretty swell so far
16 k is massive output man...

and i always wanted to get a lake placid blue tele

lookin' pretty swell so far
It's a really nice colour, also you don't see many other guitars in that exact colour either.
The 16k output is awesome, you have to be very careful however as it's high power does tend to cause it feedback slightly more than a regular pickup. Apart from that I wouldn't change it for the world and it's nothing a noise suppressor wont fix!

Join date: Dec 2008
60

IQ
is a neck pocket like that normal? my squier has it too (with only part of the bottom of the pocket touching the neck).

Also, is it a bad thing?

Join date: Dec 2008
40

IQ
yeah, thats normal on fenders or at least squires,mine has it too. It really wont be that much of a bad thing, will barely affect it, if at all.

Join date: Dec 2008
60

IQ
cool, it just threw me off when i saw it cause i have only seen square neck pockets that were actually square.

/threadjacking.

on topic: that guitar looks like it has a lot of character, i dig its bumps and bruises
Bump For New Content - Project Is Now Finished. New Pictures Uploaded.