help i broke my amp

Join date: Sep 2009
40

IQ
hello folks, i was wondering if there was a way you guys can tell me how to fix my guitar amp. Its a Fender sp-10 guitar amp. it came with my fender starcaster. i accidently knocked it down and the input hole went in. and i put my cord in but no sound. it only works on overdrive and if i put it on 10. if you have any advice it be much appreciated thanks alot.
the amp might need to be opened and the input jack fixed.

it's a starter amp. they all break to some degree eventually.

do you think you'll get a new amp christmas or something?
because this isnt worth paying to be fixed.

Join date: Sep 2009
40

IQ
yea but idk what amp i really want. im guessing i want a fender 25r frontman series II, but idk
Well you need to decide on something, because starter amps are not so good. This forum is full of fanboys, so you're just going to hear about lots of amps sucking whether they do or not. Choose a new amp and get one for christmas or something. If you need recommendations, I advise a small modeling amp, or if you like fender, get that frontman.
maybe this site is filled with fanboys, but i'm not one of them.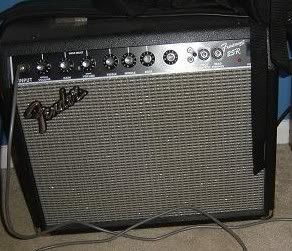 i've just owned a lot of amps, including this fender 25r.
i got it to sound better by swapping out its speaker.
but to be honest, i know i would have been better with something more versatile, and
better made.
fender makes a nice tube amp but their starter series fm amps arent generally made well.
you might want to look at vox or cube series amp for your next purchase.
well you should get a new amp, but just for the fun of it... what happened to the amp is probably the transformer isn't working. If you have to turn it up to 10 to hear something, that means you are just getting a line level. It's not amplifying... soo... its pretty much useless unfortunately...
Going by how you said it died my guess is that you've damaged the input socket. You'll have to look inside, it might simply be that a wire connecting to the socket is damaged and needs soldering back on properly. Failing that you can just replace the socket, they aren't expensive. If this sort of simple fault finding and repair is beyond you, give it to somebody that knows how but I wouldn't give it to a shop to fix. A shop will charge you more than it's worth and most likely give you a **** and bull story about how they had to replace the flux capacitor or something. If it actually is something more serious then same deal, probably not worth it. Make friends with a technician, apparently we're handy friends to have (if all the shit I've had to repair for friends is anything to go by

)
Edit: Oh those things may have the socket soldered directly to a circuit board and in that case you've probably cracked the board. You may be able to bridge the crack by soldering a bit of wire across the crack as long as you know what you are doing.
Last edited by Cathbard at Dec 16, 2009,