First project.
Hai guys.
Just finished Uni, got some extra time, money, and a guitar that i bought a couple of years ago for a project, so it's time to start.
It's a Schecter something or other. Forgotten the model.
Plan is to re-paint, install DiMarzio's, grozer's, possibly a new bridge, reshape the headstock a bit (get rid of that awful bump at the top) and possibly add some extra electronics (thinking maybe tuner...) into it.
Here are the pictures. It has barely been played, i bought it for $100 and it was CAKED in a layer of dust.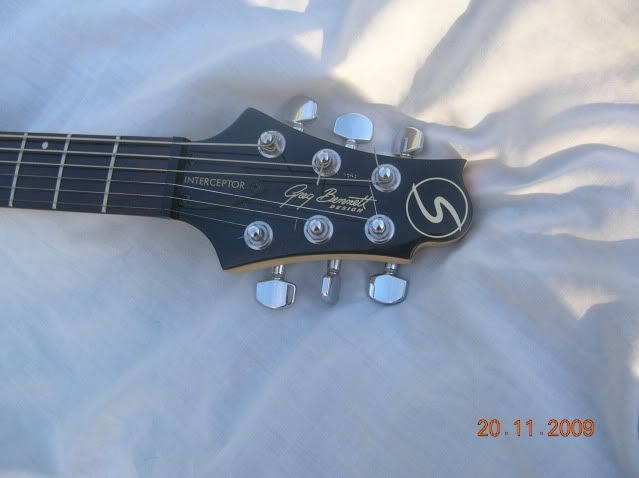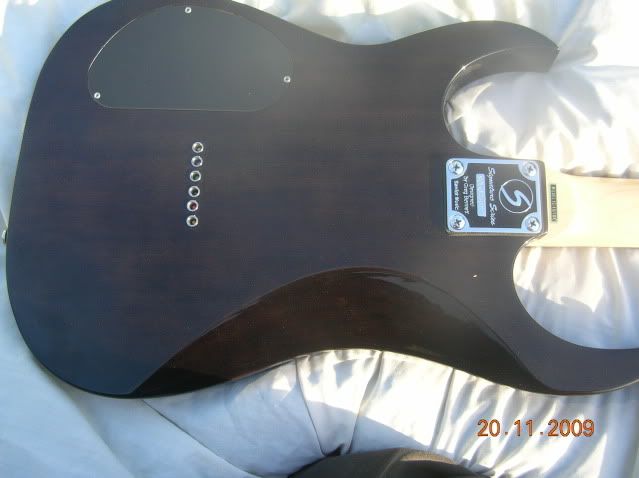 And here are the quick plans for what i was thinking for the respray. Thinking two-tone simple pattern here.

As this is my first shot, this will be very much a learning experience for me, and if i get a niceish guitar out of it, all the better!

So if you have any tips regarding parts, paints to use, process, design or ANYTHING, please let me know! I am just going to stumble through this, any help will be well received

First up - disassembly and paint stripping preparation.

Join date: Jul 2009
70

IQ
go with the stripes, painted F-holes look cheap.
ohh and i see what you mean, that bump is horible...
anywho, good luck, this looks good



Join date: Aug 2009
30

IQ
its not a schecter its a greg barrett guitar

Join date: Feb 2009
10

IQ
its actually a sammick. i own 1. lol they r shit

Join date: Oct 2007
101

IQ
Greg Bennett/samick same thing.

I definitely see the stripes going down a lot better than the f holes.
Haha, you're right i didn't even notice i had written that. Anywho... just desoldering pups now, and removing electronics.
Going to hand-sand the paint off i think, then i don't get rid of it too quickly and make pits.
As for paint, does anyone have reccomendations for paint to use? I have absolutely no idea what to do. And also what about the clear coat?
Cheers,
Carl
Well it's been a fair bit of time, and i got off my lazy ass and continued this again today.
Paint all gone!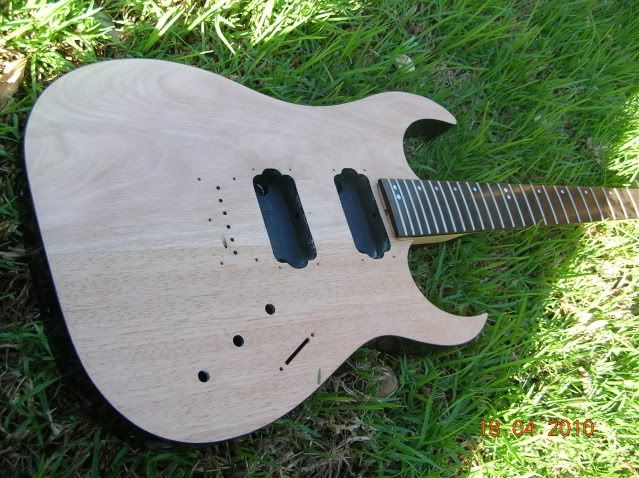 So, now the decision is whether i keep it natural wood (although it's a shit wood) or paint it up... At least the headstock and body is looking much better than before.
To paint, or to leave?

Join date: Sep 2008
10

IQ
maybe a veneer. something classy like flame/quilted maple?

Join date: Dec 2008
40

IQ
If you have some spare cash, plane that SOB down and stick on a 1/4" flame top

Join date: Sep 2008
10

IQ
i wasnt suggesting the whole shebang there. those wood tops are like £500 i think
I'm actually using this same body for my build, i'm not putting a top on mine because i dont have the money but I am just going to be staining the wood with min wax and tehn putting on a clear coat. I'll let you know how it turns out.

Join date: May 2006
50

IQ
quilted maple veneer ftw.

but if your gunna paint it, the white with black stripes, or possibly, black with white stripes.