Rites of Darkness 2010

Join date: Jun 2008
480

IQ
An FYI to all metalheads who might be passing through Texas: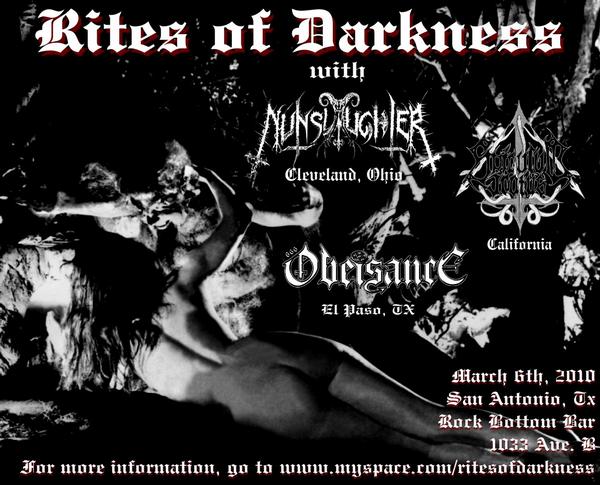 Rites of Darkness
February 27, 2010
450 Soledad St 78205
NUNSLAUGHTER
OBEISANCE
SPICULUM IRATUS
and three special guests
For more information, go to the Rites of Darkness myspace:
http://www.myspace.com/ritesofdarkness

Nunslaughter
Hmmm. Looks too black for me.

Join date: Mar 2009
156

IQ
never heard of an of these guys...
Looks like it could be ****ing awesome though XP

Join date: Jun 2008
30

IQ
Just got back from the Lone Star state and I gotta say, those Texans do seem to like their metal.

On Topic: I've heard Obeisance was pretty good. Nunslaughter has never been to my taste, though they were mad fun to see live.
Last edited by DeusExMachina90 at Nov 30, 2009,
Join date: Apr 2008
290

IQ
Nun's Laughter, looks nice.
Nun's Laughter, looks nice.
ummmm... i think it says nunslaughter. Although Nun's laughter sound pretty br00tal