[UK]-PRS CU24, Ibanez RG550, Vox AC15CC1X, pedals
For sale: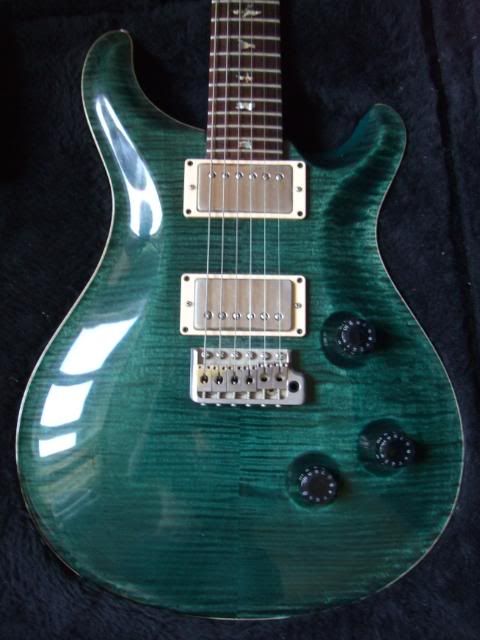 PRS Custom 24
with birds. Official hardcase included. Beautiful guitar and plays great. Really slick feeling neck and great upper fret access. Probably the best guitar I've owned. In great condition overall with a few very minor scratches; more pics available upon request. I'm looking for
£1250
ono.
1992
Ibanez RG550
with Seymour Duncan pickups. Wizard neck. Lo-pro edge trem in great condition. Square heel. Gig bag included. -
£300
Zoom Hyperlead
-
£40
http://www.youtube.com/watch?v=NlAuhjl0kHE
HBE Big D Distortion/Boost Pedal - quite a few scratches on the casing but functions perfectly.
£80
Vox AC15CC1X -
£450

Pickup from Leeds preferred please but I might be able to sort out postage.
any more infomation on the RG550?
I believe the guitar might be sold. Interested in anything else?
Do you realise you can't read?

http://www.guitarampkeyboard.com/en/71549
Mine is a CC1X with Alnico Blue speaker dude.
Pedal clearout! I'm selling all my pedals except the ones on my board right now. Raising money for a multi. Price inc postage. Discount for multiple buys.
http://i76.photobucket.com/albums/j6/Kaz2550/forsale.jpg
EHX Memory Boy - Near new. Like Deluxe Memory Man but with square wave mode can make it go even wackier £50
EHX Small Clone USA - nice analog chorus famously used by Nirvana among others. £40
EHX Small Stone Russia - Really nice warm natural sounding phaser. Wooden box! £40
HBE Big D - a great overdrive/boost unit with selectable diodes. Push "Bigger" for huge boost. £80
Ibanez Choralflange - Chorus and Flanger in one. £25
Zoom Hyperlead - Great Marshall in a box. All analogue. £40
Id love to take that PRS off you too but ive got no where near enough money for it.
Im deciding about the memory boy tho
Is that 550 still available???
RG550 is sold pending payment.

EHX Memory Boy and HBE Big D sold.

EHX Russian Small Stone sold pending payment.