Learn To Eat Well
what recipes do the UGers on a budget usually make? here are a couple of my favorites, please share yours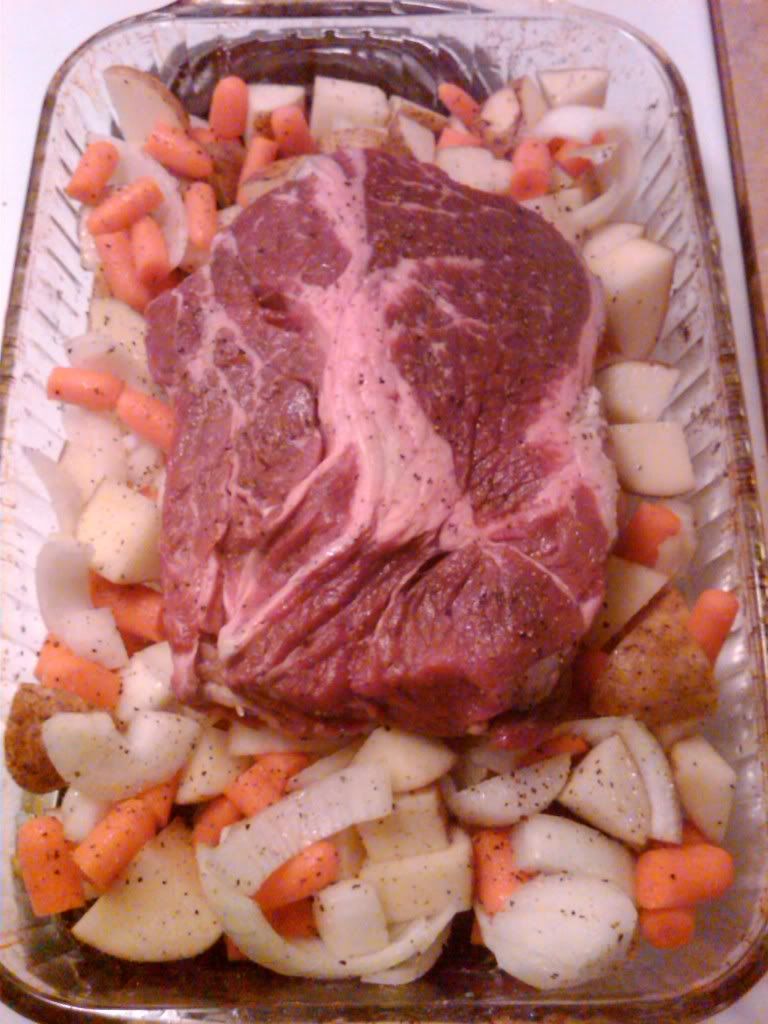 cut up potatoes, carrots, and onions and put in a baking dish. add a touch of olive oil, then season liberally with salt and pepper and mix up. season a beef roast (any thick fatty piece of beef will work) and rub with some salt and pepper and place over the vegetables.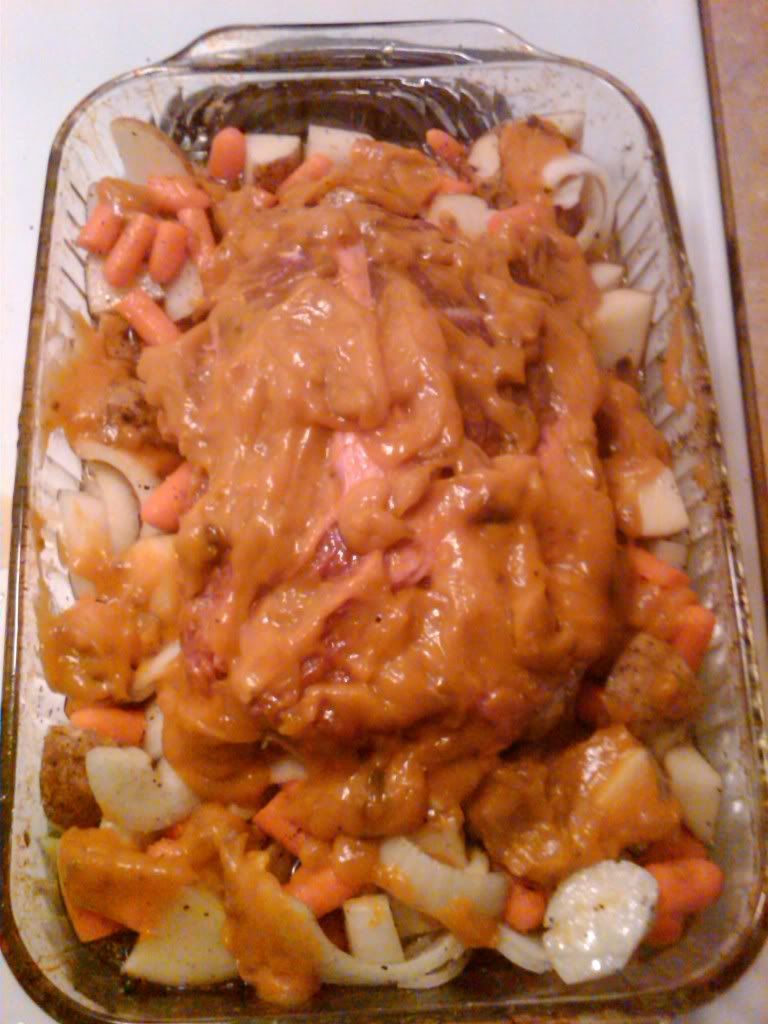 add 1/2 to a full can of beef broth depending on how much gravy you want (although its cheaper to use bullion cubes and make your own broth). if you make alot of gravy, its good for use on mashed potatoes later. smear the meat with the contents of a can of golden mushroom soup.
cover loosely with foil and put in the oven at 300 degrees for about three hours. when done, the meat should be more or less falling apart. you could also do this dish in a crockpot with the same results. add a bit of corn starch or flour to any remaining gravy to thicken it up. the meat will be falling apart tender, and should still be a little pink in the center (the flash washed out the pink color).
slice a london broil (chuck roast) into thin strips. make sure you remove the thick membranes in the cut.
in a ziplock, add the meat, balsamic vinegar, garlic powder, salt, and black pepper. since taking this picture, ive started adding diced onions to the marinade. let it sit in the fridge overnight. put the meat on a baking sheet (ideally a broil pan) and broil under high heat for ~45 seconds a side. if youre not using a broil pan, dont be surprised if your fire alarm goes off, this is normal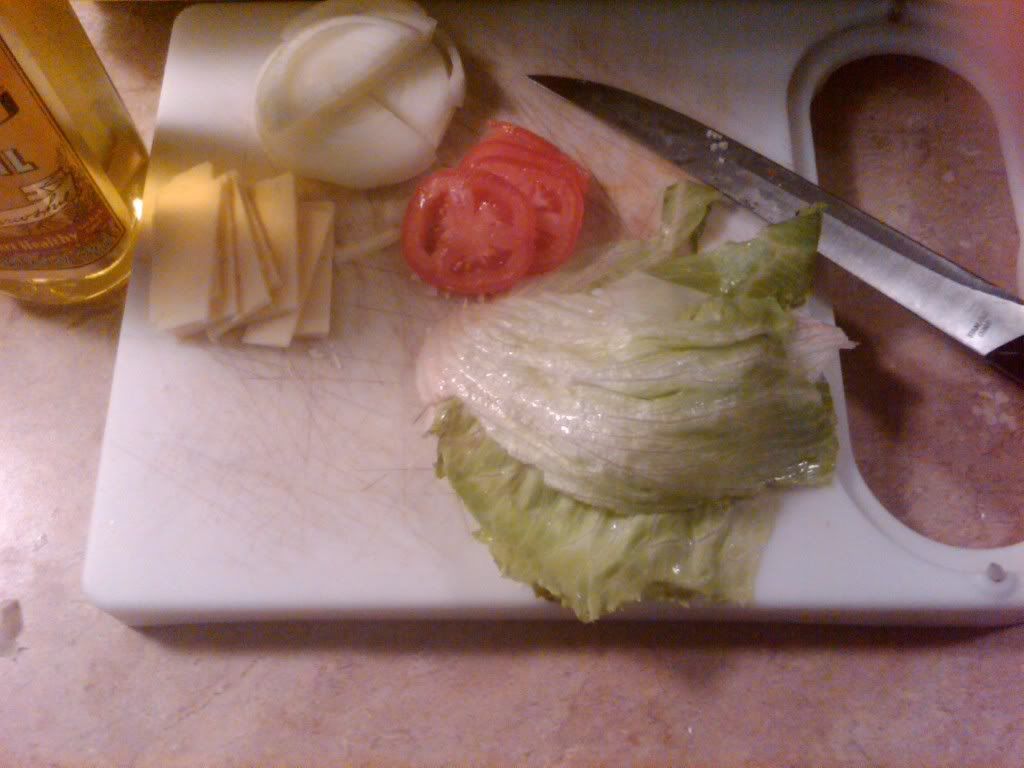 cut up whatever toppings you want for a steak sandwich. i went with lettuce, cheese, tomatoes, and fried onions.
lightly toast some bread (you dont want it to turn brown) add some mayonnaise and top with all the ingredients. if youre looking to splurge use feta cheese and serve on some sort of sub roll/italian roll.
Last edited by NoLaurelTree000 at Dec 2, 2009,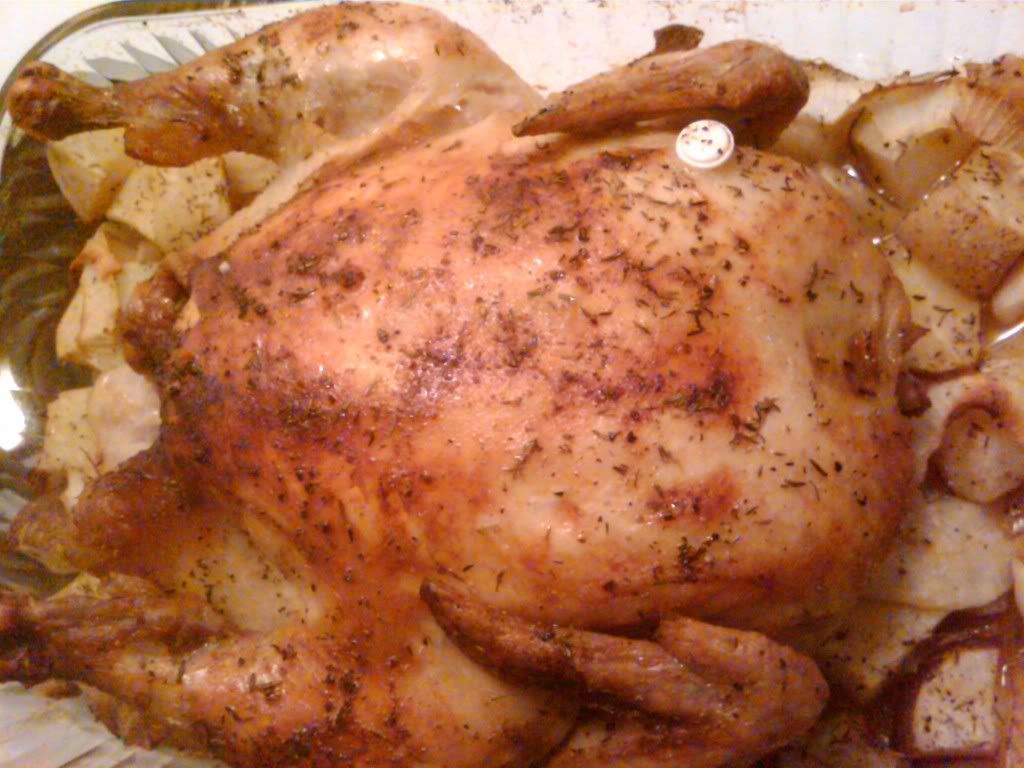 much like the pot roast, you can do the same with a chicken. season a roasting chicken with salt, pepper, garlic powder, thyme and baste with a mixture of melted butter and garlic. potatoes are surprisingly good with lemon-butter on them.
cut up some onions and brocolli and add to a greased pan. salt and pepper and let fry for a minute. crack eggs over the vegtables and salt and pepper. let the eggs fry until they are slightly browned on the underside and can be flipped without breaking the yolk. when ready, flip and immediately add cheese ontop.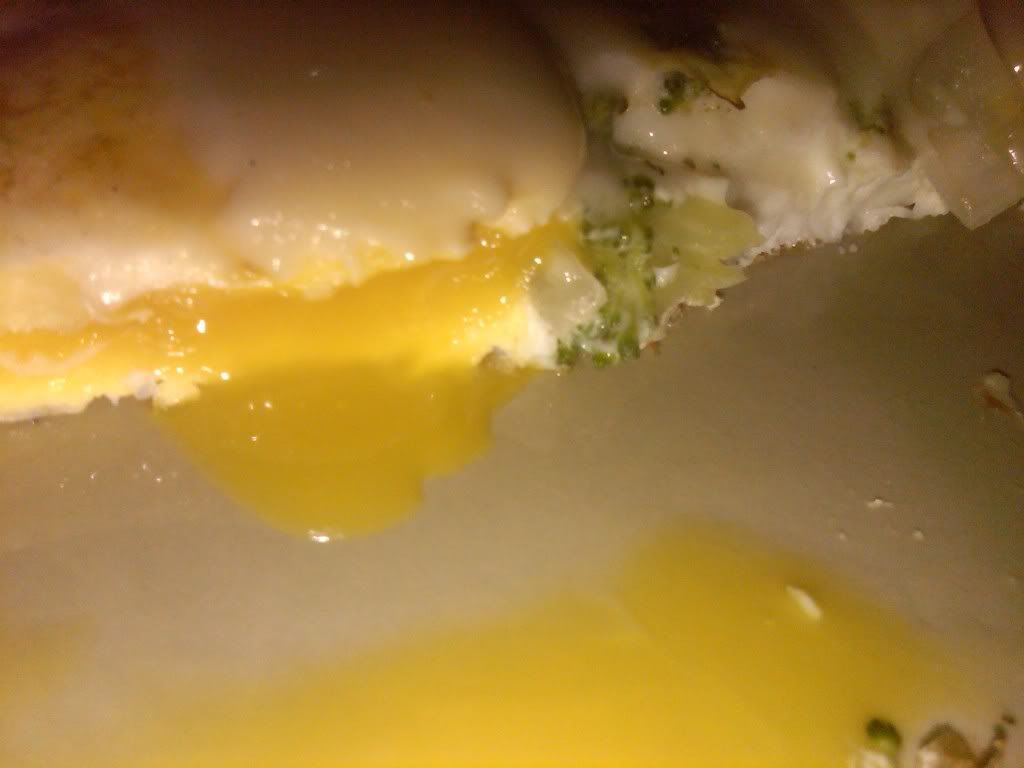 dont scramble the eggs. if you keep the yolks intact i think it overall makes the dish overall more interesting, but it also gives you something to dip your toast in. bread is cheap, so if you can add that to the mix, your overall meal cost goes down. eat with hot sauce if desired.
http://blogchef.net/general-tsos-chicken-recipe/
ive made general tso's with this recipe a few times and it comes out really well. in addition to the recipe i usually add some steamed broccoli when i add the sauce mixture, and diced onion when the sauce starts to thicken up. serve over white rice. if youre making more than an individual serving, youll probably need to double or triple the sauce ingredients depending on how many youre trying ot serve.
if you make extra white rice, let it sit in the fridge for a day so you can make fried rice with it later. it tends to save time and money when you can prepare or reuse certain ingredients in future meals.
http://www.youtube.com/watch?v=klFyrnrUSck&feature=channel_page
this recipe comes out well, but you will want to double the sauce mixture and season the pork very liberally before rolling in the flour.
basically make large dishes that you can reheat through the week. its almost always cheaper that way, not to mention nice to have something to reheat as leftovers in the event you dont feel like cooking. dont buy soda or other flavored drinks, they will kill your budget pretty quick. bulk containers of lemonaide or iced tea are more reasonably priced along with kool-aid packets mixed with sugar at home. drink water a majority of the time.
what does everyone else have for recipes/money saving tips?
Last edited by NoLaurelTree000 at Dec 2, 2009,
Second pic looks like vomit

Sorry but it does
Second pic looks like vomit

Sorry but it does
condensed soup dude.
Join date: Sep 2008
10

IQ
srsly....

edit: ahh i see.
I prefer cheap cereal
Last edited by codyadamscea at Dec 2, 2009,

Join date: Mar 2009
260

IQ
cool recipe bro
Well I thought it was soup-er.
Well I thought it was soup-er.
Sure meats my high expectations.
Join date: Sep 2008
10

IQ
Sure meats my high expectations.
It looks delightful in my opin
onion

Join date: Mar 2009
260

IQ
I fear he's made a gravy mistake in trying to get us to eat healthily, but I'm sure he will continue unpet-herbed.
condensed soup dude.
Ahhhh, i'm sure it tastes great. Just doesnt look all that enticing


Join date: Aug 2006
40

IQ
Great thread, good work. I don't have recipes. I just scrap around the kitchen until I come up with something edible.

Join date: Aug 2008
200

IQ
Meh, cheapo store sandwiches FTW.
I thought this was gonna be about oral

I make like anything that has chicken and a starch in it. chicken and pasta, chicken stir fry and rice, drumsticks and rice, chicken and potatoes, chicken soup. Sometimes pork and beans. But usually just something with chicken or ground beef.
NEVERFAIL CHICKEN SOUP: (sorry no pictures)
Start with either a whole chicken or a whole bunch of drumsticks or pieces with bone in
Eat them, save the bones
Boil the bones and any other parts you didn't eat along with a tablespoon of salt, half an onion, a chopped up potato with skin on, and some celery and a bunch of thyme and oregano, with enough water to cover them, for about 3-4 hours
Drain the liquid from that into another pot which you will make soup in
Fish out the potato and celery from the other pot if you feel like it and toss it in
Chop up another potato or so, and a bunch of carrot and celery (how much depends on how much soup you're making)
Take a chicken noodle soup packet, brand doesn't matter, and stir the flavoring powder in
Let it heat up and mix for about five minutes, taste the broth and add salt to taste
Take any leftover chicken meat you have, toss it in
if that's not enough, take the cheapest chicken breast you can find, slice enough of it up into bits to fill out the soup enough, sear it for a few minutes in a pan and toss it in
(yes this requires planning ahead and buying ingredients based on how much leftover chicken you have)
Bring it to a boil, adjust the amounts of chicken and vegetable if necessary, add water if necessary, adjust flavorings if necessary, let it boil until it tastes good and the vegetables are soft
This should taste much better than those chicken noodle soup packets and be pretty filling. you could make it without that packet, but it would involve making a LOT more stock and reducing it and i just can't be arsed. Using that flavoring packet is actually recommended by one of my mother's cookbooks. You can also cut out the potatoes and add rice or noodles at the end, but add extra water when you add the rice in, about one cup water for one cup rice or noodles added.
you cannot beat a stew, cheap and MINT
bump for more recipes?

id upload another one, but photobucket is being gay and not letting me upload anything. they'll come later if it starts working, in the meantime, what cheap recipes do you have pit?