What should i get for my friend??
The holidays are coming up, and i realize i haven't go anything for one of my friends yet. Any ideas on what to get her?

She likes music and plays guitar, but nothing guitar related. We've known each other for over a year, not in a relationship, but have hooked up before, look to get her something that is cheesy or stupid, something meaningful.

Any ideas? $50 limit, but if its alittle more than thats fine

Join date: Apr 2009
761

IQ
Tickets to a show for next year?

Join date: Apr 2009
30

IQ
just get her a cd or two :/

Join date: Nov 2009
41

IQ
Itunes card?
Or an E-matic MP3? I have one, nifty little thing, 4GB, has a digital camera, and DV recorder, plays videos, music, text files, and pics.
Or just a few CDs?

Join date: Nov 2009
10

IQ
The holidays
What?
Oh you mean Christmas.
Ok cool.

Join date: Jul 2005
20

IQ

Join date: Jun 2007
10

IQ
a dildo and a bunny rabbit

Join date: Mar 2008
110

IQ
Go to a store with a scanner, and scan and print as many pictures of your penis as you can with said $50. Then compile them into a giant collage of your penis. It will be a dick of dicks
50 mcdoubles
haha, after going to mcdonals every day for lunch, this may be a good one.
Thanks everyone so far for the suggestions... Keep them coming!

Join date: Oct 2006
10

IQ
hmm I don't know if 50 bucks is enough for a gun. So maybe a knife? She needs something to stop me from raping her.

Join date: Dec 2008
40

IQ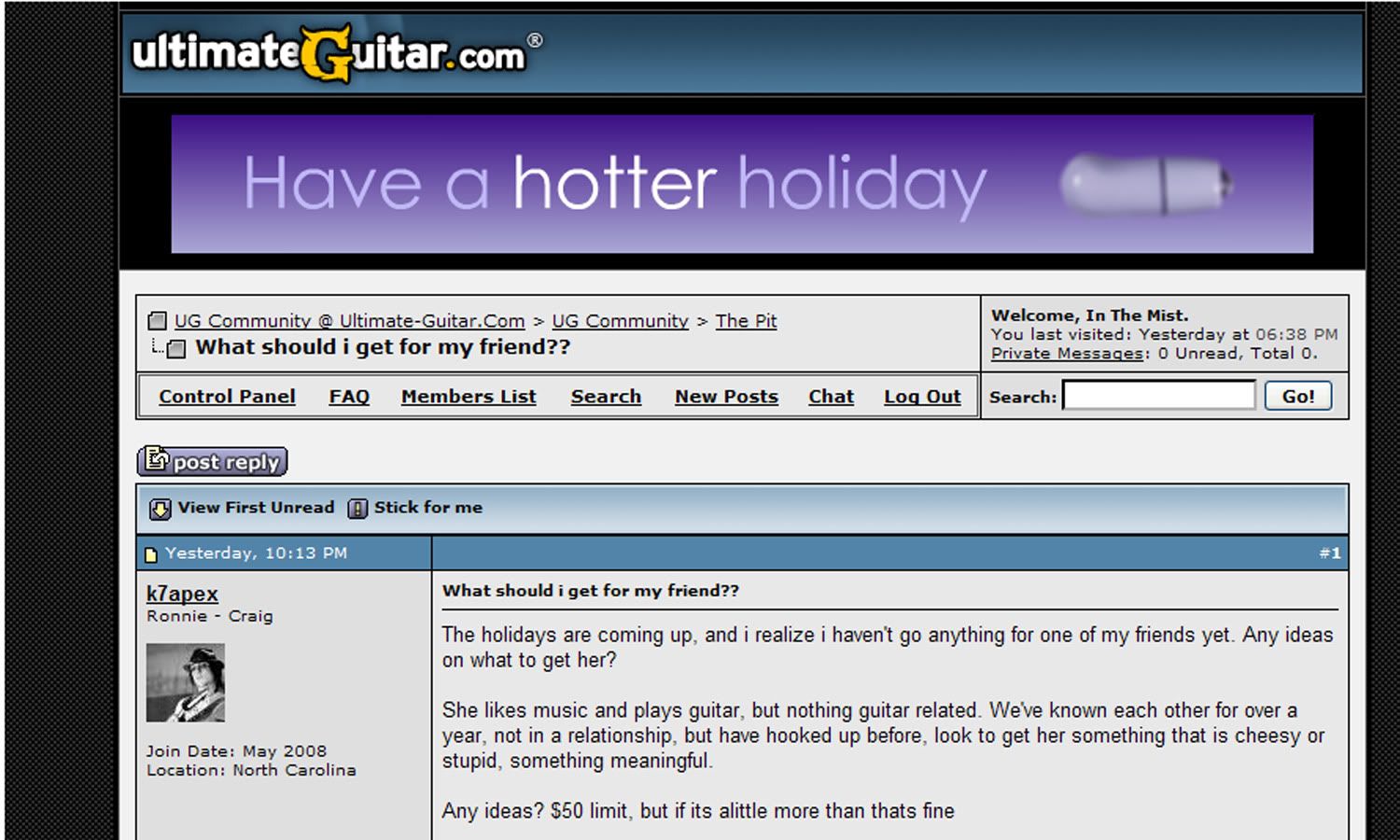 It's a sign TS...

Join date: Jul 2008
125

IQ
It's a sign TS...