Marshall 1960B Cab Retolex Project
Hey, this is my first cab. Picked it up all beat up on craigslist for $260CAD for the purpose of retolexing. I started this morning with it looking like this: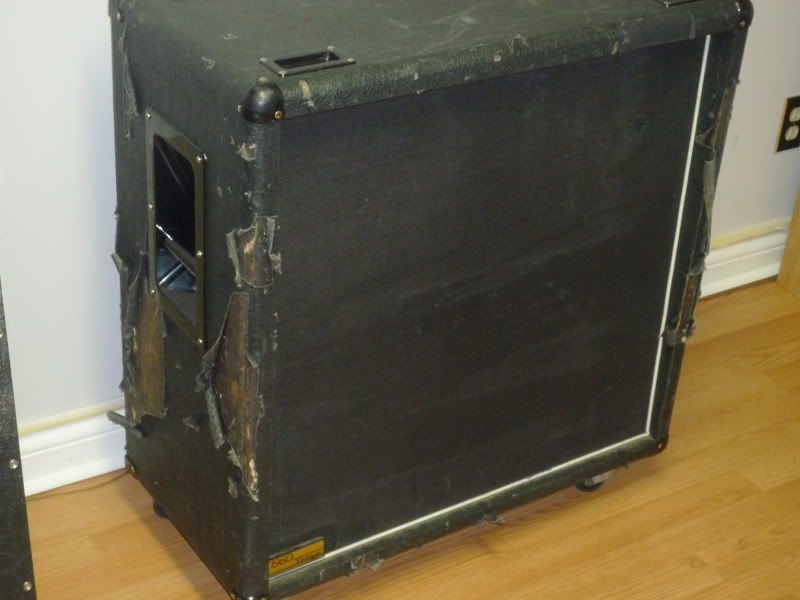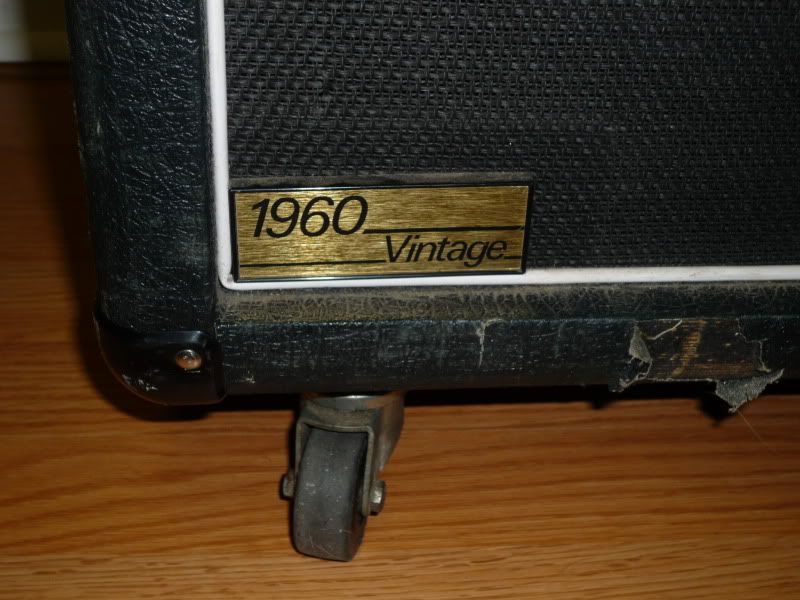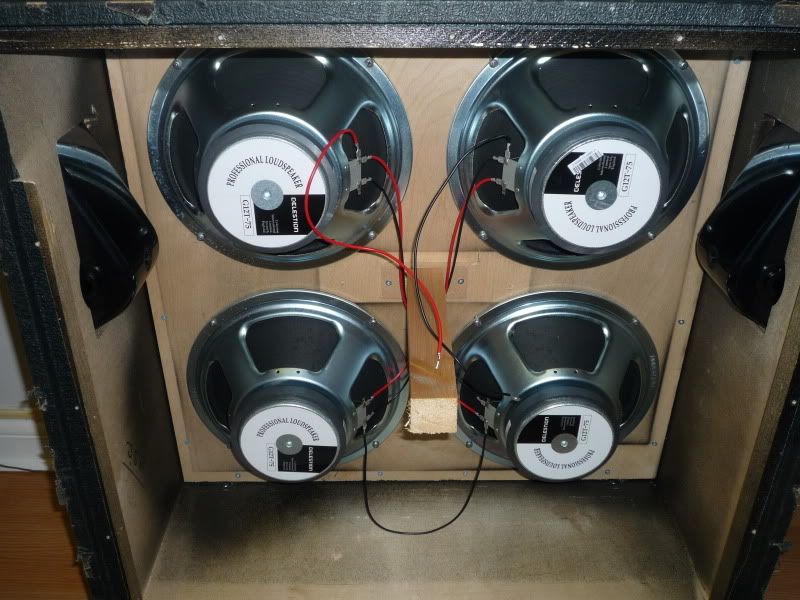 Missing the logo, ripped around the edges, stupid hole in the grill (haven't decided if I'm replacing or repairing that yet).
And here's what's going on it: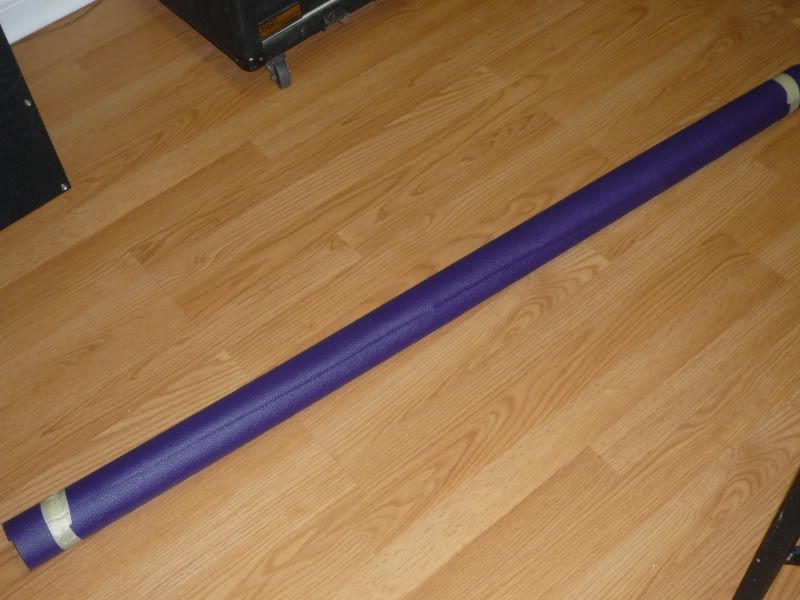 Yeah, it's purple. About $80 shipped for 3 yards from SteamcoMusic.com. 3 yards was not quite enough to make it entirely all the way around to just have one seam, but it came within inches and still leaves a ton left over.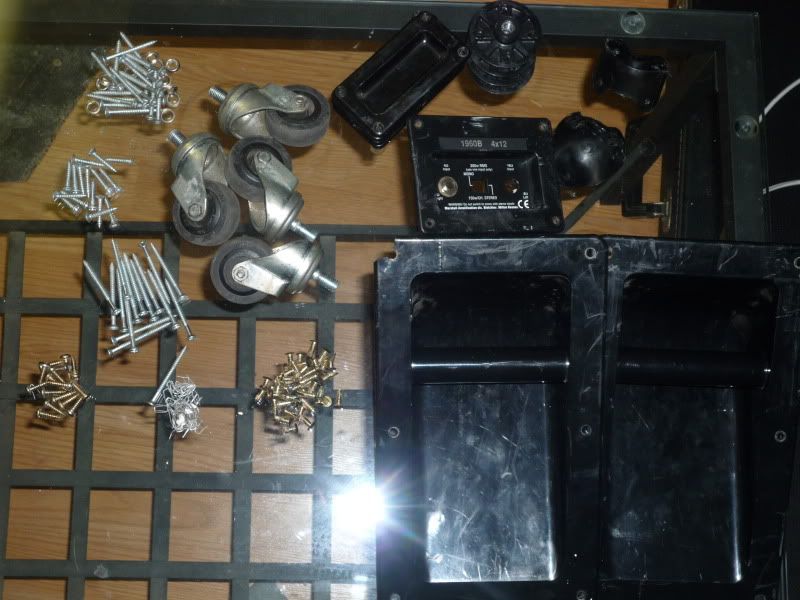 Here's all the pieces that need to be taken off. The only blunders were cracking one handle corner and screwing up one caster cup corner when attempting to drill out the rivets. The key to removing the rivets is to get under the corners of the plastic with a screwdriver and pry them up. The plastic will not break, it takes a while but you don't have to be too careful with it. Everything else was pretty straightforward to remove.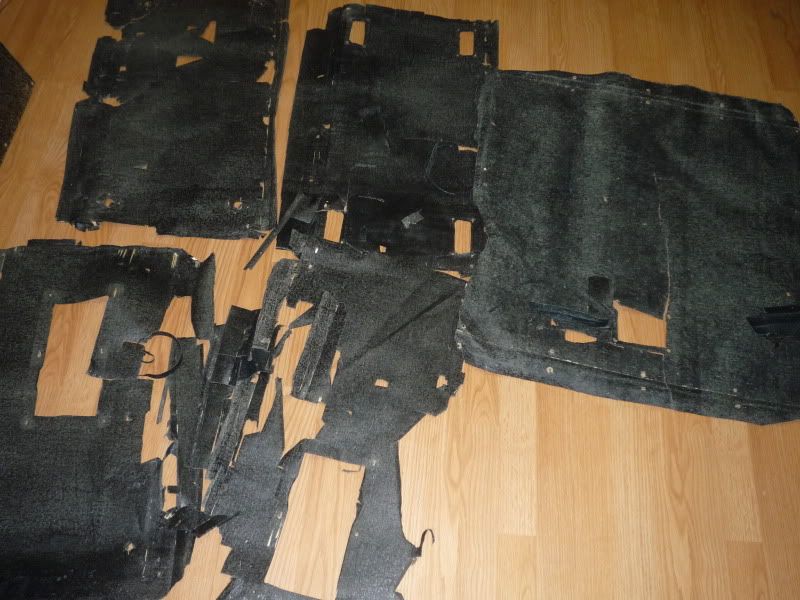 Ripping off the tolex like this from each of the corners to maintain the structure of the pieces is helpful when measuring and cutting later. It isn't too hard to get up. Then I had to remove the piping which I plan to reuse by just yanking it out and then removing the staples left in the wood. That took a while.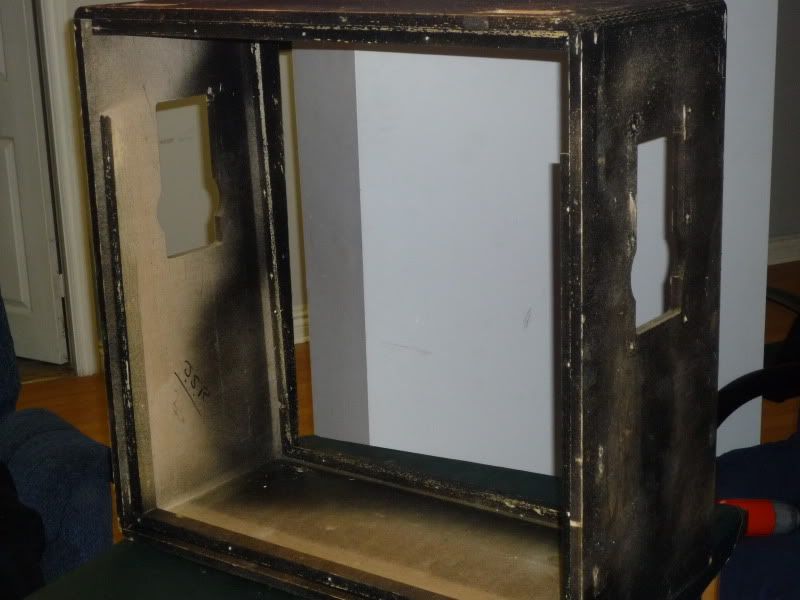 And what you are left with is this. A ton of black gunk which you must remove to put your new tolex on. To remove it, I used a belt sander as well as a hand-held machine sander. Any grit really works, obviously the more coarse stuff will do more damage. Then when I got bored of that I took a heat gun and the stuff just melted right off and you can rub the residue off with your fingers, go figure...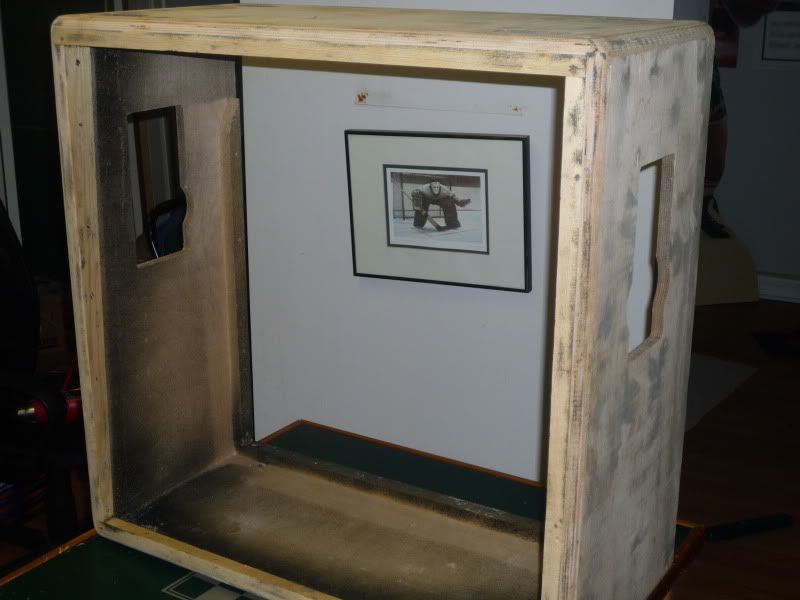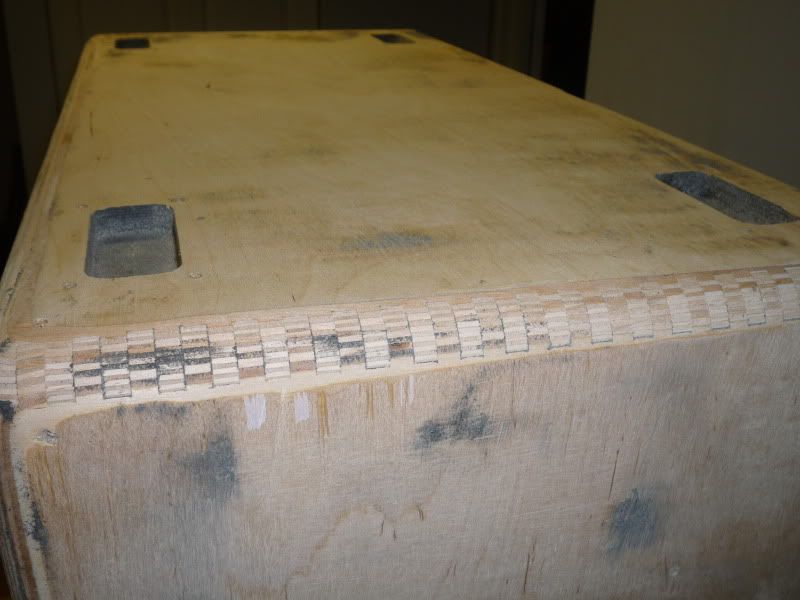 And after all of your hard work, you're down to bare wood like this. Still a tiny bit of gunk but it won't be a problem. I've put the first long strip of tolex on and it looks good. The tolex was easy to cut with an xacto knife along a straight edge. Then I used water soluble contact cement which you brush onto both the wood and the tolex as well.
Next step will be figuring out the corners and edges. Any tips would be appreciated. It will be done sometime tomorrow.
I am quite looking forward to seeing how this turns out. Nice man I have just stickyd it for me.
A cab build! Don't see one of those often, I'm excited to see what happens....
After several blisters on my hands and crap all over the floor (I did this in my basement, too cold outside), I can say I'm satisfied with what I've done in a matter of two (full) days: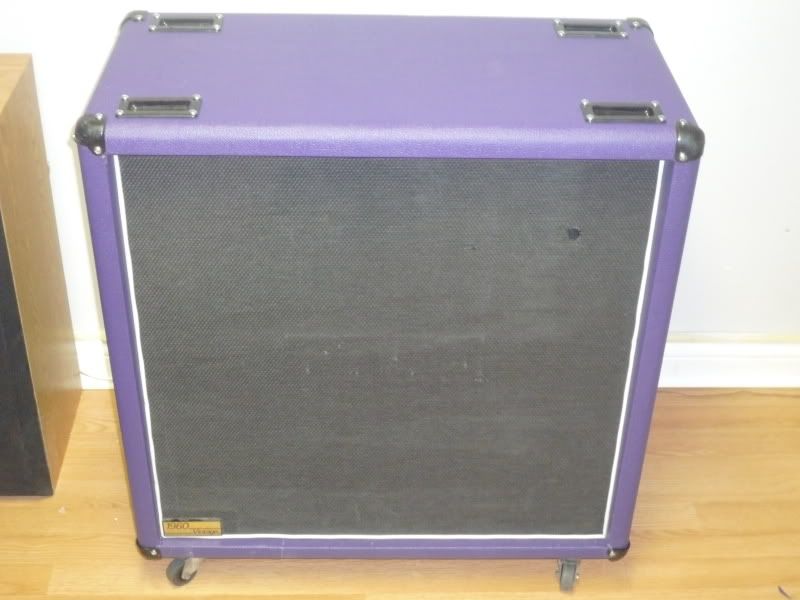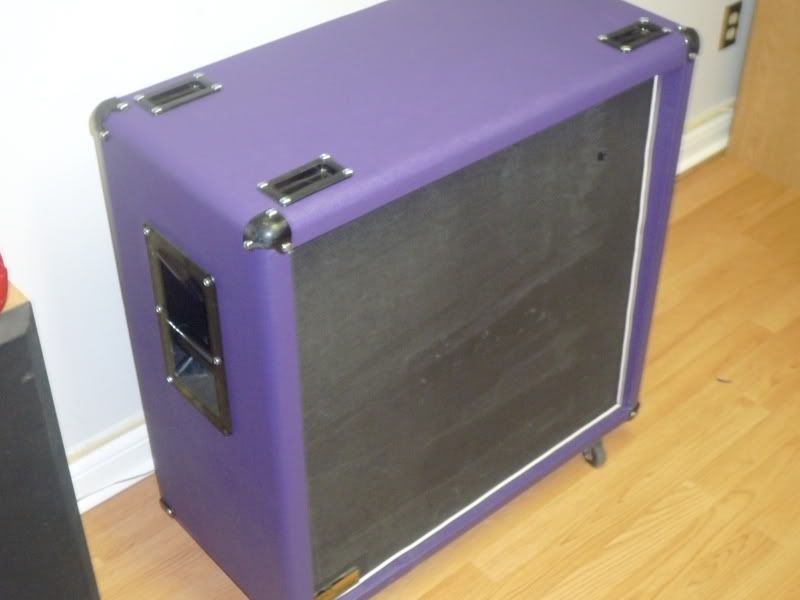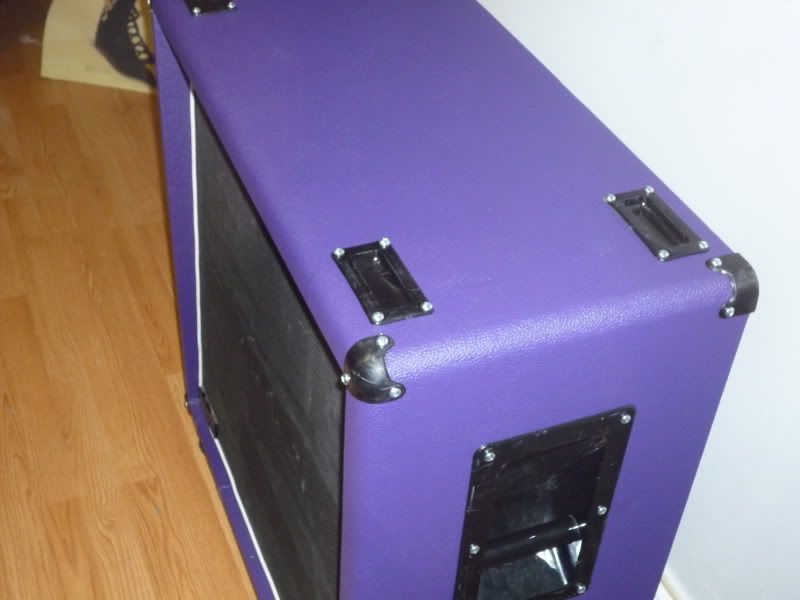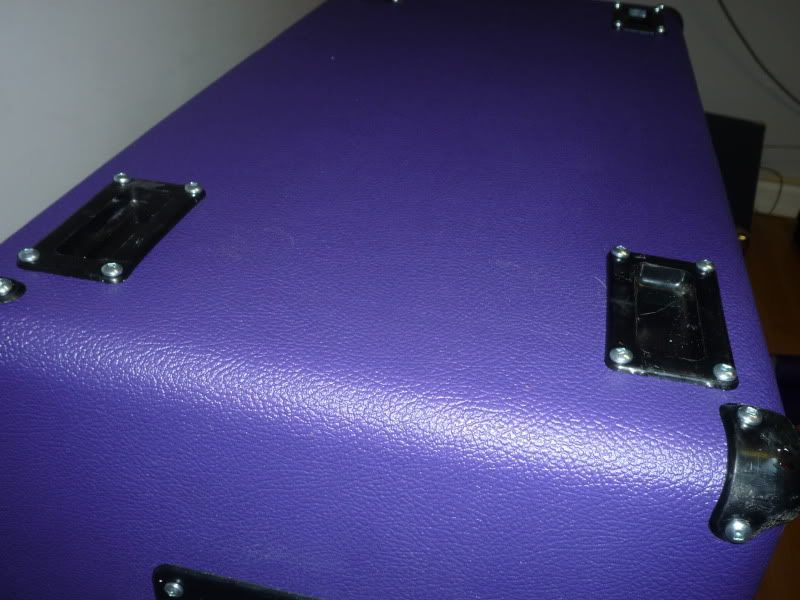 Yes, the hole wrecks it, I'll either patch that up or replace it with basketweave or some other nice grill soon. Not sure if I'll order the full size white logo or the smaller gold logo. I want to replace the corners with gold metal ones too, and maybe even the piping.
Thank god for the corner covers, because my corner jobs were decent at best. Not sloppy or anything, but you just cant get it perfect. I doubt many people could notice the other slight imperfections. I got a little rushed at the end because I couldn't wait for it to be finished. The back panel I got lazy on too. I didn't bother sanding the glue off, but rather just heated it up and glued over it, and it didn't come out too well, not to mention I somehow cut the first piece too small to begin with.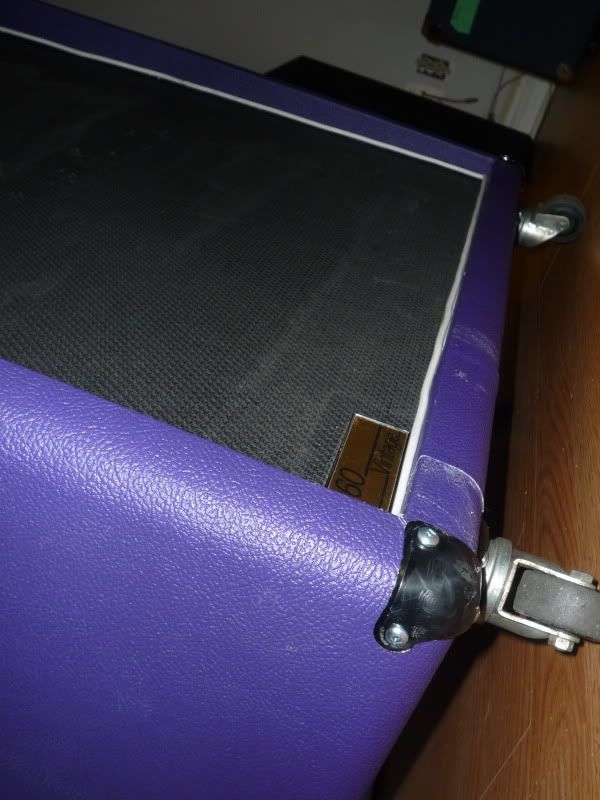 All in all, the tolex job came out fantastic except for the seam job at the bottom, but who notices the bottom right? Reusing the parts wasn't too bad, they're a bit scratched up but definitely not worth replacing. All new screws to fasten it all together looks good as well. I'll tidy up the seam at the bottom and a few other things soon too.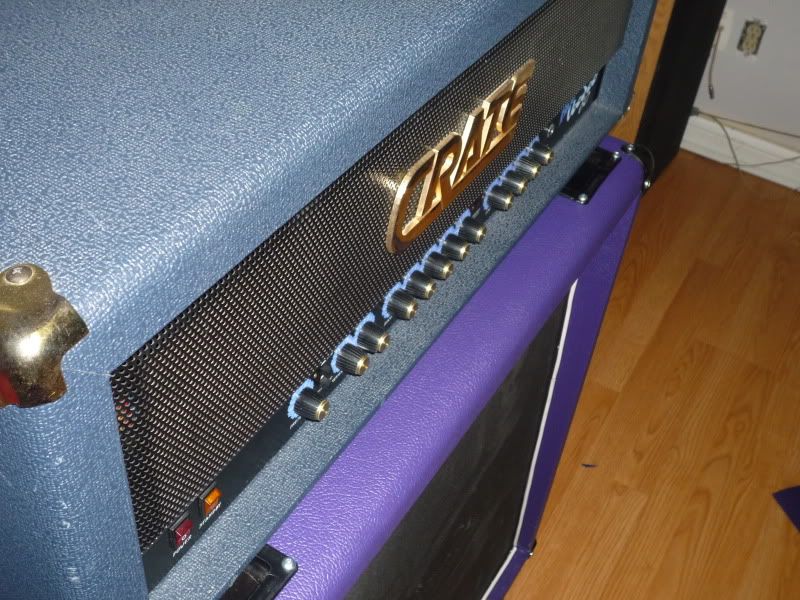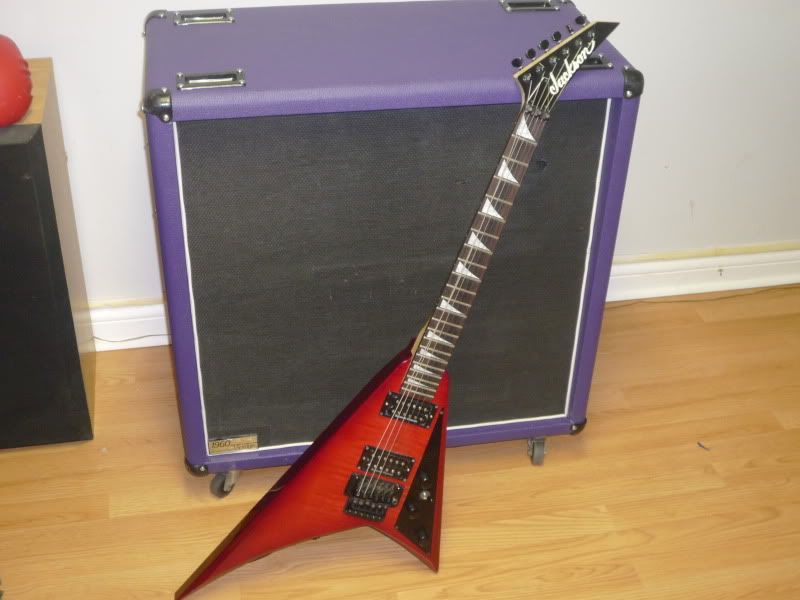 Don't bash the Crate. Bought it on craigslist for $300 and can't say I could have gotten much better for what I spent. A transistor died shortly after which costed me 90 bucks to repair. Lame. Broken string on the Jackson in that pic too. I got it set up less than 2 months ago and have broken 3 strings (top 3), and I only play it once a week. Something wrong?

Join date: May 2006
120

IQ
Nice job man.
If you're wanting really different for the grill cloth, check out this site and look under "Grill cloth/ tolex/ piping" then click "Antique Radio"
http://tubesandmore.com/
Yeah, I knew about that one, but the shipping from Arizona is rough and it would cost 40 dollars for a yard of it plus shipping. I really want the Marshall checkered one though so I'll look into it.

Join date: Aug 2007
50

IQ
wow that crate is so bad. why would you waste money on a piece of crap amp head.
wow that crate is so bad. why would you waste money on a piece of crap amp head.
Dude don't just hate on someones amp. If they like it then they have the right to keep it.
Anyways,
Awesome job dude!
wow that crate is so bad. why would you waste money on a piece of crap amp head.
I knew you were going to do that once I showed you this. You go to the trouble of acting like a fool on the internet once again. You'll never change..
only problem i know of is that you only play it once a week
my setup is usually at a friends house, i play my other guitar when i'm not jamming with other people. hate taking my gear back and forth.
Have to bump this to ask how I rewire this thing. Above in the first post is a picture of how it's all configured right now. It was like that when I got it. My amp runs on 8 and 16 ohms. Do I need to change anything? The backplate is missing one jack and the switch. How do I wire it to 16 ohms mono from what I'm left with right now?

I've gone to a music store already and the guy couldn't tell me anything without wanting me to bring it in and charge me $50. Not happening. I just need someone to look over the picture I have listed and tell me what I need to change, if anything. Thanks.

Join date: Jan 2007
80

IQ
Last edited by eXperiment63 at Dec 14, 2009,

Join date: Jan 2007
80

IQ
Last edited by IcemanSOAD at Dec 14, 2009,
So I finally finished it. Went to Fab-ric-land, FABRICLAND! and bought beige/tan grill cloth and gold piping for like 2 bucks a metre each and also ordered a logo which I might yet paint gold. Spend a few more hours prying out staples and re-stapling and it is beautiful: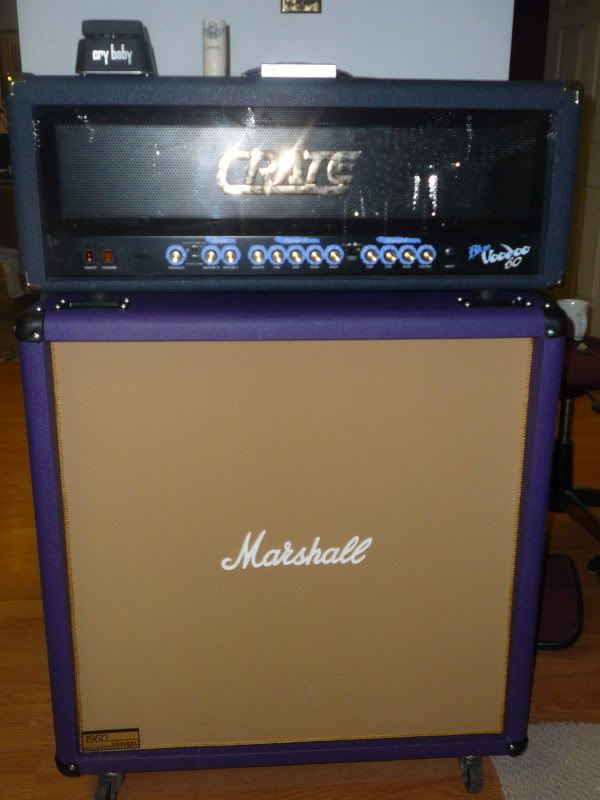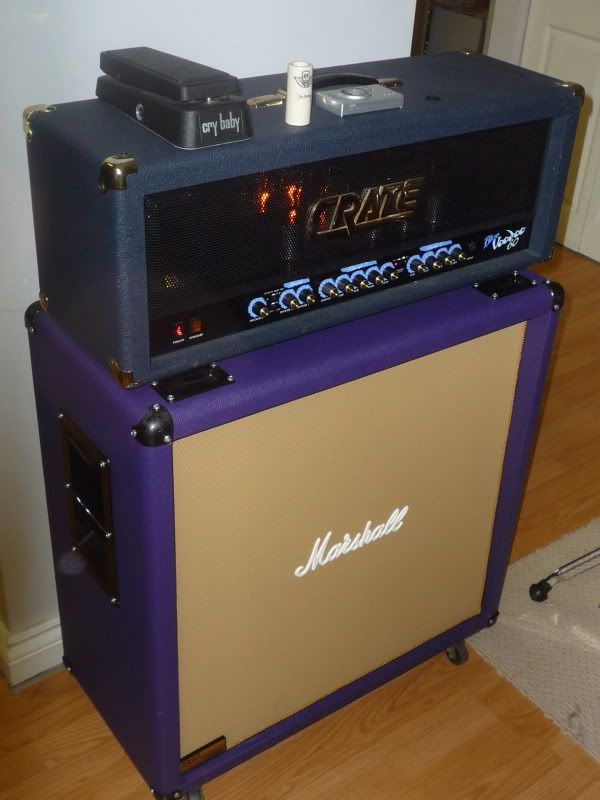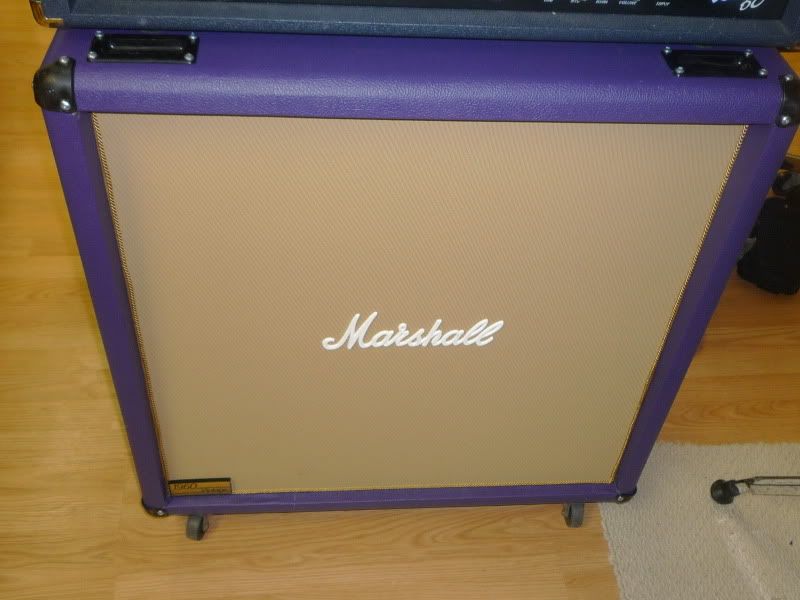 Join date: Jun 2008
50

IQ
I really like the purple and gold combo!!!

Join date: Jan 2009
260

IQ
Looks awesome!

How did you go about painting the piping gold?
Just curious.

And Fabricland selling Grill Cloth!
Wow! I should check there, seeing as I need some.
i didn't paint the piping gold, i got new gold rope from fabricland. it is the logo i may spraypaint gold.

and they sell all types of fabric, it's not the same type of material as the original marshall stuff that was on it, that was like tweed, but it does the job.

they have vinyl that is close to tolex as well, would have loved to do a snakeskin cab. lol.

Join date: Feb 2010
110

IQ
man!! that looks f**king great!!!!!!

Join date: Jul 2009
70

IQ
man thats funky.
i hope you wear a top hat and a monacle when you play your epic solos
_
J L
ಠ_ಧ


Join date: Jan 2009
260

IQ

they have vinyl that is close to tolex as well, would have loved to do a snakeskin cab. lol.
I bought some of that from Fabricland once. About 2 metres of it. For a pedalboard case. I didn't really like it. It doesn't have the durability of tolex in my opinion.

Join date: Dec 2006
40

IQ
If that cab was a woman and you were married to her, I would jeopardize our friendship by having sex with your hot wife.

Does the grillcloth affect the tone? It looks pretty thick...
no change that i can hear. the material is very thin and stretchy to be honest. the first snag it gets is going to make me cry. anyone want to donate me a jcm head to match it now? i bought extra material for a reason.

Join date: Aug 2007
50

IQ