Tone capacitors!

Join date: Jul 2009
80

IQ
How does the sound from larger ones [.1 UF] differ from the smaller ones [.001 UF]?
And how do different types sound? [Mylar, orange drops, bumblbees, oil in paper]
I have a guitar with 2 dimarzio humbuckers.

Join date: Dec 2007
113

IQ
In guitars, they are used as tone filters on the tone controls. Basically they allow frequencies over a certain point to pass while frequencies under that point are resisted. The lower the capacitance the higher the frequencies must be to pass through.

Join date: Oct 2007
101

IQ
For a good description on how they work, wiki high pass and low pass filters. Basically when used in conjunction with a resistor (pot in case of your guitar) They resist signal passing through that has a frequency less than/greater than a determined amount (determined by size of cap and resistor).

That frequency is called the cut off frequency, and basically for a high pass filter, that means everything below that frequency is attenuated. and for a low pass, everything above that frequency is attenuated.

As for different types of capacitors, some of them are better at holding their charge than others I guess. Not sure how that would affect tone. Just make sure you don't use polarised caps the wrong way.
Here's a short and simple explanation.

The tone pot(s) in your guitar are connected in parallel to the signal they control, so only part of the signal sees this part of the circuit. The tone pot determines how much of the signal this part sees. The cap is grounded at one end so whatever the cap passes is shunted to ground. since caps pass highs more easily than lows, the highs go right through the cap and to ground, out of the signal.

You'll hear alot of mojo about different caps like bumblebee, silver mica, tropical fish, orange drops, WIMA, etc. having awesome effects on your tone. While it is true that each of these types have different responses and linearities and are a great way to shape your tone, they are useless in this particular circuit. All the cap in your guitar is doing is pulling highs out of the signal and to ground. the signal itself doesn't pass through the cap.

Will these types of caps affect the tone of an amp? You bet. Will they affect the tone of your guitar? No way. Ceramic disc (supposedly the worst-sounding type) will sound no different than an orange drop or tropical fish cap.

Join date: Sep 2009
20

IQ
Thanks for this explanation for the hard of learning electrically speaking... In a Telecaster (HW1) the greasebucket circuit is perported to alter tone while ive seen people write about it just rolling off volume... What specifically does it do? just funnel the highs more like you said? thanks in advance, i am usually slow at this stuff but I liked the way you explained that Invader Jim.
Thanks for the kind words. Unfourtunately I haven't heard about the greasebucket circuit. I don't know what it is or does..

Join date: Sep 2005
90

IQ
With the way that the greasebucket circuit is set up, capacitance and resistance both vary as the pot is changed (capacitance only really changes at the highest setting)

This cause the way that the tone changes with the tone pot to be quite different from what most guitars currently use.

With the way that the circuit is normally set up the roll off frequency when the control is set to 0 around 400Hz, and when at full it is around 13 Hz

Join date: Sep 2009
20

IQ
Thanks for the kind words. Unfourtunately I haven't heard about the greasebucket circuit. I don't know what it is or does..
here is a pic of the original and what im contemplating. I just dont know what it does or why and id like to. Sorry for the hijack...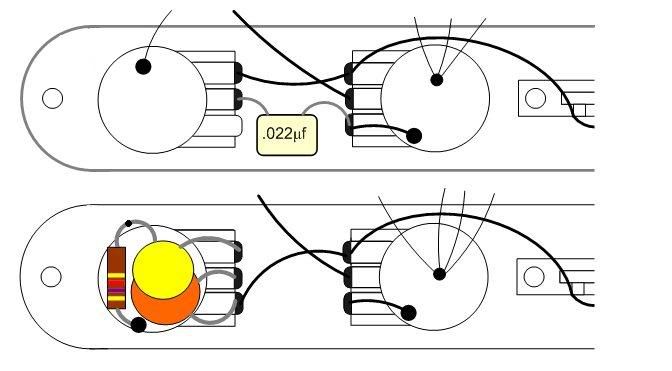 Join date: Jul 2007
60

IQ
Its supposed to alter the range of the freq dumped as you turn it down. Also not supposed to get so muddy when all the way down. The reisiter alters the lowest setting a bit. So 0 isnt all the way down its gonna be like a conventional pot at 1 or 2.

Join date: Dec 2012
10

IQ
Reviving a dead post I suppose lol. I'm just curious how much capacitors and potentiometers really effect your tone? By that I mean, is it really a significant noticeable difference? I play a more progressive type of metal, high gain but I love using a lot of chord coloration. I'm looking to really make all six strings heard through the gain. Is this a valid consideration? I've done plenty of pickup swaps, but never thought much about replacing pots or caps until they start crackling. What about wiring length and type of wire?
Guitars are high-impedance circuits and thus are susceptible to noise pickup. All wiring in a guitar should be star-grounded, well-shielded, and kept as short as possible. Wire type and size will have no effect on tone.

Pot values will affect the tone. Higher values load the signal less so more highs are present. Lower value pots load the signal a bit more so the highs get attenuated. So a 1M pot will make the guitar sound noticeably brighter than a 500k, and a 500k pot is going to make the guitar sound noticeably brighter than a 250k.

As for tone caps... like I said before, tone controls in a guitar are treble shunts. Whatever signal passes through a guitar's tone cap is shunted to ground and OUT of the signal. People will swear up and down that different cap types will sound different or better, but in a guitar tone circuit, this is a complete load of junk. I have yet to hear any scientific basis or rationale of any kind to support their claims. In an amp or effect as a coupling cap, the effects of the cap material are definitely noticeable, or even as a treble-bleed cap in a guitar (which only works when the volume is lowered). But NOT as a tone control cap.
Last edited by Invader Jim at Dec 7, 2013,
Can you use two of the same tone cap in place of one with twice the value?
Yes. Capacitance adds in parallel. Two 22nF caps in parallel will equal a single 44nF cap. Likewise, a 10n and a 22n in parallel will equal a single 32n cap.
Please excuse my terrible paint skills, but would this be considered wiring it in parallel? It looks to me like it would be in series.

I looked around for wiring capacitors in parallel but couldn't find anything without a resistor in between.
You got it man.
Here is a diagram. It applies to any component, not just resistors, which are shown.
A has 3 resistors in series.
B has 3 resistors in parallel.
C and D, you don't need to worry about.