A Gift for Yourself - '09

Join date: Jul 2008
190

IQ
Just placed this order... Can you tell what I'm making?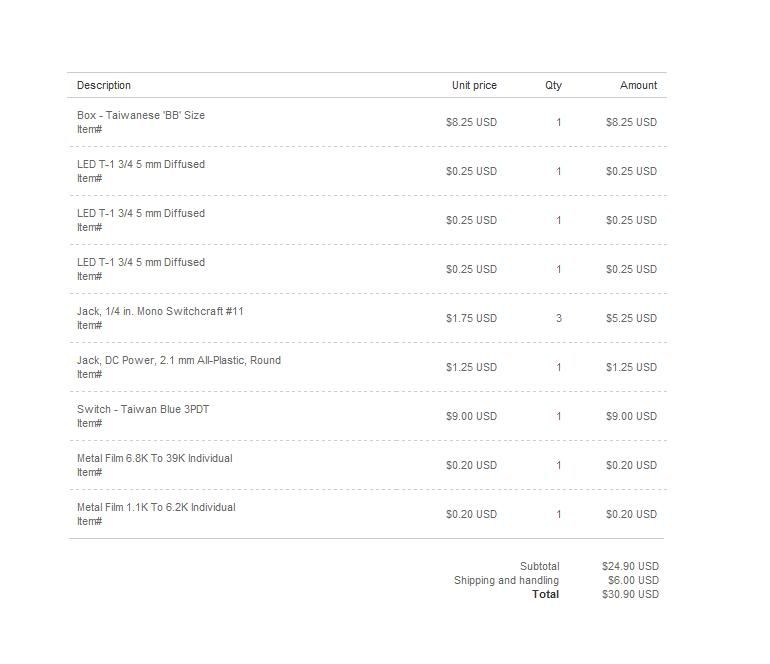 Damn Tube, thought you were gonna keep us guessing like MC did.

Join date: Nov 2006
1,222

IQ
Damn Tube, thought you were gonna keep us guessing like MC did.

The only thing I really want gear-wise is a Framus Cobra but I don't think I'll have one of those anytime soon.
For Christmas, I want a nice camera

i'm going to get myself a gretsch g5122 cuz i love these
i alreayd have 8 guitars, so what? XD

Join date: May 2004
120

IQ
I've got a list compiled - mainly stuff for my pedalboard (MXR EQ, Pitchblack, Radial ABY, TS9) with a few other odds and ends like cables and what not.
I figure whatever I don't get for Christmas I will just buy myself after the holidays.


Join date: Sep 2008
390

IQ
I've narrowed the amp down to either a Splawn Quick Rod, Friedman 'kitchen sink' modded Marshall, Bogner Ecstasy or one of David Bray's custom pieces. For the cab I'll probably get an Avatar or used Bogner 2X12.

I'm also probably gonna get a Teese RMC3, an Analogman Bi-Comp, a new delay and maybe a new chorus. The amp, the comp and the wah are pretty much set in stone while the delay and chorus probably won't happen at this point.

Join date: Nov 2007
430

IQ
Here's my wish list. Hopefully Santa is kind.

and this one is definitely wishful thinking.

MXR Stereo Chorus
New cables, regular and patch
Boss DD-3, Boss DD-6, or Digitech Hardwire DD-8 Delay
Korg Pitchblack

Hope Christmas is good to me.
Ya, A/B.
I was gonna guess A/B... or a flashlight with all those LEDs

Hopefully I will see a new x2n for my razorback under the tree- took out the dimebucker and sold it for the new big muff pi with the wicker, didn't like the sound personally.

Join date: Nov 2007
721

IQ
dude....you paid 9 dollars for a footswitch!? what were you thinking? I get mine for like 4!
I really wish I could get a Line 6 GX but my family isn't rich so I don't know.
It's incredible how muddy my signal is through the mic in and I'm just getting sick and tired of not being able to do shit for recording my guitar or using my computer to it's potential for guitar effects and distortions.
Line 6 POD studio GX:
Well i just applied for a Job interview so i may be getting gear a lot more often now but:

I hope to get:

1) A Mesa preamp.

2) A Mac desktop computer

Join date: Oct 2008
80

IQ
D-activator X and Liquifire, by DiMarzio. Oh, and I need to pick up a noise gate too.