Lefty Squier Strat with Roland pup- $100 this guitar must go

Join date: Sep 2008
110

IQ
I bought this guitar on Ebay last year, and it has been sitting in my room collecting dust. I'm selling it because I need the money.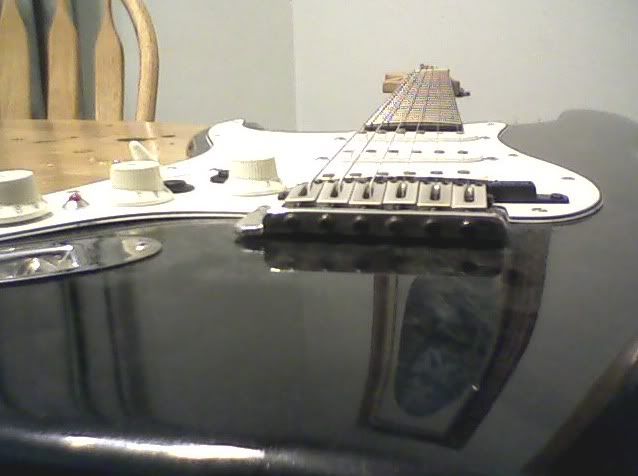 ---General Description----
This is a left handed black Fender Squier Stratocaster. I have it strung it to be played as a left hand guitar. The previous owner mounted a roland pickup into the pickguard, aswell as what appears to be all the necessary controls. This pickup works great and sounds very cool, however I have not been able to test the controls other than turning the pickup on.
---How does it work---
This guitar works just fine. All the normal stratocaster electronics work great. I have been unable to test the Roland electronics, however I know the pickup works, since I can hear it. I have installed two locking strap buttons. It does buzz a little, but all strats do, and it's never really bothered me.
---How does it look---
The paint looks great, it's a gloss black with tiny metal flakes mixed in. The neck and headstock even have some pretty flame maple.
---Ok, but how does it play---
This is one of the easiest guitars to play that I own. The action is quite low, and the neck is pretty fast.
---Ok, lets get down to business---
I'm asking for $100 for it. I think that's more than fair since I paid $180 for it last year.
* Location: Northlake, IL