NAD: Marshall
Just bought a Marshall Class 5, all I gotta say is:
Awesome

So far it lives up to the name "Baby Plexi"
Pictures up soon....

Join date: Mar 2009
60

IQ
A NAD without pictures is like the sea without water.


GO GET SOME SNAPS!!!
Nice, Awesome amp you have there! HNAD!

Join date: Aug 2008
130

IQ
Pics or it's an MG...

, damn that's old.
HNAD!
sweet amp man

I have one, it is awesome. And yeah, PICs!


Congratz..........Need a pic!!
First I've heard it called a "Baby Plexi"... I've heard it referred to as a "Baby Bluesbreaker" though.
HNAD.


@ pics or its an MG.
Yea I should of wrote down "....and its an MG!!!!"


...but anyways, here are some pictures as promised. I went to eat so couldn't take them right away. Sheesh people are impatient here. Oh and I've heard it been a baby plexi a number of times. I'll even quote the owners manual:
"This small combo amplifier is in response to a very common request we have received over the years which nearly always contains the phrase - "can we have the Marshall stack sound, but at a much lower volume please", so here it is, a "baby Plexi" if you like."
Oh and if anyones wondering, yes its loud. Last but not least I gotta thank Rob Chappers for pushing me over the edge on making a decision to get one of these. Never met the man but his YT video where he visits the Marshall factory and tries out the Class 5 by itself and through the 4x12 cab had me convince. Thanks man, or as the English would say.... cheers

EQ all set to 10, how EVH of me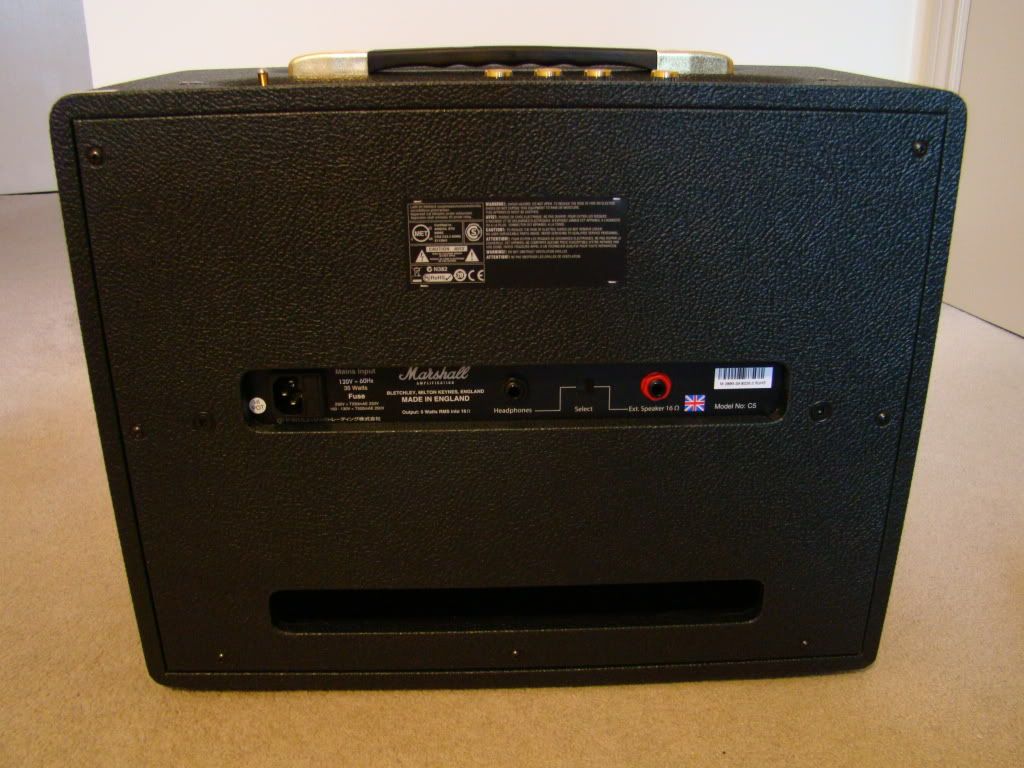 Join date: Dec 2007
113

IQ
very nice
HNAD


Join date: Aug 2008
130

IQ
Nice looks good!
Apart from that ridicules plastic button that pops out... At least it has a proper metal switch, not like those plastic ones.

HNAD!

Join date: Apr 2009
140

IQ
Just saw your Kramer build thread, nice guitars you got there.
Happy new amp day


Join date: Jul 2009
10

IQ
Sweet I've really been looking at the Class 5. I assume they can nail any AC/DC, Cream, or Led Zep fix you need?

Join date: May 2009
160

IQ
Looks great!
HNAD, have fun.

LezPaulEpiphone: Which plastic button that pops out? You mean the light switch? That's classic Marshall man!

Besides, some of their best amps had plastic switches, like the JCM series.
stykerwolf: Thanks, took me a while and a lot of stress to get that 5150 to what it is today.
Pickup Switch: Its a Marshall and roars like one, check out some clips online but Cream and AC/DC should be no problem.
Join date: May 2008
90

IQ
HNAD. very nice that it has the headphones option too.
Join date: Nov 2008
560

IQ
Nice!!
HNAD!!

HNAD!

I've been looking around for another smaller amp. How much did this run you?

Join date: Oct 2006
153

IQ
Sweet, HNAD! I like the headphone option, hows it for volume anyways?
HNAD!

I still look at these and really GAS for one. But I need a gigging amp first.
quickEDIT: that vid sounds good

Do another and really put it through it's paces

Last edited by SimplyBen at Dec 11, 2009,

Join date: Aug 2007
130

IQ
Now.

Go and crank the volume to 10 for me.

Join date: Feb 2009
40

IQ
HNAD

Yup exactly, crank it to 10 and get evicted

Thanks for the comments guys, if anyones wanting to get one of these I recommend it

To the guy earlier I forgot to answer, it cost me about $530 CDN.