Please rate my (virtual) creations
View poll results: Which virtual guitar do you like best?
| | | | |
| --- | --- | --- | --- |
| None of them | | 13 | 23% |
| BatboyCaster | | 9 | 16% |
| GrapeCaster | | 5 | 9% |
| Lemon-LimeCaster | | 0 | 0% |
| Orange CreamsicleCaster | | 8 | 14% |
| S-Model Ash | | 5 | 9% |
| S-Model Pau Ferro | | 2 | 4% |
| SSS-Caster | | 8 | 14% |
| StormCaster | | 5 | 9% |
| Clan MacFie TartanCaster | | 1 | 2% |
Please rate these guitars, if you don't mind. Please vote for the ones that you like the best.
Also, please mention which one you like the least.
Reasons you like or don't like them will be appreciated too.
PS: Whoever it was that introduced me to sucks. I am totally hooked now.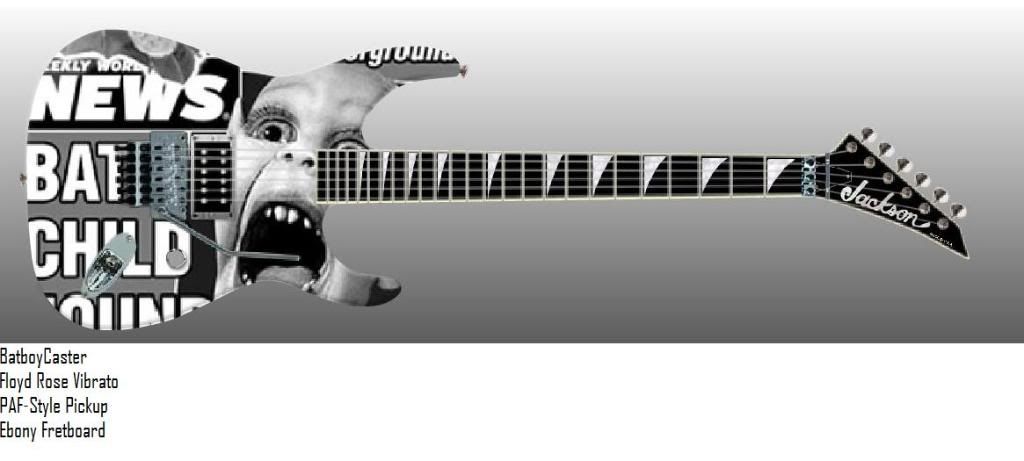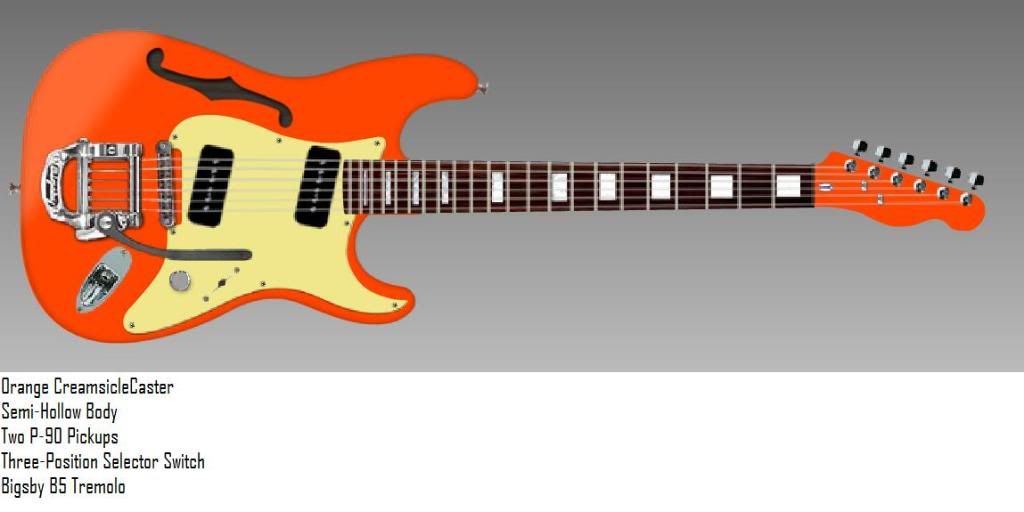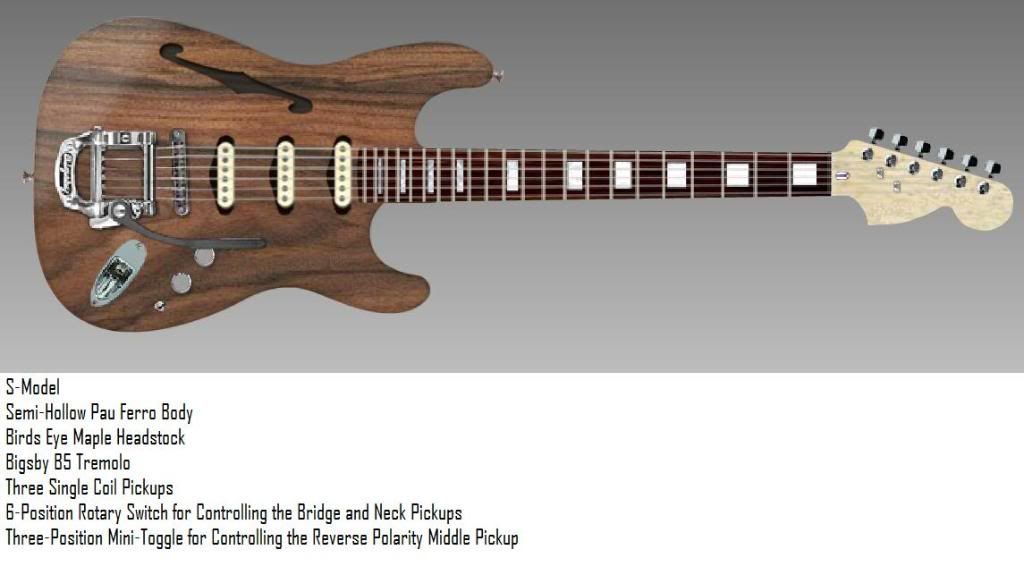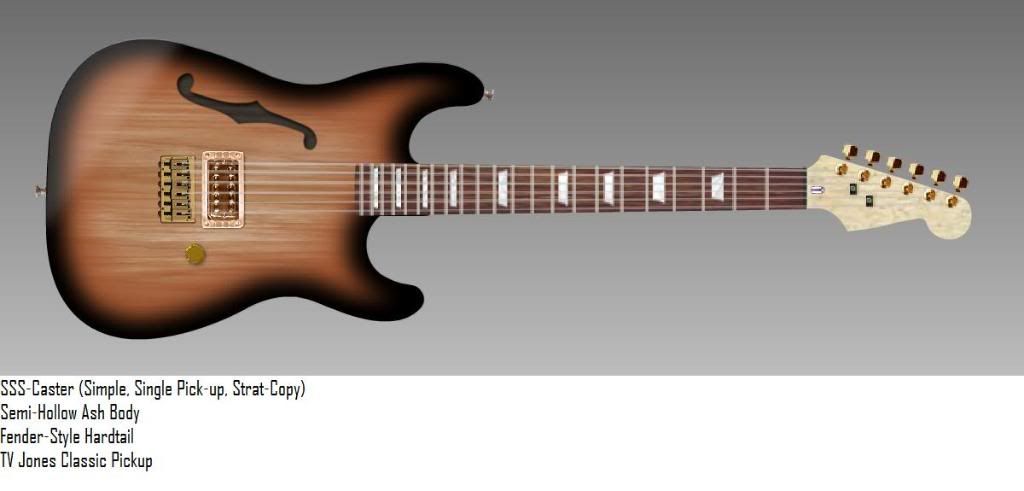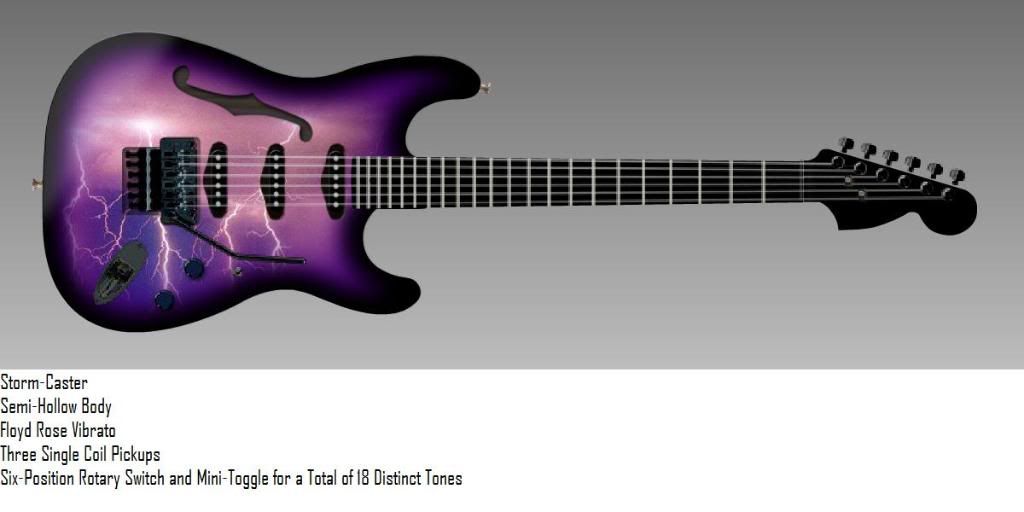 i love the first one. and the last one would look cool in a whiter plaid on a bass.

Join date: Nov 2006
70

IQ
i like the middle 3. i see u have a fascination with bigsbys...

Join date: Jul 2009
120

IQ
4th one down with the angled P90s looks fun!
I am actually more of a Tele or Gretsch guy, but I want to build one Warmoth strat, so I want to get some feedback. Thanks.
Strange, I am surprised that anyone is choosing "None of them."

Mind you, I am not offended or anything, but I thought I had quite a wide enough variety to satisfy everyone.
the lemon-lime caster needs to be called the bloody aussie caster


Join date: Nov 2007
10

IQ
I'm not a fan of the single F-hole on any of them. However, the S-model is my favorite of the group.

Join date: Jun 2009
300

IQ
I said S-Model Ash, just because I feel like Fender is lacking a semi-hollow guitar with a strat body instead of tele
Orange Creme siclecaster has my vote!
I'm curious as to why the last one is not called a plaid-acaster?

Join date: Dec 2008
210

IQ
Not to be a total dick (right...) but wouldn't this be better suited in the GB&C forum? just curious


Join date: May 2009
140

IQ
Because the Clan MacFie Tartancaster is just that much more awesome. Although I personally would have called it the Sweatercaster.
I prefer the S-Model Ash... But honestly none of them really appeal to me. Either too graphic or just too crazy of a color.
Awesome that you're thinking though

EDIT:

! Didn't see the Clan Macfie Tartan-caster

That one wins just because of the name!
Last edited by Shinozoku at Dec 19, 2009,

Join date: Jun 2008
150

IQ
I personally dont like any of them. The only decent one has batboy on it which kind of ruins its imo.
Join date: Mar 2009
10

IQ
i lolled at the storm caster

Join date: Aug 2007
40

IQ
i like the sss-caster. simple, and very cool.
if you are planning on building something and need help with how to do it, you can use GB&C. if you just want opinions on your virtual creations, well sorry, no place for that really. have fun though, kisake is a great way to spend a couple hours.