Possible frankenstrat refinish - opinions please?
View poll results: Color?
| | | | |
| --- | --- | --- | --- |
| Blue | | 5 | 25% |
| Turqoise | | 3 | 15% |
| Green | | 10 | 50% |
| Do it red anyway | | 2 | 10% |
So I'm home for the break and extremely bored. I'm going to refinish an old yamaha strat copy I have lying around. I'm doing a frankenstrat finish for sure and I thought it would be fun to do it in a different colour. Through the magic of photoshop I've produced pictures of different finishes I'm looking at. I like the green and blue the best I think.
The blue looks pretty cool. I'd like to see an orange one, that would be my dream.

Join date: Apr 2009
130

IQ
I for one, would do a purple one, maybe even a cross between pink and red.

Maybe a rainbow frankenstrat? (lol scratch that, that would look weird)

Join date: Oct 2009
20

IQ

Join date: Jun 2008
150

IQ
I love the way the normal frankenstrats look but that green one at the bottom its quite different from other frankenstrats ive seen and looks pretty awsome.

Join date: Dec 2008
520

IQ
I think the blue or green would show up on the stage better.

Join date: Jul 2009
70

IQ
this.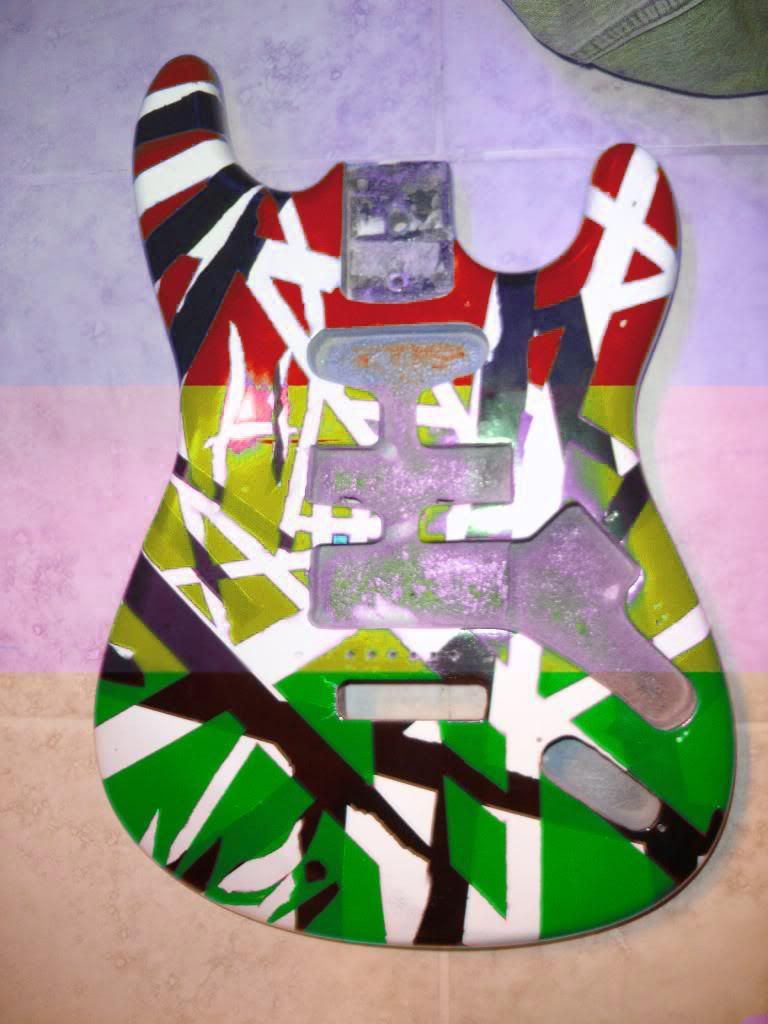 but with better yellow, and a for the colours to blend into each other.

Join date: Aug 2007
141

IQ
I'm not a huge fan of the shitty breaks in the stripes, but that's just me and I don't know whether you're going to change that

Join date: Dec 2005
60

IQ
yeah i love tha rasta one

Join date: May 2009
190

IQ
I think you should change all three colours

Try
Red - Green
Black - White
White - Black
(iirc those are the opposite colours to the actual frankie

)

Join date: Mar 2008
80

IQ
If you don't do the green one I will.
Green it is then, thanks fellers
IMO first one looks best, but it's not the same if it ain't red XD

Join date: Jun 2008
60

IQ