EMG wiring help.
Ok so I got an EMG81X and an EMG60X for christmas and nstalled them just fine. The trouble is, my Ibanez has a 5 way switch and I can't use it with the EMGs.
So I took a 3 way switch out of my Telecaster and installed that. Now I don't know if the switch is knackered(I ordered a new one anyway) or if i'm wiring it wrong.
Here's what i'm doing so far:
But that only gives me the neck pickup and both pickups, not the bridge. I know the bridge pickup works because when I reversed that I got the bridge and not the neck.
Do you think my switch is screwed or am I doing something wrong here.
Thanks i'll try it.
I was following a diagram (the one on this page
http://forum.emgpickups.com/viewtopic.php?f=2&t=24
) but I either messed up or it's wrong.
Oh yea I forget to mention, I am actually getting some output from the "non working" pickup, buts it's waaay too low, barely audible. Like I said, this isn't a pickup issue but this damn switch.
maggot9779 can you post a complete diagram of how you have it wired now? I'll try to help you figure it out.
Sure, i'm gonna have to use the EMG diagram since they use a solderless system.
Try this one and see if it works.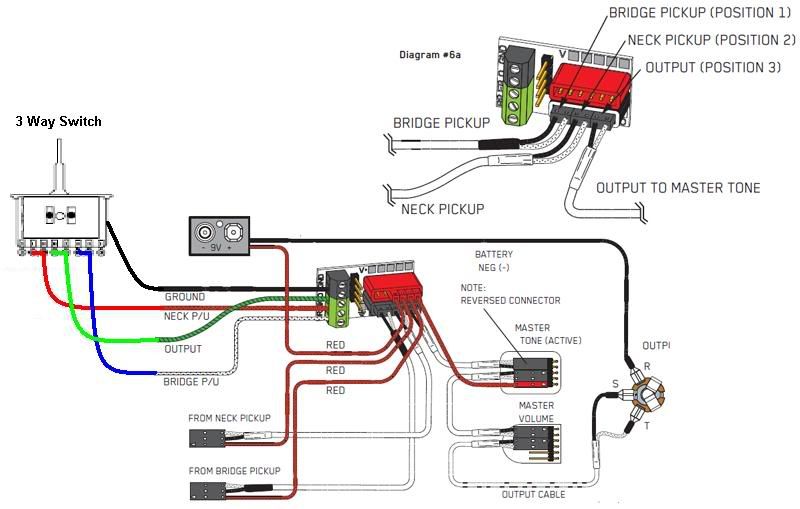 That was one of the first things I tried but I got the same result

I'll wait until the new switch arrives then i'll try again.