Tuning stability on my Edge Pro (RG1570)
I set the trem angle so its pretty much parallel (its off by a fraction of a degree of an angle but I'll fix it in a bit). However, the strings still go out when I abuse the whammy bar. What else can I do to increase tuning stability? Anything at all. I put some pictures in case anything helps.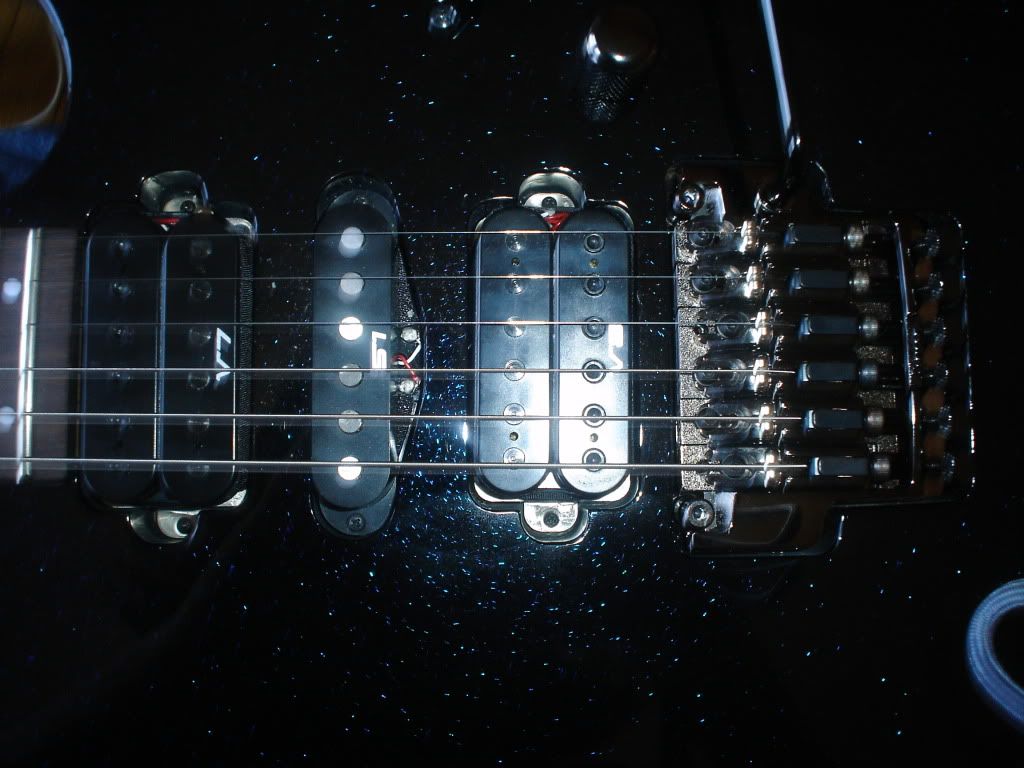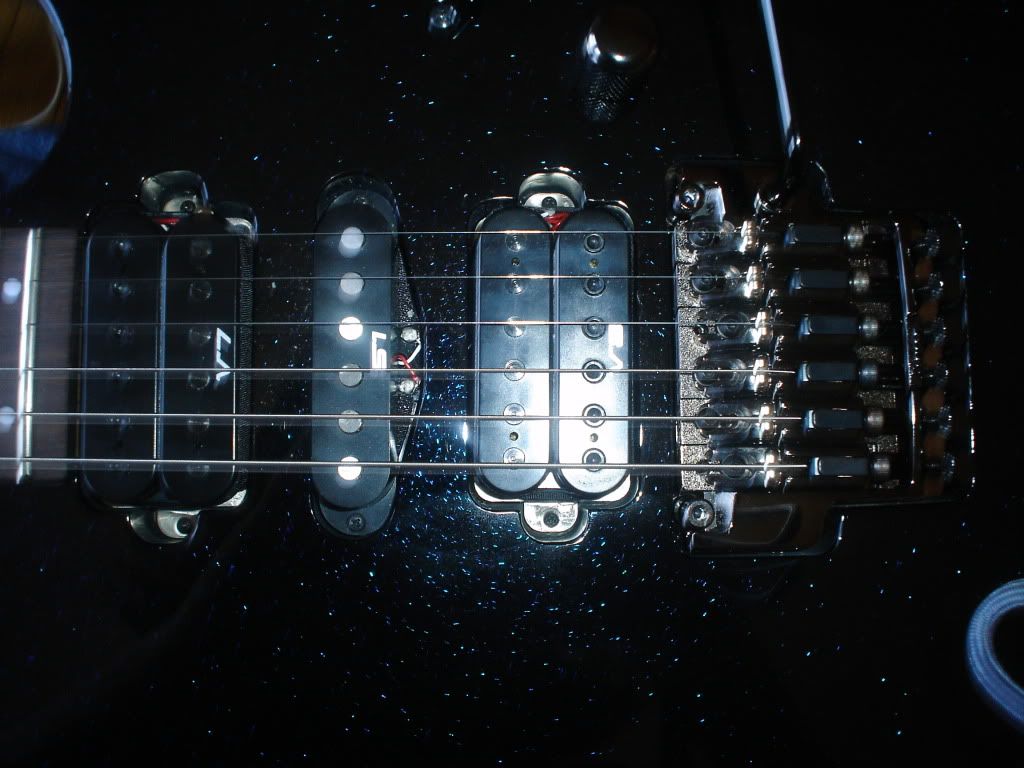 Bad quality I know.
Stretch the strings really well and tune exact before locking the top locks.
They're stretched to hell and back and I tuned precisely, it just goes out of tune.
The knife edges or trem posts are probably worn out.

Join date: Oct 2006
190

IQ
Unlikely on an Edge Pro

TS, a side on view of the bridge would be helpful, face-on is pretty much useless.
Take your 2 outside springs and move them in 1 notch that will increase the tension a little and may help it stabilise.
This is a brand spanking new guitar, right off the factory, wasn't even a shelf model.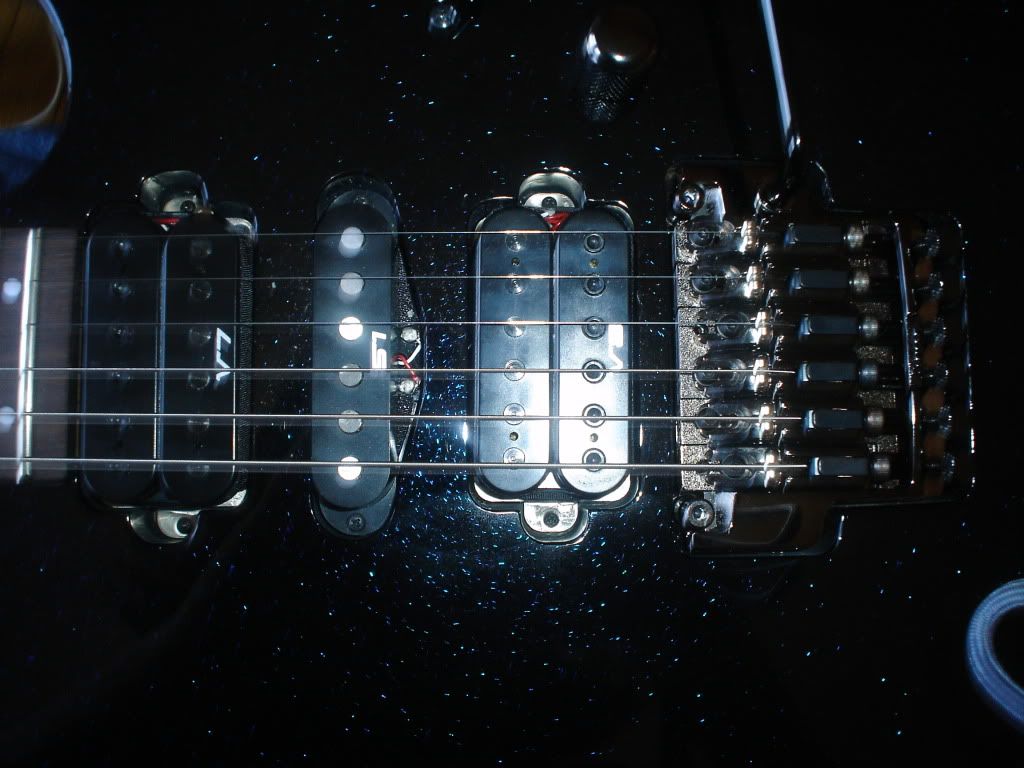 Side on view, kinda poor though and you can't really tell.
I heard that oiling the tremolo and adding graphite is good, but I don't know where to putit and I don't wanna start oiling the whole thing in case something screws up. Also Idk what kind of oil.
Bump, really need help =/
those images tell us nothing, we need a SIDE ON VIEW FOR THE TREM ANGLE

make sure the string retaing blocks are tight at the bridge and that the nut is locked down properly.

stretch the string properly when changing them

check the intonation.
I thoguht I put it in my last post, sorry.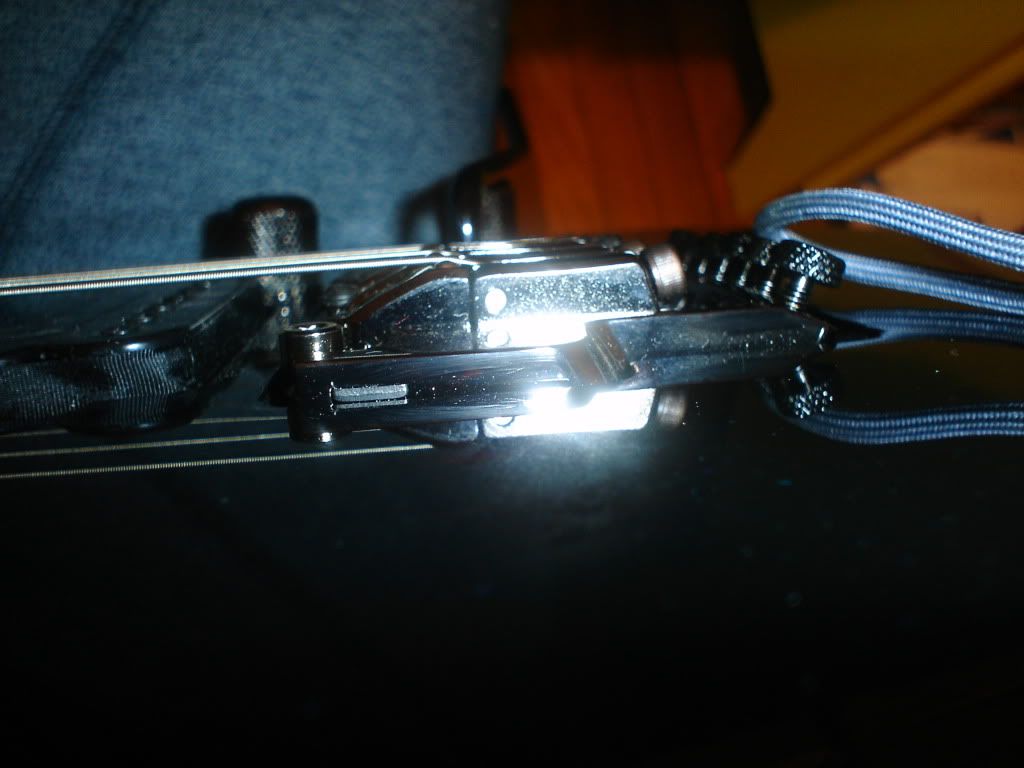 Its gotten better after I messed with the action and the trem angle again, but now it goes flat a bit when I dive (flutters are generally fine though).

Join date: Dec 2009
10

IQ
It could be the fact that you bought a bad set of strings, it happens from time to time, I think I have had about two sets of bad strings over the years. Try starting over with new strings. But while you have the current strings on, adjust your intonation, and action, etc. that way if new strings don't help, you didnt waste the old ones persay. Also oil the pivot joint with gun oil, or another low viscosity oil. and if all else fails, take it to a professional who may charge you $30 to resolve your issue, as well as give you some pointers.

Join date: Oct 2006
190

IQ
Well the bridge is bang on level so no problem there.

Join date: Nov 2007
120

IQ
If you've got a Chapstick, turn both trem posts 180 degrees around and put some of the chapstick (a little bit, its easier if you use the end of a flathead screwdriver or something) and turn the posts back around. It helps to lubricate the knife edges and should help with your tuning problem.
light machine oil or gun oil is preferable to chapstick, the end of the knife edge isn`t normally visable from the side on any edge pro i`ve seen (normally you see it from a oblique angle), is it sitting right on the studs, or do you prefer a ultra high action.
Last edited by ibanezgod1973 at Dec 30, 2009,

Join date: Dec 2006
80

IQ
What string gauges are you using and what tuning are you in? As said previously said you may have just got a bad set of strings, however low string tension in general is bad so some info on tuning/string gauge will help also.

Join date: Dec 2008
30

IQ
try putting those two outside springs on an angle and see how that goes
How long have you had the guitar? It could be the springs. A Guitar tech from a local store told me you should regularly change springs on a floyd because they wear out. I had them changed two times so far and it really did wonders for the tuning stability.
The guitar is brand spanking new. Before I move the springs, I'm gonna try putting some oil on it. Can you circle where I should put it? I don't wanna just spray the whole thing, and I'm not sure if I should put it at the underside or on top.
on the knife edges, the two pieces if metal that butt up to the studs, also put a tiny drop on each of the metal chips on the saddles....all this is explained in the maual you got with the guitar........(didn`t get one, download the prestige one from the ibanez site)........make sure it`s light machine oil or gun oil.
What are the knife edges =/ I Got a manual but I don't know what they are. And would sewing machine oil be ok?
sewing machine oil is the exact stuff you want.
see the two studs you use for adjusting the action and the ] in the bridge the knife edges are in that
knife edge = pivot point
So what metal chips on the saddles? The rollers?
So what metal chips on the saddles? The rollers?
they`re not rollers, the shiny pieces of metal that the strings rest on