Dead Frets Aahhhh!!!!
I have mentioned in other threads that I had recently bought a beater electric guitar to mess around with that sounds pretty badass for the price. It's a strat copy (johnson bad water SRO) that generally sounds pretty good.

I had picked up the guitar the other day to jam and found that my 4th and 5th frets are dead for the 1st and 2nd strings (the B and E strings). This is driving me crazy because the guitar is virtually brand new and shouldn't have dead frets. (By dead fret I mean that you will play a single note done the fret board and when you come to the 4th and 5th frets all you get is a ugly ping sound.)

I was wondering if anyone knew of a quick fix for a dead fret without breaking the bank. The guitar wasn't much money in the first place so I don't think it would be worth a re-fret job judging how expensive that would be.

This site it tits, I love being able to ask people about shit like this. Thank you all for your posts.

Rock Shredwell



I had originally posted this in the pit and everyone told me it belongs here so ...

Join date: Mar 2008
80

IQ
If you've only just bought it, the shop you bought it from should fix it out of courtesy.

But anyways, it's not that the guitar needs to be "fixed" as such, it just needs to be correctly set up. It'll be something to do with neck relief or the action or both. I've never had any of my guitars adjusted to be honest, so I can't give you a price range. But like I said, it's not like it's a major job. It'll take less than half an hour for a good guitar technician to sort out.
Last edited by grantjames at Jan 7, 2010,
did you try raising the strings a little?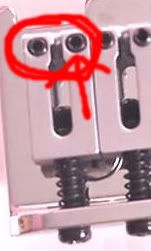 tiny allen wrench on the front face of each saddle.
I was thinking of getting it set up anyway. unfortunately, I purchased the guitar brand new from a creepy guy off craigslist so not much luck on courtesy repairs haha. set-ups usually run 15 to 20 bucks so I'm not too worried about it. I really don't want to raise the strings or action because I like a low-fitting string. High actions tend to make the guitar sound and play shittier. I will take it to the local shop and see if there is anything they can do.

keep posting if anyone has any other suggestions!
that's it. you can raise the action. have the frets looked at for damage. or

measure neck relief. see if you can add a little to clear the frets.

the how to measure relief is in the green link in my sig. first post.
you'll want to measure and post back for help.

Join date: Dec 2009
20

IQ
I would check the height of the 6th fret near the E/B strings. Chances are it's a tad high. Take a credit card and have one of the straight edges span frets 5/6/7. I bet the card edge can rock back and forth. This indicates either 6 is high or 5/7 are low. Using the card to span other sets of 3frets will allow to you determine which frets are high/low.
awesome, thanks guys. I am stuck at work right now, but as soon as I get home I will give the credit card thing a try. I think that might be it.
IF your neck isn't straight checking fret level is a waste of time (how can frets be level with a up or back bow in the neck???)
Follow Jenny's link and advice first to check out the situation and adjust accordingly.
BTW.... many Luthiers claim the opposite of your statement that higher string sound shitty....you generally get better tone with them raised, you just have to work a little harder.