DOD 250 Overdrive Clone Builds
That layout above seems to be correct from what I can tell. The best way I can think of to determine the correct parts without buying an original pedal is to look at pictures of grey pcbs to see what parts were used. I've looked ad numerous grey pcbs on the net and that layout seems to be spot on compared to the what I've seen. Ebay is great for this since most people selling one of these are nice enough to take a nice close up of the board.
Here's another layout:
http://fuzzcentral.ssguitar.com/pcbs/od250layout.gif
Its fairly close too, except for the fact that it calls for two 10uf electrolytic caps, where everything I've looked at says it should be one 10uf and one 4.7uf.
Last edited by Jason43 at Jan 7, 2010,
Thanks. It would be cool if we as a group could research and list what we find to be able and re-create an authentic sounding clone.
Here is someone's picture of a grey 250 and the circuit board showing parts so you can figure out some of the values like on the resistors:

Last edited by Yngwie#1 at Jan 7, 2010,
These just go to show how there isn't one definitive 250 build. You can see that different 741's were used, film caps in some, ceramic in others(which I personally wouldn't want to use).
As far as the original grey DOD 250 models go, how many versions were there and what years did they come out? I'm curious of the variations and slight changes as they evolved over the 1970's. Also, I'm seeing plenty of pictures of the insides of the grey pedals showing the component side. You can almost see the traces on the other side. Are there any clear shots of the trace side of the circuit board? I noticed it says 650 on the other side instead of 250. It would be cool to reproduce an authentic clone in all respects, or fallback to some sort of hybrid of the grey 1970's releases. I'm assuming as some component values changed over the decade, the circuit board PCB layout stayed the same?
Last edited by Yngwie#1 at Jan 8, 2010,
From what I can tell, most, if not all of the grey pedals used the same build. It was once the yellow pedals started being released that you started to see variations using different value caps and resistors and different op amps. It looked like it was more or less the same circuit throughout though.
I'm trying to reverse engineer the original grey DOD Preamp Overdrive 250, including the original PCB layout design, to understand it better. I've been playing around with the free DIY Layout Creator (beta) program for the first time yesterday and after many hours came up with this (unfinished) PCB layout based purely on my photographic research of the grey 250. Think of this as a graphical interpretation of the circuit board photographs:
I can't say this image is accurate yet since I was just trying to copy the layout from photographs and some interpretation (guesswork) was involved. It was just part of a trial and error exercise to help me get used to the DIYLC program, which I think is pretty nice. I know the traces should be on the other side of the PCB, but right now I'm just trying to map out what I see looking at various photos I've collected from around the net. I'm sure some of the trace path connections like underneath the IC chip may be wrong (I tried to cross reference other people's schematics and layout variations) and the diodes may be reversed in my PCB layout since I see them mounted opposite directions in some photographs, which puzzles me.
I'm wondering if those with better grey DOD 250 overdrive knowledge than me could point out any mistakes? Also, on some photographs there is an extra resistor near the bottom of the large curved trace that goes up to pin 7 of the IC. Why does that appear on some grey 250's and not others?
Last edited by Yngwie#1 at Jan 24, 2010,

Join date: Jun 2007
260

IQ
The original enclosure if very similar to a modern "B" enclosure.
The DOD250 is a nice simple circuit, I quite like it. It's a great sounding OD/Dist imo. I spent a lot of time with mine on the breadboard tweaking it.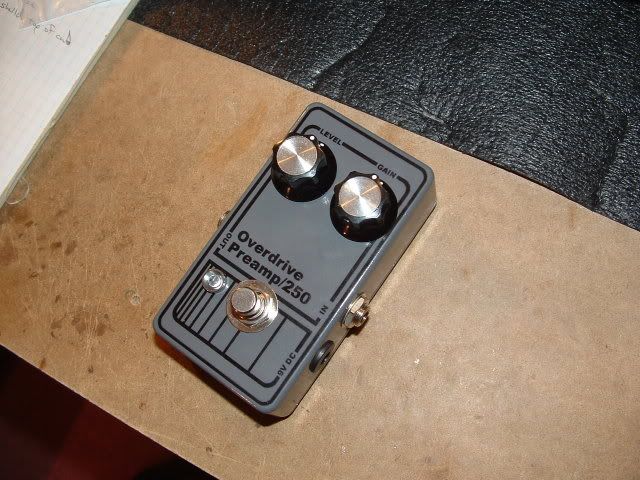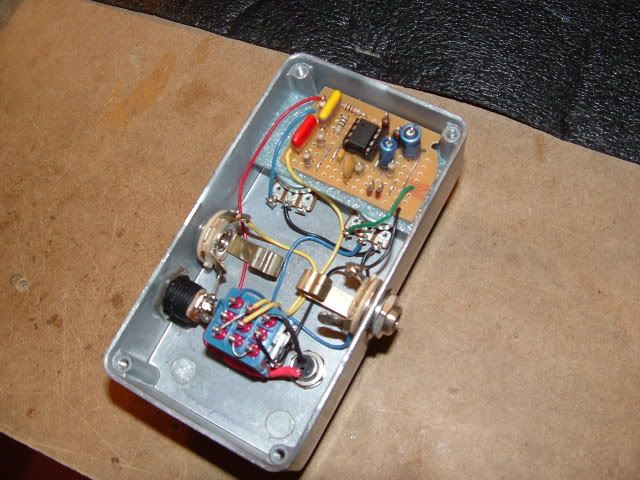 Go through and find the right op-amp for you. I have a bunch of old NOS LM741's that I really liked. Try other single op-amps, there are a bunch that sound good in this circuit.
Don't forget to use a reverse log pot for the gain control!
The original enclosure if very similar to a modern "B" enclosure.

Is that the 125B enclosure? If so it is only 1/10th an inch narrower and 1/10th an inch higher than the DOD 250 box, at least that's what I assume taking measurements from my YJM308 pedal.
Your pedal clone looks very nice. What knobs are you using? The newer 1" knobs on the reissue 250 and YJM308 are a slightly too big and 3/4" knobs might be too small compared to the original DOD 250.
Last edited by Yngwie#1 at Jan 11, 2010,

Join date: Jun 2007
260

IQ
No it's a " B" enclosure.

I am pretty sure the YJM is not true to the original DOD250.
No it's a " B" enclosure. I am pretty sure the YJM is not true to the original DOD250.
I meant the YJM enclosure looks to be the same size and shape as the original 250, I hope?
Also, here are a few candidates for my enclosure choice that are relatively close to the size of the DOD enclosure which is 4.6"x2.6"x1.4". Either one will do but I kind of like the looks and proportions of the MXR Distortion+ enclosure the best:
125B - 4.63"x2.5"x1.5"
1590B - 4.41"x2.38"x1.22" (almost MXR Distortion+ size which is 4.25"x2.25"x1.25")
BTW, I know the YJM308 doesn't sound the same as the original 250 - too much treble and the wrong IC chip to name a few.
Last edited by Yngwie#1 at Jan 18, 2010,
I'm weighing the idea of making myself a circuit board with a new PCB layout, following the grey DOD 250 schematic specs, but including a 5 pin angled molex connector like the YJM308 and re-issue 250 have. It will be good for quick connect testing using my existing YJM308 pedal without messing with the wiring. Here is a layout that I made (using the free ExpressPCB) duplicated from looking at my YJM308 circuit board to study it. The view shown is reverse from a gut shot, looking through the board from the other (component) side. Can someone verify the colored molex connector wire labeling is correct at the bottom my illustration below?
Verifying this wiring interface info will help me layout a new grey spec DOD 250 circuit board using a molex connector that would be compatible to the DOD YJM308 and re-issue yellow 250 pedals. Thanks...
Last edited by Yngwie#1 at Jan 18, 2010,