Kelan's first build- Spruce Tele
So yeah this is my first build, already made a few mistakes, such as routing for the pups before the neck pocket.
this meant that i had to cut one fret off the end of the neck. luckily i dont use those tiny frets when i play, but next time i might not be so lucky
Either way it's a learning experience
hopefully should have it done by the end of February, as I'm on holidays right now, but we'll see
feel free to critique (constructively) and offer tips and suggestions. I've done a lot of reading and I did some (low quality) work on an old les paul I have ((link in sig)which is now my main guitar until i fix my other one), but i am kinda new to this so help is always appreciated
Specs-
Body-
2 piece Sitka Spruce, Queensland Maple top
Tele shape, Courtesy of Bobby, aka metalwarrior40
Tru oil finish
Neck-
21 fret maple/purpleheart/maple neck with bocote fretboard, Courtesy of Declan, aka rebelw/outachord
Sperzel locking tuners
Electronics-
Gotoh tele bridge
SD Hotrails in bridge
SD Hot for tele in neck
Coil split on bridge, 1v, 1t, Gibson style 3 way switch
This is where it sits right now, i havent got any photos from earlier on, but i have pics of the neck being built if people want them.
the bridge is on just from when i was measuring the placement etc earlier today
peace out

Last edited by The_Kelaninator at Jan 17, 2010,

Join date: Oct 2007
20

IQ
Loving the neck!

Looking sexy!
Sex. Kelan, Shoot me a pm when you get a chance?
I got something to ask you


Join date: Dec 2007
110

IQ
PLEASE POST CLIPS WHEN IT'S DONE!!!
I've been thinking about making a guitar from Sitka Spruce for quite some time now, would love to know how it sounds on the clean channel!
Looking good so far.

routed the control cavity today
it's pretty rough, but it doesnt really matter to me that much, i can fix it up later on anyway
So far:
Grain shot
mockup
going to sydney on tuesday, so no updates for at least a week
Looking sweet. Is that a les Paul that your going to chamber in the background of one of those pics?

Join date: Nov 2009
50

IQ
Look's nice if always been a fan of classic teles where did you get that fret board wood from looks amazing!
Join date: Mar 2008
180

IQ
Fretboard wood is bocote.
Neck was made by a member here; rebelw/outachord
Sexy! I'm just curious if there was an alternative to cutting off the last fret.
Those Tele rings are a godsend for showing off the body's grain! Heck, even witha solid color finish, the ring gives it a polished look.
Here's a Walnut/Bocote Tele from a TDPRI member:
Post more pics!

thanks everyone, there was an alternative...cutting out the neck pocket first and then measuring where to put the bridge and pups. hahaha
oh well, least i'm learning from these mistakes

the LP in the background i was planning on chambering, but i might just leave it solid now, as I'm gonna put set of EMG's in there.
there will be a thread on that as soon as i can find someone who'd want to buy it, otherwise i wont have enough money to finance it.
so today i was testing finishes on the spruce and QLD maple top
left is 1 coat of the tru-oil walnut stain, right is 2, sanded back. unfortunatley there isnt much figure there to look at, but i think i'll go with 1 coat, sand it, then tru-oil
we'll see what happens
left is a couple coats of the walnut stain, right is one coat of the tru oil. i think i'll just go with the plain tru-oil, the stain on the spruce looks wayyyy too dark
i was also going to finish the neck but i ran into a snag (its in the ask small questions that dont deserve their own thread, thread, for those who are interested/can help)

Join date: Jun 2007
301

IQ
Looking good man. Answered your question

The fretboard....

thats awesome man...
so...updates!
i decided that to route the neck pocket
the result was a loose vagina pocket that also needed angling to achieve correct string height across the board. I'm not exactly happy with it, but it doesn't bother me overly.
you can see the gaps in the photos.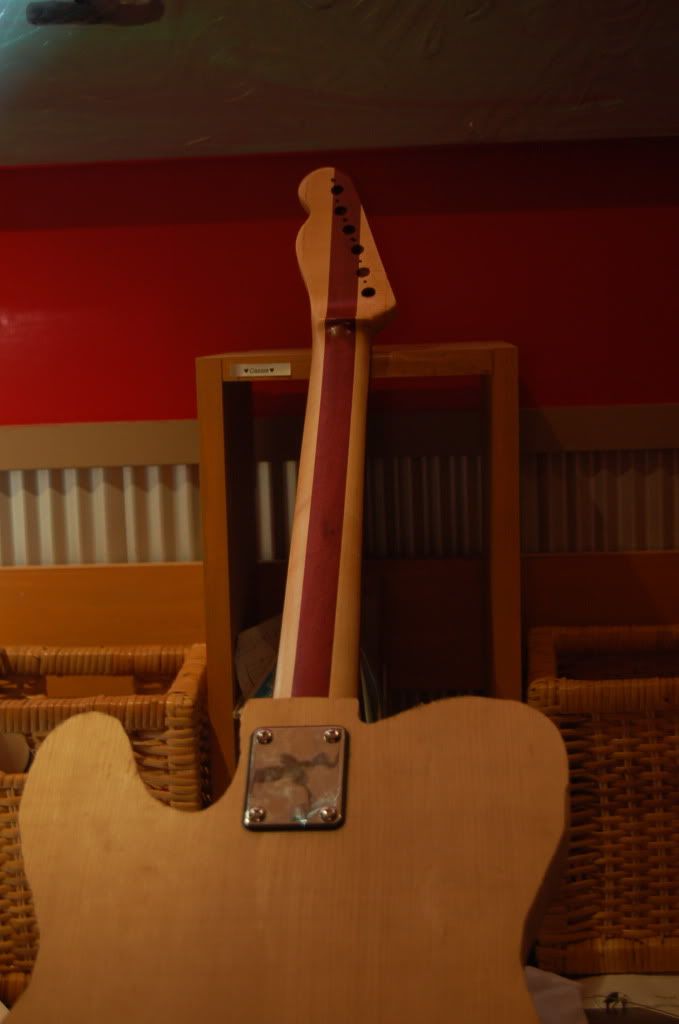 when i get back to school I'll have to find a way to smooth out the whole body and get it ready for sanding.
Also, the blackwood and pine body in the background of some previous pictures has been "reliced". well, thats an understatement.
I've just always wanted a guitar that was just a piece of trash, and seeing as the body cost me about $30 to make, and i got a free neck, i decided to go for it.
I hit it with a hammer, brought out a blowtorch and spraypaint, etc.
also i accidentally snapped it in half and had to glue it together. one day when I'm rich ill get a bridge and pup for it.

peace out

news about the neck pocket man..did you use templates?
Other than that, can't wait to see the finish.

nah, i had just traced around the neck.
oh well, live and learn i spose.
i did fix up the pocket though
i realised that there was a bit of an angle on the heel of the neck, and i just made a little shim to put in the neck pocket and now its all good (read: a bit better)
should i put some paper or something in the gaps or just leave it?


Join date: Dec 2007
60

IQ