Wrist pain (pics)
I am having pain on the top of my wrist after playing. Maybe I am holding it wrong or just over practicing? I have also noticed that my thumb tends to tense up a lot when I play, and it likes to press hard against the neck. Maybe this could be the cause? Please help!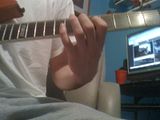 Last edited by Derk4397 at Jan 11, 2010,
how long do you play for? everyones bound to get some aches/pains after hours of play
have you injured your wirst before? the position of your hand could be aggrivating it
check out my medical skills


Join date: Apr 2009
40

IQ
Bending your wrist waayyyy too much. Especially from the second and third picture it looks like that's your problem.
Here's a great video to help you fix that:
Free lessons!