Two Telecaster build.
A friend and i have decided to build a pair of telecasters, (not building our own necks)
mine will be either hot rod red with two minibuckers or paf pups, a bigsby, t.o.m style bridge piece and a maple/maple neck.
from what i understand, my friend has decided to go with 80's metal green, black t.o.m string-thru and one pickup, black hardware, and the same neck.
the wood is two slabs of Australian Blue Gum, has a pinkish hue and seems rather dense and is very hard, when knocked or tapped it has quite a similar sound to Queensland maple. which, to my understanding is what maton have used for their electric guitars for a long, long time. here is a picture.
wood

Join date: Jan 2010
10

IQ
the green one will be mine,
here are the stencils were using, theres actually 2 there screwed together and one now has the neck pocket cut out.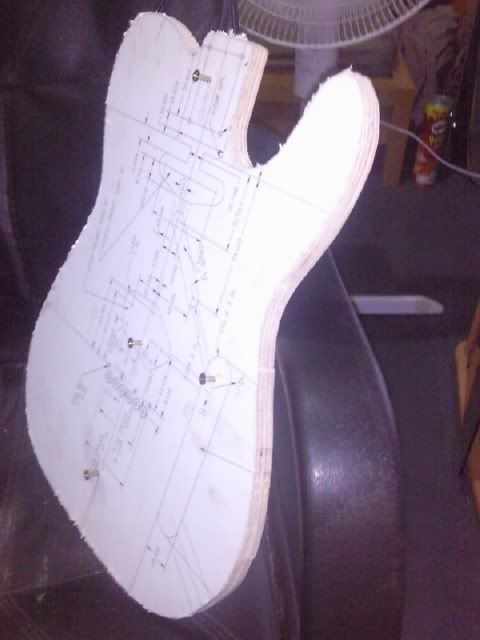 Join date: Jan 2008
20

IQ
pretty sure that's the exact template i have too lol xD

i'm cutting my template out today, i started off with a tele, but then i changed the lower horn for more access [not lengthways, but sort of outwards if you get me]
then i had to change everything else so it would work aesthetically =]

good luck to the both of you =]
that's not a bad idea, from memory first act did that in a way with their "sheena"
would be cool if i was a mega shredguy to create better access, but i want to stick with a the traditional shape and a pretty basic but functional setup.

Join date: Mar 2009
30

IQ
I'll be following this one! love tele's
Goodluck =)

Join date: Dec 2008
81

IQ
I think I'm gonna follow this one too, I would love a tele with a bigsby.

Join date: Jun 2008
30

IQ
i have the same leather computer chair.

good luck on the build!

Join date: Apr 2006
61

IQ
xgregoryx: The First Act Sheena has a wedge-shaped cutaway, which really isn't very awesome for fret access.

Join date: Jan 2008
20

IQ
xgregoryx: The First Act Sheena has a wedge-shaped cutaway, which really isn't very awesome for fret access.
well mine actually doesn't go as far towards the bridge as a tele does, but it's a lot roomier
i find me tele a little cramped up there, but that's me
----
EDIT: googled the first act, and no, nothing like that =]
it looks liek a mattocaster
i hate that it looks so much like one, i hadn't intended it to, but that's what it looks most like
Last edited by lozlovesstrats at Jan 18, 2010,
okay, so a while since updates, but we cut the bodies the other day, iv'e used a file to get into the cutaway and above the neck joint, still needs alot of filing/sanding,
will be routing the edges/neck pocket/control and pickup cavity tomorrow, iv'e decided to take it in a tele deluxe direction keeping with the bigsby.

Join date: Jan 2010
50

IQ
It looks like you've gone against the grain of the wood? Or is it just a deceptive figure?