The UK Ads Thread
Hey Guys,
Selling my washburn Idol WI-66V. I've had it for about 3-4 years and its a fantastic guitar. Its in near mint condition with just a few surface scratches from playing. Only selling due to buying a new Ibanez and its now surplus to requirements.
I bought it for £350 and you can check the reviews out, it really is an awsum guitar. Im hoping to get around £230 for it. Im in the Wakefield, W.Yorkshire area.
Heres a link to a pic of the guitar (more on request).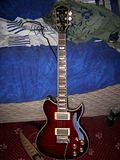 Cheers
Darren