My Jaguar and Jonny Lang tele Projects
Me and my dad started these a while ago but ive never got round to posting about them so i thought id do it now, weve been making a triburst jaguar black red then natural colours with a tortoisehell style pickguard and a Jonny Lang Tele for those that dont know what Jonny Langs tele looks like heres a pic
the idea is basically that but with just 2 bill lawrence humbuckers,4 knobs 2 tone 2 vol with coil splitting, and a 3 way toggle switch and an ebony fretboard the jaguar is just basic jag specs, both the bodys are made out of ash with genuine fender parts, the jaguar is rather heavy haha
the 2 bodies cut out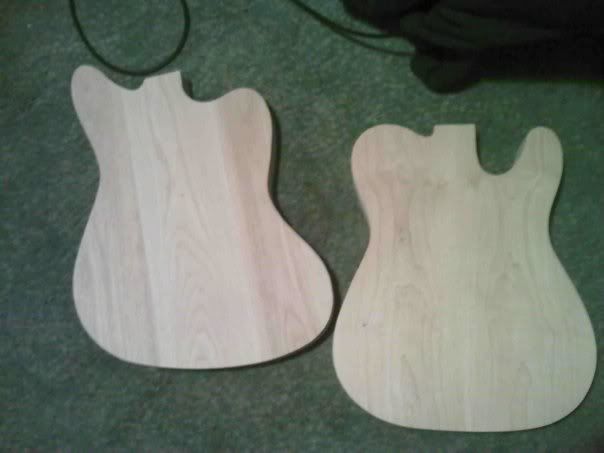 the tele body with the tiger stripe maple top on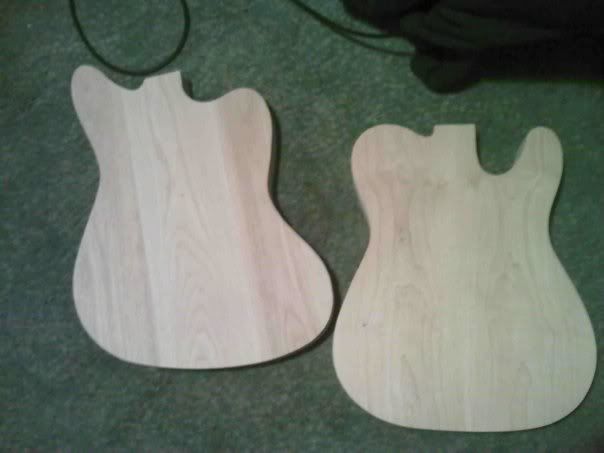 the tele with f hole routed out and binding stuck on
neck test fitted ready for trust rod and fret board
jaguar very roughly routed with pickguard and switch plates placed on
the jaguars painted and nearly finished just need to make the neck again because the 1st one came out wrong, and the teles as far as it looks in the pictures, just waiting to buy the hardware, well enjoy hope you guys approve haha
Last edited by gangsta_rick at Feb 24, 2010,

Join date: Dec 2009
10

IQ
I don't know if the issue is with my computer, but only the very first picture is showing up.
yeah ive just noticed i think its because i linked them from facebook for ease but im trying to sort it now

Join date: Mar 2009
30

IQ
thanks, the jaguars more my dads then mine but no doubt ill be able to steal it off him haha, i cant wait til my teles finished
Those will be so sexy! Trans Black Tele with a nice Maple top and Trans Black Ash Jaguar! They'll both be Trans Black, right?
What PUs are going into that HH Tele?

IpponEdit
: The Jaguar must be Trans Black!!!
Last edited by Ippon at Feb 24, 2010,
no just the teles transblack, the jaguars going to be the triburst that has black on round the edge then read then natural in the middle, i wanted the jaguar in white but the my dad decided we were making it for him and its already painted i just havent had a chance to take a picture, the teles going to have bill lawrence L550L in the neck and L550XL in bridge, i was going to go for seymour duncan alnico pro 2s but i heard the bill lawrences and i liked the sound, and there the ones that Jonny Lang uses, i think dimebag darrel used the L500XL in the bridge on his guitars too
Though it was due an upgrade since I've finally just got around to getting the stain on, going to have wide range humbuckers in, I think, and it's going to be wired like a LP

Join date: Aug 2007
151

IQ
Wow, that took a while.


Sweet builds though
Wow, that took a while.


Sweet builds though
So it did!
I saw this thread and I wondered how I hadn't noticed it before... Didn't realise it was from 2010

Haha my dad has a lot of work on and I didn't want to make a poor job of the painting, the jaguar actually got finished the start of last year, well most of it it still needs the neck lacquering, hopefully if I bug him a bit more hell finish my tele off for me, think we're going to use ebony to make the pickup rings aswel due to the wide range rings being none existant to buy, ill get him to send some pics of the jag and post them