The GB&C Pickup Buying Guide (aka the "Which pups?" thread)
I.I Useful Terms and Definitions
While browsing for new pickups, you'll probably come across some terms you're unfamiliar with. Here's a brief list of defined terms:
*Active Pickup- An active pickup is one which uses an active preamp and requires battery power to operate (such as the EMG-81)
*Coil- When it comes to an electric guitar pickup, "coil" is the term that refers to the thousands of winds around the pickup's poles collectively. Single coil pickups have one coil whereas humbuckers and stacked humbuckers (also known as stacked single coils) have two sets of coils, one of which is reverse wound in order to cancel hum.
*OD- Simply an abbreviation for "overdrive."
*Output- The amount and level of sound projected by a pickup, the higher the rating of the pickup, the higher the output will be.
*Over wound- If a pickup is over wound, it simply means that it has been wound extra
times. Extra windings result in a fuller tone, but less treble response.
*Passive Pickup- Pickups which use poles (magnets) that are wrapped with copper wire to create an electromagnetic field which, when disturbed (for instance, when you play a note on your guitar) sends a signal to your amplifier.
*Poles- A pickup's "poles" are its magnets (usually these magnets are made of ceramic or alnico).
*Reverse Wound, Reverse Polarity (RWRP)- This term applies to single coil pickups and is discussed in section II under the "single coil" sub category.
*Rout- This term refers to the physical cavities carved into a guitar that the pickups sit in. Abbreviations such as S/S/S and H/S/H refer to the type of routing a guitar has. For instance, the abbreviation "H/S/H" (as shown in the image below) indicates that a guitar has a large cavity routed in the neck position to accommodate a humbucking pickup, a smaller cavity routed in the middle position that will only fit a single coil sized pickup and another large cavity routed in the bridge position that will fit yet another humbucking pickup.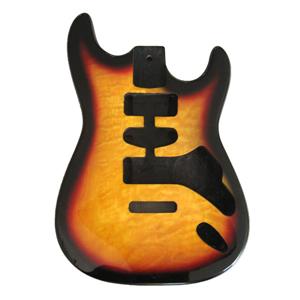 *Scatter wound- Scatter wound pickups are those that are wound by hand. As opposed to machine wound pickups that have uniform winds, hand wound pickups have slightly uneven (scattered) winds, hence the name.
Last edited by Schism1985 at Jun 29, 2010,