James builds a tele! ..sorta
Well it's not exactly a full build, but I'm putting together a tele

Here's basically what it'll look like:
white with a black pickguard, birdseye maple neck, two p90s and a wraparound bridge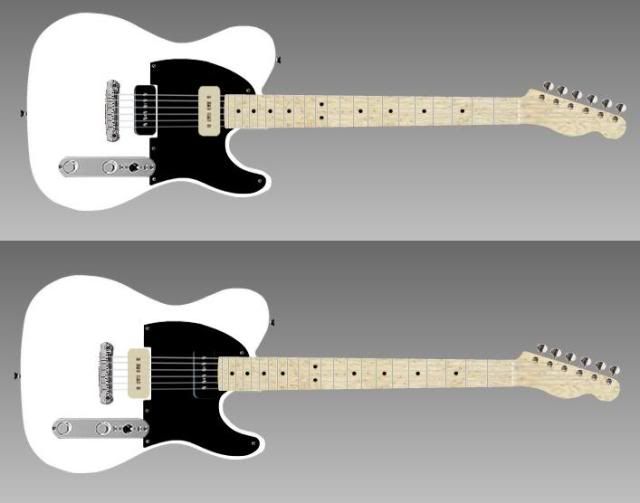 I can't decide which way I want the pickups..whether i go black bridge/cream neck, or cream bridge/black neck.
anyway, aside from the pickups, I've pretty much got the rest figured out
I'm gonna recess the bridge a bit so that I don't need a neck angle, and cause I don't like the look of a guitar with a tune-o-matic bridge, when the strings are so far from the body.
in the kisekae theres a pretty big gap between the pickguard and the bridge that makes the p90look like it's not filling up enough space. in reality, the p90's gonna fit perfectly into that space.
the cutout on the pickguard that usually leaves room for the bridge is just a tiny bit bigger than the p90 template I've got, so it should fit real nice in there

I found the neck (made by mighty mite) on ebay for just over $100, so I went for it
i kinda want to build my own neck at some point, but right now I don't have the time or tools to do it

for the wiring i'm not doing anything ridiculous.. 1volume 1 tone and a 5 way super switch
the positions of the switch are gonna be:
bridge/ n+b in series/ n+b in parallel/ n+b out of phase/ neck
so all the way towards the bridge is still just the bridge, and all the way towards the neck is only the neck. straight up and down is both pickups in parallel like they usually are.
i figured this setup would be less confusing than having the series and phase positions in positions 1 and 5, or 4 and 5 or something
I'm still not sure what pickups to use..
my plan right now is to buy a set from guitarfetish, and a set from iron gear since they're both fairly cheap
I'll keep whichever set I like best, sell the ones I don't like as much, then save up for some rockmonkeys (I have a set of single coils in my strat and they're great

)
any other suggestions would be appreciated, too
everything else is pretty straight forward.. 2 piece swamp ash body, white finish, chrome hardware
I'll probably edit the first post with a more detailed specs list if anyone wants, but i'm just giving an outline for now..
I've got the body cut to shape and marked out to be routed right now, so heres a picture: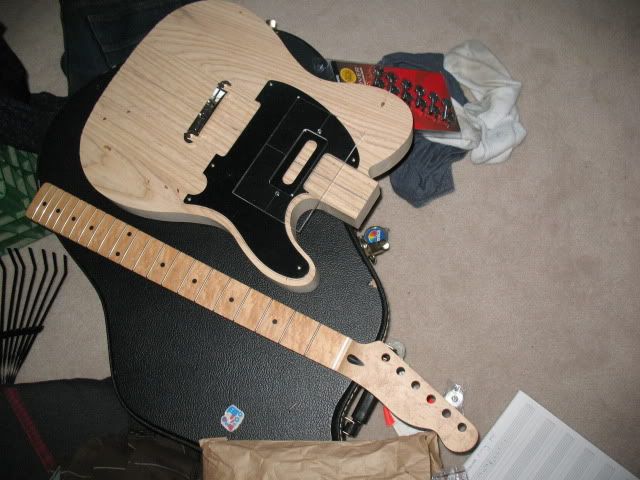 progress will probably be fairly slow because I don't have many tools at home and I work often, but I should have it done in the near future
EDIT:
I was gonna update with a specs list, but I realized I'll go over everything through the build anyway

I just didn't say much about the bridge..
it'll be a recessed
Gotoh/Wilkinson wraparound bridge
it looks a little different than in the pictures, but it looks pretty damn classy to me

I'm also trading out the studs it came with for locking ones. I've only ever worked on one guitar with a wraparound, and locking studs would have done wonders for it, so..there ya go.
heres a couple pictures from before i started the thread, just for any interested
heres some wood:
http://i143.photobucket.com/albums/r144/4444james4444/IMG_0107.jpg
rough cut:
http://i143.photobucket.com/albums/r144/4444james4444/DSC00106.jpg
and the neck:
http://i143.photobucket.com/albums/r144/4444james4444/DSC_00012.jpg
http://i143.photobucket.com/albums/r144/4444james4444/DSC_0003.jpg
Last edited by james4 at May 16, 2010,